Episode #341 Cryptocurrency, Advanced Gutenberg #Wordpress #Plugins #Podcast
Click To Tweet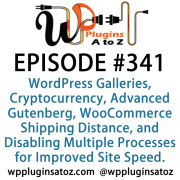 It's Episode 341 and we've got plugins for WordPress Galleries, Cryptocurrency, Advanced Gutenberg, WooCommerce Shipping Distance, and Disabling Multiple Processes for Improved Site Speed. It's all coming up on WordPress Plugins A-Z!
Podcast: Play in new window | Download | Embed
Subscribe to WPPlugins A to Z on Google Podcasts | Email | RSS
Get all the grisly Plugin details and full access to the complete show notes on our website WPPluginsAtoZ.com! You can follow the show on Twitter at @wppluginsatoz, and join our Facebook at WordPressPluginsA2Z for the latest in WordPress Plugin related news - some we come across in-between shows, and some we talk about on our weekly show.
The WordPress Plugins A-Z Podcast can be found on
iTunes
,
SoundCloud
,
Stitcher Radio
and also on
WordPress Radio
. If you like what you hear on the show, we encourage you to share your enthusiasm with others that you know in the WordPress community and in social networks. Share on Twitter:
WP Plugins A to Z The Only #WordPress #Plugins #Podcast
Click To Tweet
Self Promotion
While we do enjoy bringing you the show week after week, we also make our living with WordPress and related promotional services. With that, we ask for a moment of your time for some self promotion. If you find these promotions of value, please share them with friends and colleagues.
---
Promotions from John Overall:
Has your
WordPress
site broken? Do you have a question or two about its functionality? Have you recieved the white screen of death? This may be time for some
Emergency WordPress Support.
Contact me at WPPro.ca/help or give me a quick call at 818-850-7729.
---
Promotions from Marcus Couch:
X² Marketing
is your full-service digital marketing and brand development agency. Whether you are a solo entrepreneur, small business or enterprise level company; power up your marketing with X2. From WordPress to ClickFunnels, Landing Pages to Social Campaigns, SEO, Paid Ads, Infusionsoft management and more. Visit
X2marketing.com
and get in touch with Marcus about your digital marketing needs.
My new and improved Membership Coach program is your go-to resource for all the Training, Advice, and Support needed to Develop and Grow a Profitable Membership Site. Be sure to head over to MembershipCoach.com and get on the waiting list for the first sessions, launching soon. You can also follow @membershipcoach on twitter to get the latest release dates and news. Signups are now active and Pre-Launch Enrollment is open!
Benefits – Benefits – Benefits
Having a review done by us or having an interview helps the traffic to the developers website. As was bought to our attention recently when we did an interview and reviewed a plugin for a developer who sent us snap shots of their traffic before and after the shows and the traffic stayed so there are great benefits to being reviewed by WP Plugins A to Z. Submit Your Plugin Here.
All the show notes can be found at: WPPluginsAtoZ.com
Make sure you subscribe and review the show at:
Stitcher Radio, Google Play and in the iTunes Store.
Check out our Training Videos, Screencasts and Watch Us Live on YouTube every Monday morning at 10amPST
Follow the show on Twitter @wppluginsatoz
Subscribe to our Newsletter
Today we are reviewing our usual allotment of six great plugins.
John
Cryptocurrency Price Ticker Widget
https://wordpress.org/plugins/cryptocurrency-price-ticker-widget/

Released:
28 December 2017
Last Updated:
31 March 2023
The Lowdown:
Do you have an interest in crypto currency or are looking to trade in it, well now you can easly look up the current rate for true imagineary money with this plugin.
Set it up use a shortcode where ever you want the tables to appear and it tracks all the top crypto currencies.
Rating 3 Dragons
Marcus
WordPress Gallery Extra
https://wordpress.org/plugins/wp-gallery-extra/

Last Updated:
01 January 1970
There are dozens of WordPress photo galleries out there, but the problem is that they always look the same! WordPress Gallery Extra uses a brand new algorithm to make much more interesting image grids.
The WordPress Gallery Extra is fully responsive and it adapts to the browser using a nice and smooth animation, even on mobile devices because it can use the hardware acceleration taking advantage of CSS3 properties.
WORDPRESS GALLERY EXTRA FEATURES:
Columns Gallery
Justified Gallery
Masonry Gallery
Mosaic Gallery
Slider Gallery
Clean and modern Design
Drag and Drop Gallery Builder
Ajax Themes Compatibility
Translation ready
Beautiful Templates for Customization
Powerful Template Manager
WPML ready
Responsive design
Custom Links
Video Gallery Support
Audio Gallery Support
Group Items
Retina Ready
Image Tags
Image Categories
Image Sizes Manager (Premium)
Thumbnails Regenerator (Premium)
Hover Effects (Premium)
Parallax hover Tilt Effect (Premium)
Grid Loading Effects (Premium)
Fixed aspect ratio with Smart Crop (Premium)
Custom Links (Premium)
Lazy Loading (Premium)
Easy style editor
More than 2 dozen Demos
Single click Template import
Rating: 4 out of 5
This show is brought to you by:
John Overall.com WordPress & Web Services
Finding quality WordPress Hosting and support can be a challenge, well you can drop that stress by contacting JohnOverall.com web services. I can help you eliminate your WordPress stress. Solving your WordPress Emergency issues or doing the more day to day items such as finding that perfect plugin, helping you move to a new hosting provider or even provinding Quality WordPress hosting.
With 20yrs. Exp on-line and over 8 years dedicated to WordPress JohnOverall.com Provides all your web service needs from hosting to WordPress development, repairs and https://wpmalwareremoval.com/.
Visit my website JohnOverall.com, Call 818-850-7729 or send an email to john@wppro.ca
Marcus:
Anyone listening to this show has a passion for WordPress. Want to write about something unique within WordPress? I'm now the WordPress Editor for Smashing Magazine, one of the biggest web design resources online. I'm looking for folks to write great articles about WordPress. Get a lot of exposure to yourself and your work. Visit marcuscouch.com/smashing and I'll reply back with more info. It's a great opportunity to contribute to the WordPress community, get exposure and get a few hundred bucks for the effort too.
Contest win a Premium Plugin License For:
We have an ongoing contest lasting until February 14, 2018 giving away a premium license from https://foliovision.com/ visit https://WPPluginsAtoZ.com/contests for more info.
Our next couple plugins for you are
John
Advanced Gutenberg
https://wordpress.org/plugins/advanced-gutenberg/

Released:
27 December 2017
Last Updated:
12 April 2023
This plugin adds
Additional features added to Gutenberg plugin:
– Create edition profiles and asign user or user group to the profile
– Select each edition tool per profile
– Activate lightbox effect in Gutenberg galleries
– Display alt information as lightbox caption in galleries
Note about Advanced Gutenberg dev.
* This plugin is based on official Gutenberg plugin under active developement
Rating 3 Dragons
Marcus
WooCommerce Shipping Distance Matrix
https://wordpress.org/plugins/wcsdm/

Last Updated:
29 January 2023
WooCommerce shipping rates calculator based on products shipping class and distances that calculated using Google Maps Distance Matrix API. This plugin perfect for online store that use local shipping or private shipping such as selling flower, food & beverage but not limited to.
FEATURES:
Set shipping cost by product shipping class.
Set unlimited distances ranges.
Set origin info by coordinates.
Set distances unit: Miles, Kilometers
Set travel mode: Driving, Walking, Bicycling.
Set route restrictions: Avoid Tolls, Avoid Highways, Avoid Ferries, Avoid Indoor.
Set cost calculation type per order or per item.
Set visibility distance info to customer.
Translation ready.
Rating: 5 out of 5
Listener Feedback / Audio Clips
We like listener feedback you can leave feedback via our contact page, Speakpipe or email us direct.
Show Donors
This Show is a Value for Value model meaning if you get any Value out of it please give some Value back and in that vein we would like to acknowledge those that have supported the show in the past week. All donations $50 and over are read out and their note is published here.
For all those who come in below $50 they will remain anonymous and we thank you very much.
This week's Donor/'s are:
Jezweb Pty Ltd sent in $50.00
This donation is on behalf of Argyle Pink Diamond Investments – https://www.argylepinkdiamondinvestments.com.au/ a WordPress website built by Jezweb in Australia
And a big thank you to our donors who came in under $50 and to those who have set up weekly subscriptions.
All these small subscriptions really help the show out.
Here are ways you can support the show:
Support the show with a weekly $2.50 subscription by going https://wppluginsatoz.com/donate/
This show is listener supported and we can use more than just money to help the show grow.
Visit WPPluginsAtoZ.com to learn how you can support the show in other ways.
You can also create a monthly donation at Patreon
Remember to support the show at WPPluginsAtoZ.com.
Our last couple plugins today are:
John
Gutenberg Pricing Table Block by Gutenkit
https://wordpress.org/plugins/pricing-table-block-gutenberg/

Last Updated:
01 January 1970
The Lowdown:
This is another new block for Gutenberg from Gutinkit, these guys seem to have quite a few plugin and a complete kit in private beta right now in preperation for when Gutenberg launches. Guess I am going to have to carve out time to play with Gutenberg.
Rating 3 Dragons
Marcus
Whippet
https://wordpress.org/plugins/whippet/

Last Updated:
30 December 2018
This is another Swiss Army Knife type of plugin that can help to disable or optimize some of the background processes within WordPress.
Features:
Remove /xmlrpc.php from code if XML-RPC is disabled
Remove WordPress API from code if WP-JSON is disabled
Disable Google Maps
Disable WooCommerce scripts and CSS on non-WooCommerce pages
Disable WooCommerce Reviews
Defer Woocommerce Cart Fragments
Remove WordPress API from header
Disable self-pingbacks
Disable emojis
Disable embeds
Remove query strings
Disable XML-RPC
Remove jQuery migrate
Remove WordPress version number
Remove wlwmanifest link
Remove RSD link
Remove shortlink
Disable RSS feeds
Remove RSS feed links
Disable WordPress heartbeat API
Disable and Limit Post Revisions
Change Heartbeat API frequency
Change autosave interval
Add Locally hosted Google Analytics Script
CSS and JS Script Manager
Import and Export features
Rating: 5 out of 5
Closing out this Episode The Plugins we covered where:
John's Plugins: Cryptocurrency Price Ticker Widget – 3, Advanced Gutenberg – 3, Gutenberg Pricing Table Block – 3
Marcus' Plugins: WordPress Gallery Extra – 4, WooCommerce Shipping Distance Matrix – 5, Whippet – 5
Reminders / Commercial / Promotions:
Be sure to check out the YouTube Screencast that goes up later and watch the add on part that has john doing a first impression of one of Marcus's Plugin reviews from this show.
Note to developers who would like to support the show. If you would like to offer up a premium license to give away please go to WPPluginsAtoZ.com/PluginContest
We now have training videos up and on-line part of the WP Plugins network you can find them here at https://suportsam.dev.cc/category/public-wordpress-training-videos/ or here https://suportsam.dev.cc/category/members-wordpress-training-videos/ new videos being done weekly
WordPress News and other interesting WordPress related posts:
For news and information that is related to WordPress be sure and subscribe to our Newsletter.
Just some reminders:
Remember to support the show at wppluginsatoz.com/donate
All the show notes can be found at: WPPluginsAtoZ.com
Make sure you subscribe and review the show at:
Stitcher Radio, Google Play and in the iTunes Store
Follow the show on Twitter @wppluginsatoz
Watch us Live, our Screencasts, Training Videos and Subscribe to us on YouTube
Commercial / Promotions:
I want make mention of SEO 101 Podcast https://www.stepforth.com/about/seo-101-podcast/ a great show that I listen to from timme to time to pick up some tips. I also had the fortune to meet the shows host this past weekend and Ross is a pretty interesting guy.
Just some reminders:
Join my at the monthly ClassicPress / WordPress Meetup
Classicpress / WordPress Meetup
Rate us on
iTunes
,
blubrry.com
,
ViaWay.com
,
Stitcher Radio
and any place else you find us.
Interact with your Hosts
John can be contacted at:
Website: https://www.johnoverall.com/
WordPress Emergency Support: https://wppro.ca/wpemergency
Email: john@wppro.ca