Episode #311 Locking Down BuddyPress, Global Search #Wordpress #Plugins #Podcast
Click To Tweet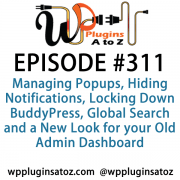 It's Episode 311 and we've got plugins for Managing Popups, Hiding Notifications, Locking Down BuddyPress, Global Search and a New Look for your Old Admin Dashboard. It's all coming up on WordPress Plugins A-Z!
Podcast: Play in new window | Download | Embed
Subscribe to WPPlugins A to Z on Google Podcasts | Email | RSS
Get all the grisly Plugin details and full access to the complete show notes on our website WPPluginsAtoZ.com! You can follow the show on Twitter at @wppluginsatoz, and join our Facebook at WordPressPluginsA2Z for the latest in WordPress Plugin related news - some we come across in-between shows, and some we talk about on our weekly show.
The WordPress Plugins A-Z Podcast can be found on
iTunes
,
SoundCloud
,
Stitcher Radio
and also on
WordPress Radio
. If you like what you hear on the show, we encourage you to share your enthusiasm with others that you know in the WordPress community and in social networks. Share on Twitter:
WP Plugins A to Z The Only #WordPress #Plugins #Podcast
Click To Tweet
Self Promotion
While we do enjoy bringing you the show week after week, we also make our living with WordPress and related promotional services. With that, we ask for a moment of your time for some self promotion. If you find these promotions of value, please share them with friends and colleagues.
---
Promotions from John Overall:
Has your
WordPress
site broken? Do you have a question or two about its functionality? Have you recieved the white screen of death? This may be time for some
Emergency WordPress Support.
Contact me at WPPro.ca/help or give me a quick call at 818-850-7729.
---
Promotions from Marcus Couch:
X² Marketing
is your full-service digital marketing and brand development agency. Whether you are a solo entrepreneur, small business or enterprise level company; power up your marketing with X2. From WordPress to ClickFunnels, Landing Pages to Social Campaigns, SEO, Paid Ads, Infusionsoft management and more. Visit
X2marketing.com
and get in touch with Marcus about your digital marketing needs.
My new and improved Membership Coach program is your go-to resource for all the Training, Advice, and Support needed to Develop and Grow a Profitable Membership Site. Be sure to head over to MembershipCoach.com and get on the waiting list for the first sessions, launching soon. You can also follow @membershipcoach on twitter to get the latest release dates and news. Signups are now active and Pre-Launch Enrollment is open!
Benefits – Benefits – Benefits
Having a review done by us or having an interview helps the traffic to the developers website. As was bought to our attention recently when we did an interview and reviewed a plugin for a developer who sent us snap shots of their traffic before and after the shows and the traffic stayed so there are great benefits to being reviewed by WP Plugins A to Z.
Submit Your Plugin Here.
Contest
Enter the contest here all that is needed is your email and if you share it out you can get extra entries into the contest.
Also there is a discount for WP Plugins A to Z listeners for the VC Splitter you can save 30% by using the coupon code ATOZ30
Thank Our Donors
We would like to thank our donors to the show, everyone who donates $50 or more will be acknowledged here with a mention and a link back to their page and all those below will be anonymous
$50 Jezweeb Pty Ltd
The recent addition WordPress 4.8 to have a default WYSIWYG area in text widgets is handy. No need to use a WYSIWYG plugin now for basic stuff like phone numbers in header widget or footer contact details etc. This weeks donation is on behalf of ISP Islington, an automotive parts and service business in Newcastle, Australia :
https://www.ispnewcastle.com.au
Thanks to all donors who came in under $50
You can now donate though Patreon at 
https://patreon.com/wppluginsatoz
 where you can donate on a monthly basis. As an incentive if you donate $40 a month you will gain access to the exclusive plugin tutorial videos on how to setup and use the plugins we review and use.
WordPress News and other interesting WordPress related posts:
WordPress 4.8 "Evans" Released Featuring Nearby WordPress Events, New Media Widgets, and Link Boundaries
New in WordPress 4.8
Adding Custom Images Sizes to the WordPress Media Library
Listener Feedback / Audio Clips
Canada
5 Stars
AllanRocks
Glad I found you!!
I can't tell you the time I search through the WordPress repository looking for plugins. I just found you guys a few days ago and after listening to a handfull of episodes I'm hooked. Keep up the excellent work!!! A must listen for WordPress users.
Canada
5 Stars
@pegattricks
Love this podcast
This is one of four podcasts I listen to every week. I am fairly new to WP-this podcast is pretty jargon free so I can understand it. It's given me lots of ideas for extending my site and has confirmed some of the plugins I like too. I agree with one of your reviewers who said it solved problems he didn't know he had. I like the way you give back by featuring longer interviews with other developers and featuring pros who provide good service on your job board. BTW, the sound quality is excellent! Thanks, guys.
**WordPress Plugins Reviewed by John Overall**
Contact Form 7 Gravity Forms Importer
Released:
14 September 2011
Last Updated:
09 February 2015
The Lowdown:
When it becomes necessary to switch  your contact plugin from Contact Forms 7 to gravity forms, sometimes the biggest challenge is recreation of all the forms you have already. This plugin simplifies that task but allowing you to just import the form from Contact Form 7. The only caveat here is that sometime the conversion is not clean and you need to go in and fix a couple items. You will also need to re-setup the notifications for the form. All in all a pretty good plugin and does same some time.
Rating 4 Dragons
Hide All Notices
Last Updated:
19 August 2020
The Lowdown:
If your tired of the questions from clients about the notices that occur from the various plugins and redundant update notices inn the Dashboard then this one is for you. Simply install activate and all those useless notifications go away and are hidden from view.. It does not remove the notices just hides them via CSS and get all notices using standard classes but some plugins do not use standard so may get missed. For what I was after and in need of it did a perfect job.
Rating 5 Dragons
Popup Manager
sent in by Janis Sprincis
Freemium plugin starting at $35 per quarter
Last Updated:
01 January 1970
The Lowdown:
This is another plugin with this new type of pricing model I am beginning to see where there is a charge more often than once a year for the license. Look to be a new trend in licensing
The free version gives you 4 templates to choose from one image, one text and three email templates. You can get more templates by buying the seperatly starting at about $19 or subscribe to the full package. Setting up a popup is pretty easy with their interface but you will need the pro-version to make them real useful. Once complete you then place it in your site via short code so you can make specific popups per page or post. There does not seem to be a way to universally set it. While this can be useful it seems it could be additional work.
All in all not too bad for a popup manager
Rating 4 Dragons
**WordPress Plugins Reviewed by Marcus Couch**
WordPress Lock for BuddyPress
Last Updated:
03 August 2022
This plugin allows site owner to lock the different components on the site for non-logged in users such as the various bp components, the custom post types, the wp pages. The site owner can allow pages to be visible for non-loggedin users, else a locked message will be displayed on the page.
Rating: 4 out of 5
Admin Global Search
Last Updated:
04 January 2019
This is one of the best plugins that I've come across for a long time. It does exactly what it says. You can searh the entire site in this master global search que. Previously you would have had to search your MySQL database.
Rating: 5 out of 5
Flat Panel Admin Theme
Last Updated:
01 January 1970
Tired of the same old admin theme? Give the WordPress dashboard we all know and love a boost, with a splash of color, and a more refined flat panel design. You can easily change the colors to reflect the look and feel that best suits you and your website.
Rating: 5 out of 5
Plugins Overview:
John's Plugins: Contact Form 7 Gravity Forms Importer – 4, Hide All Notices – 5, Popup Manager – 4
Marcus' Plugins:  WordPress Lock For BuddyPress – 4, Admin Global Search – 5, Flat Panel Admin Theme – 5
Commercial /  Promotions:
MARCUS: I'm promoting the
Liftoff Summit
put on by BobWP that is being held online on June 19-23, 2017. It's a free online conference. It's all about WordPress and eCommerce. Whether you are running an online store, or monetizing your blog or site, they teach you about how to be successful with your site through content and social marketing, blogging and the tech stuff. There are over 20 speakers and it looks to be a great event.