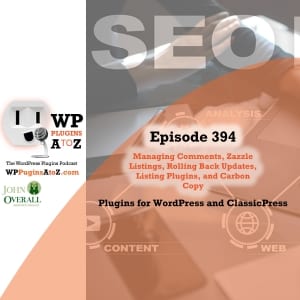 It's Episode 394 and I've got plugins for Covering GraphComment, NiftyGridZPro, WP Rollback, Export Plugin Details, Carbon Copy. It's all coming up on WordPress Plugins A-Z!
Podcast: Play in new window | Download | Embed
Subscribe to WPPlugins A to Z on Google Podcasts | Email | RSS
Get all the grisly Plugin details and full access to the complete show notes on our website WPPluginsAtoZ.com! You can follow the show on Twitter at @wppluginsatoz, and join our Facebook at WordPressPluginsA2Z for the latest in WordPress Plugin related news - some we come across in-between shows, and some we talk about on our weekly show.
The WordPress Plugins A-Z Podcast can be found on
iTunes
,
SoundCloud
,
Stitcher Radio
and also on
WordPress Radio
. If you like what you hear on the show, we encourage you to share your enthusiasm with others that you know in the WordPress community and in social networks. Share on Twitter: [bctt tweet="WP Plugins A to Z The Only #WordPress #Plugins #Podcast " username="wppluginsatoz"] [dropshadowbox align="center" width="88%" background_color="#ffffff" border_width="3" border_color="#3a5d3b"]
Self Promotion
While I do enjoy bringing you the show week after week, I also make my living with WordPress and related promotional services. With that, I ask for a moment of your time for some self promotion. If you find these promotions of value, please share them with friends and colleagues.
---
Promotions from John Overall:
Has your
WordPress
site broken? Do you have a question or two about its functionality? Have you recieved the white screen of death? This may be time for some
Emergency WordPress Support.
Contact me at WPPro.ca/help or give me a quick call at 818-850-7729.
---
[/dropshadowbox]
Check Out WP Plugins A to Z Live Show Playback
Benefits – Benefits – Benefits
Having a review done by us or having an interview helps the traffic to the developers website, as was bought to our attention recently when we did an interview and reviewed a plugin for a developer who sent us snap shots of their traffic before and after the shows. The traffic stayed, so there are great benefits to being reviewed by WP Plugins A to Z. Submit Your Plugin Here.
You can also Watch the show Live on YouTube every Thursday at Noon PST
I also have a live show every Saturday night at 8pm PST that is a round up of all new in the WordPress world and a time for Q&A.
With that lets dive right into the meat and potatoes!
Today I have 4 great plugins for you.
John
To start off I have a couple plugins that I have yet to use but thought you might want to know they exist. Keep in mind the ratings are based off the descriptions on their site and using their demo if available.
Sent in by Mathias Blandin
3rd party – freemium service
https://graphcomment.com/en/pricing.html
GraphComment – Full Comment system
https://wordpress.org/plugins/graphcomment-comment-system/

Released:
01 February 2016
Last Updated:
13 September 2023
What they say about it:
No more disorganized discussions piled on several pages. With GraphComment, your audience can easily follow the relevant discussions. The BubbleRank sort the answers in order of relevance. We build a dedicated plugin for a seamless integration in WordPress.
Insert all comments to the WordPress database. This also allows you to revert to WordPress default commenting without losing any comments that you had while using GraphComment. Manage directly all your comments into WP-panel with embedded GC-admin and import all your old comments from WordPress database.
Auto-sync (backup) of comments from GraphComment to WordPress database and be notified in real time for pending comments into WP-panel.
SEO-friendly (structured data), comments are indexable by search engines (WP version of comments for bots)
WHY CHOOSE GRAPHCOMMENT ?
Recover your community from social networks :
Reclaim the attention of your community from the myriad social networks. Our innovative & exclusive social interaction tools will bring your fans back to discuss directly own your website.
A data policy at your service :
Your data continues to belong entirely to you. We store it on robust webservers across France. Our analytics & CRM tools enable you to manage your data and synchronize or export it.
More traffic and content on your website :
Innovative social interactions around a discussion engages your readers who will visite your website because they feel empowered & valued.
Much less moderation :
Our unique voting system, powered by the reputation of the users, enable the community to oversee the content with you and retain a constructive spirit in the discussions.
Features
– A powerful interface for discussion & social interactions (Bubble Flow UI/UX)
– Inline media embedding, text formatting, emoji's
– Themeable & Mobile integration (RWD)
– A unique Vote slider : qualitative vote widget winch serve as anti spam and anti troll.
– Social login and add your SSO facilitates account creation and connection
– Advanced thread sharing to social-network
– Public user's page
– Real time new message notification
– Easily administrate your community comments with an elegant back office
– Editorialize & pin best discussions from your community
– Recover your community from social networks (share an image of a thread of your choice with a backlink)
– Multi languages interface with automatic detection (EN,FR,CN,ES,PT,IT,FA,CZ)
– Multi moderators and Smart moderation (significantly reduce the moderation)
– Advanced statistics dashboard and CRM to sharpen your strategy
– Import / Export / Synchronize your data with WordPress database
– see full list of features here : https://graphcomment.com/en/features.html
What I say:
If you have been using Discus this could be a great replacement for you. You keep you data on your services so if you leave and revert back to WordPress native system you still have all you comments unlike Discus and some other 3rd party systems. This gives it a plus in my book.
Rating 4 Dragons.
——————-
Sent in by Mark HightonRdiley
Freemium plugin
NiftyGridZPro
https://niftytoolz.com/the-niftygridz-wordpress-plugin/get-your-niftygridz-free-wordpress-plugin
What they say:
NiftyGridZPro is a WordPress plugin that easily produces grids of products from the Zazzle Print On Demand store.
Storekeepers (independent artists) and Zazzle affiliates can showcase products from stores, collections or the market place.
Uniquely, the plugin lets you use fallback grids that are automatically substituted when Zazzle's rss feed is down. By default, search and grid paging is switched off but when switched on (with a shortcode option) they allow visitors to interact with the product grids, allowing them to explore and find designs they want.
All grids are responsive so they're perfect for mobile visitors too.
With Zazzle's 45 day cookie, their referral system lets blog owners earn 15% commission on any sales arising from visitors they send to Zazzle's site.
The free version uses our referral id, licensed (i.e. premium) versions use yours.
What I think about it:
Well it is an interesting approach to a freemium plugin in that they stick their referral ID into the code until you go premium. I do like that they are upfront about it. If you need something to create Zazzle grids this may be a solution just know if you don't go for the premium and it is pretty pricey I think at $99 a year. Could be a solution for you though.
Rating 3 Dragons
This show is brought to you by:
John Overall.com WordPress & Web Services
Finding quality WordPress Hosting and support can be a challenge, well you can drop that stress by contacting JohnOverall.com web services. I can help you eliminate your WordPress stress. Solving your WordPress Emergency issues or doing the more day to day items such as finding that perfect plugin, helping you move to a new hosting provider or even providing Quality WordPress hosting.
With 20yrs Exp. on-line and over 8 years dedicated to WordPress JohnOverall.com Provides all your web service needs from hosting to WordPress development, repairs and wpmalwareremoval.com.
Visit my website JohnOverall.com, Call 818-850-7729 or send an email to john@wppro.ca
Contest! Win a Premium Plugin License for:
Contests Powered by Simple Giveaways who kindly provided us with the premium version for our contests.
We are currently running a Give away for a 1 year pro license for WooCommerce Product Feed manager
Increase your WooCommerce store sales potential by easily generating product feeds and uploading your products in the major merchant shops such as Google Merchant Center, Facebook Dynamic Ads, Amazon, etc.
This plugin is specialized in generating a product feed that you can directly upload on other major merchant platforms with no extra hassle. With a few clicks you can get all your product details ready to be uploaded into another platform, without having to manually input data.
This is a $269.99 value
Find more info and the download at https://rextheme.com/best-woocommerce-product-feed/
This plugin was reviewed in Episode 388. If you would like to donate a plugin, please do so here.
Visit http://WPPluginsAtoZ.com/contests for more info.
The next plugin I have for you is:
WP Rollback
https://en-ca.wordpress.org/plugins/wp-rollback/

Last Updated:
20 October 2023
The Lowdown:
It will happen to you sooner or later using WordPress, you will perform plugin or theme updates and bam!!! You have a broken site! What do you do after the panic subsides? You can restore from the backup you just made right? probably the best method. Or you can use this plugin to roll back to a previous version of plugins or themes.
This will save you all that FTP time and make the process a whole lot less painful. Keep in mind that you can only use this with plugins and themes found in the WordPress repository.
All in all a pretty nice plugin,
Rating 5 Dragons
Listener Feedback / Audio Clips
I like listener feedback. You can leave feedback via our contact page, Speakpipe or email us directly.
Listener Questions
—————————————-
Show Donors
This Show is a Value for Value model meaning if you get any Value out of it please give some Value back and in that vein we would like to acknowledge those that have supported the show in the past week. All donations $50 and over their note is read out and published here.
For all those who come in below $50 they will remain anonymous and we thank you very much.
This week's Donor/'s are:
A big thank you to those who have hired me because of the Podcast thank you that is as good as donating to the show..
And a big thank you to our donors who came in under $50 and to those who have set up weekly subscriptions.
All these small subscriptions really help the show out.
Here are ways you can support the show:
There is a new form for donations here https://wppluginsatoz.com/donate-2/
Support the show with a weekly $2.50 subscription by going https://wppluginsatoz.com/donate/
This show is listener supported and we can use more than just money to help the show grow.
Visit WPPluginsAtoZ.com to learn how you can support the show in other ways.
You can also create a monthly donation at Patreon
Remember to support the show at WPPluginsAtoZ.com.
The last plugin I have here today is:
Export Plugin Details
https://wordpress.org/plugins/export-plugin-details/

Last Updated:
26 October 2023
The Lowdown:
If you are in need to keep a listing of the plugins you have installed on a site this plugins will help with that. It is simple enough install then use it to export a CSV file listing:
Plugin Name
Description
Author
Active/Inactive
Current Version
Update Available(Yes/No)
New Version
A great way to use this is if you build websites with a standard set of plugins and you have someone new starting you can give them this list to make it easier to do the installation and insure all the plugins you want installed make it into the site.
Rating 4 Dragons
ClassicPress Options
Adding a new segment just for Classic Press since the release of Gutenberg ClassicPress has garnered a lot of attention.
I recently released a short screen cast about the conversion of a site to ClassicPress and it looked to go very well fast and easy. You can find the video here from our YouTube channel.
This weeks ClassicPress plugin/s
I will bring one or more plugins per week here as I can test them.
The ClassicPress specific plugins are starting to popup here is another one I have come across.
Carbon Copy
https://github.com/johnalarcon/carbon-copy
Copy posts, pages, and custom post types with a single click – including taxonomy and metadata! ClassicPress now has a native solution for one-click duplication!
Rating 4 Dragons
Side note I noticed that when you are doing a search using the repository it show you right away if the plugins are compatible with your version of Classic Press.
Closing out this Episode The Plugins I covered were:
John's Plugins: GraphComment – 4, NiftyGridZPro – 3, WP Rollback – 5, Export Plugin Details – 4, Carbon Copy – 4
Reminders / Commercial / Promotions:
The next WordPress Meetup in Victoria will be February 20, 2019 and will be broadcast Live on YouTube. For location and more information Check them out at https://wppluginsatoz.com/meetup. John Overall will be presenting on WordPress Disaster Planning in February.
Be sure to check out and subscribe to the YouTube Channel for WP Plugins A to Z where you find training Videos, Screencasts and of course the live show every week.
Note to developers who would like to support the show. If you would like to donate a premium license to be used in a future contest please go to WPPluginsAtoZ.com/PluginContest
WordPress News and other interesting WordPress related posts:
For news and information that is related to WordPress be sure and subscribe to our Newsletter.
Just some reminders:
Remember to support the show at wppluginsatoz.com/donate
Commercial / Promotions:
[dropshadowbox align="center" effect="curled" width="88%" height="" background_color="#ffffff" border_width="3" border_color="#3a5d3b" padding="20px" ]
Support WP Plugins A to Z
Be sure to check out the latest contest from WP Plugins A to Z with generous donations from Developers and other Businesses.
[bctt tweet="Enter to Win #Plugin licenses and More! WP Plugins A to Z #WordPress #Podcast https://wppluginsatoz.com/contests/ " username="wppluginsatoz"]
Are you a Developer? Need to get the Word out about Your Plugin? Submit it now to WP Plugins A to Z Podcast.
[bctt tweet="Submit your #Plugin for Review to WP Plugins A to Z #WordPress #Podcast https://wppluginsatoz.com/submit/ " username="wppluginsatoz"]
---
[/dropshadowbox]
Just some reminders:
Join my at the monthly ClassicPress / WordPress Meetup
Classicpress / WordPress Meetup
Rate us on
iTunes
,
blubrry.com
,
ViaWay.com
,
Stitcher Radio
and any place else you find us.
Interact with your Host
John can be contacted at:
Website:
https://www.johnoverall.com/
WordPress Emergency Support:
https://wppro.ca/wpemergency
Email: john@wppro.ca