Podcast: Play in new window | Download | Embed
Subscribe to WPPlugins A to Z on Google Podcasts | Email | RSS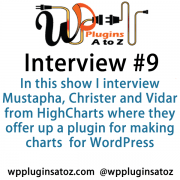 In this show I interview Mustapha, Christer and Vidar from HighCharts where they offer up a plugin for making charts and several other types of charting system for WordPress and stand alone. I reviewed their plugin in Episode 284 check it out. We discuss their slate of product offerings some great ways they can be used and how they will benefit you. The main product we discuss is the HighCharts plugin which allow you to display data on your site in multiple chart styles that is sortable in multiple ways and easily imports both file data and live data.
They also offer up cloud services that make creating charts an easy task and someplace for you to store all that info in the cloud. .
This was a great interview and Mustapha, Christer and Vidar were guests and you can find out more about HighCharts in the following links:
https://www.highcharts.com/plugin-registry/plugins
HighCharts
Sent in by Mustapha
The Lowdown:
This is a free plugin that allows for the creation of some great charts and all done locally on your website.
This plugin allows for generation and presentation of your data into some really great looking charts for your WordPress website. If you have data comparisons and a need to display this in your website in a clean and simple way this plugin is for you. It is easy to use has multiple templates to choose from and make placing charted data into your website a breeze. They also offer up a couple other great plugins to create more intense charts and maps all in all a great plugin and stay tuned for an interview with the developers coming up in the next week.
Rating 5 Dragons
Reminder: If you're a plugin developer and you'd like to appear on the show, you can schedule an interview, donate your plugin for an upcoming contest, or submit your plugin for review.
Save
Save
Save
Save