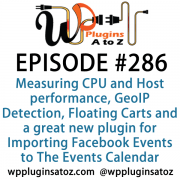 It's Episode 285 and we've got plugins for Displaying Instagram Feeds, Product Review Charts, Page Builders, Email Tracking, Time Based Content, and a new way to update your WooCommerce customers in Facebook. It's all coming up on WordPress Plugins A-Z!
Podcast: Play in new window | Download | Embed
Subscribe to WPPlugins A to Z on Google Podcasts | Email | RSS
Get all the grisly Plugin details and full access to the complete show notes on our website WPPluginsAtoZ.com! You can follow the show on Twitter at @wppluginsatoz, and join our Facebook at WordPressPluginsA2Z for the latest in WordPress Plugin related news - some we come across in-between shows, and some we talk about on our weekly show.
The WordPress Plugins A-Z Podcast can be found on
iTunes
,
SoundCloud
,
Stitcher Radio
and also on
WordPress Radio
. If you like what you hear on the show, we encourage you to share your enthusiasm with others that you know in the WordPress community and in social networks. Share on Twitter:
WP Plugins A to Z The Only #WordPress #Plugins #Podcast
Click To Tweet
Self Promotion
While we do enjoy bringing you the show week after week, we also make our living with WordPress and related promotional services. With that, we ask for a moment of your time for some self promotion. If you find these promotions of value, please share them with friends and colleagues.
---
Promotions from John Overall:
Has your
WordPress
site broken? Do you have a question or two about its functionality? Have you recieved the white screen of death? This may be time for some
Emergency WordPress Support.
Contact me at WPPro.ca/help or give me a quick call at 818-850-7729.
---
Promotions from Marcus Couch:
X² Marketing
is your full-service digital marketing and brand development agency. Whether you are a solo entrepreneur, small business or enterprise level company; power up your marketing with X2. From WordPress to ClickFunnels, Landing Pages to Social Campaigns, SEO, Paid Ads, Infusionsoft management and more. Visit
X2marketing.com
and get in touch with Marcus about your digital marketing needs.
My new and improved Membership Coach program is your go-to resource for all the Training, Advice, and Support needed to Develop and Grow a Profitable Membership Site. Be sure to head over to MembershipCoach.com and get on the waiting list for the first sessions, launching soon. You can also follow @membershipcoach on twitter to get the latest release dates and news. Signups are now active and Pre-Launch Enrollment is open!
Screen Cast of WP Plugins A to Z

Benefits – Benefits – Benefits
Having a review by us or having an interview helps the traffic to the developers website. As was bought to our attention recently when we did an interview and reviewed a plugin for a developer who sent us snap shots of their traffic before and after the shows and the traffic stayed so there is some great benefits to being reviewed by WP Plugins A to Z.
Thank Our Donors
We would like to thank our donors to the show, everyone who donates $50 or more will be acknowledged here with a mention and a link back to their page and all those below will be anonymous
$50 from JezWeb Party Ltd
Thank you Marcus and John for pointing out King Composer. I'm quite excited to try it out because it looks to have many improvements over visual composer which i'm a huge fan of. This donation is on behalf of Local Pest Control at
https://www.localpestcontrol.com.au
 – Ian is one of our great WordPress clients in Newcastle, Australia.
Thanks to all donors who came in under $50
You can now donate though Patreon at 
https://patreon.com/wppluginsatoz
 where you can donate on a monthly basis. As an incentive if you donate $40 a month you will gain access to the exclusive plugin tutorial videos on how to setup and use the plugins we review and use.
John's Rant: What to rant about?
Win a Premium Plugin License
We also have more contests coming for premium licenses from generous plugin developers so stay tuned.
Make sure you checkout the
WPSupport store
. where you can get direct access to some of the best plugins we have reviewed located all in one place. We do not host the plugins but provide the link to download it direct from WordPress.org or the plugin developer, and they may occasionally have an affiliate link but not too often since that adds a whole new layer of work to what I have to do.
For developers who find value in what I am doing here please donate that value back to the show.
WordPress News and other interesting WordPress related posts:
DDoS attacks via WordPress now come with encryption

Kaspersky Lab experts have noted an emerging trend – a growth in the number of attacks using encryption. Such attacks are highly effective due to the difficulty in identifying them amongst the overall flow of clean requests. Recently, the company encountered yet more evidence of this trend – an attack exploiting vulnerabilities in WordPress via an encrypted channel.

WordPress Pingback attacks have been in use since 2014. They fall under the amplification class of attacks, when the victim's resource is attacked via third-party servers by exploiting vulnerabilities in them. Read original article here…. helpnetsecurity.com
How much should a custom WordPress website cost?

Eventually, you have to talk about cost.

If you're a consultant, as I am, you've been asked how much your services cost. And you have to make some decisions:

These questions are important. The answers are important. Gauging the client is important. Every interaction I have with the client helps me learn more about them and the project at hand, and affects what the cost will be.

Cost often also depends on market and location. I'm assuming I'm talking to an American audience in US dollars. What follows may translate well or poorly depending on your location and culture. Read original article here…. poststatus.com
14 Sneaky Online Tools to Help You Spy on Your Site's Visitors

You're in business to cater to your audience, right? In person. Over the phone. Via email. And even passively through your website. Whether they're prospective customers just checking out your site, loyal subscribers who have yet to purchase anything, or actual paying customers, it doesn't matter. Every point of contact you have with them counts.

But unless you explicitly ask your audience how you're doing, how do you really know how they feel about you? This is especially important for your website—one of the most valuable assets in which you've no doubt invested a lot of time and money building. Read original article here…. premium.wpmudev.org
Why stores running on WordPress are winning

According to the most recent report from BuiltWith, 39% of all eCommerce sites are powered by WooCommerce and WordPress — over 1.5 million active stores. Add in the usage of additional eCommerce platforms powered by WordPress and the CMS's own 17.6 million live sites (over 26% of the entire internet!), and, well… that's a lot of sites.

Developers and store builders don't just choose to work with WordPress because it's free (although it is) or because "everyone else is using it" (although they are). There are some pretty convincing reasons why WordPress has climbed to the top of the charts, and why WooCommerce has soared in popularity right along with it. Read original article here…. woocommerce.com
Listener Feedback / Audio Clips
We have a comment from Jermy at Jezweb about the chat feature on his site.
**WordPress Plugins Reviewed by John Overall**
PHP/MySQL CPU performance statistics
Last Updated:
27 November 2020
The Lowdown:
This plugin is for finding out how the server you are on is performing, it does a great job of performing some quick tests to see if you are on a quality server or not. This plugin runs some checks on your MySql to see how it is performing and then outputs the results to compare against some standards to see how your webserver is performing.
Rating 4 Dragons
wp Hosting Performance Check
Released:
05 September 2016
Last Updated:
24 August 2018
The Lowdown:
This plugin is for finding out how the server you are on is performing, it does a great job of performing some quick tests to see if you are on a quality server or not. This plugin will help you discover if your loading issues are server caused or from your theme or some other slow loading segment of your website. After install it monitors your website and you can let it run for a few days to see how your site is performing, you can also review the system info to find out what level of programs your server is running. Believe it or not there are still sites running on php 5.3 and below. as well as very old MySql all of these thing effect your site loading.
Rating 4 Dragons
GeoIP Detection
Last Updated:
02 March 2023
The Lowdown:
This plugin allows to have GeoIp detection on your site that you can then integrate into a plugin or theme to track visitors to your website. Currently I have used it in conjunction with the wp Hosting performance check plugin which countries visitors are coming from to help detect slow areas.
Rating 4 Dragons
**WordPress Plugins Reviewed by Marcus Couch**
Host Info
Last Updated:
01 January 1970
Have you ever needed to show some realtime server and execution environment information? Host Info will provide you more information on the webserver that´s hosting your WordPress site. I found this to be somewhat handy, though it didn't give me all of the stats that I might have wanted.
Rating: 3 out of 5
Woo Floating Cart Lite
Released:
01 December 2016
Last Updated:
08 March 2023
An Interactive Floating Cart for WooCommerce that slides in when the user decides to buy an item. Products, quantities and prices are updated instantly via Ajax. This is a lot like many of the professional carts you have seen at the big retail stores. It's a nice way to keep the cart in view at all times.
Rating: 4 out of 5
Import Facebook Events
Released:
14 December 2016
Last Updated:
26 March 2023
This plugin allows you to import events from facebook.com into The Events Calendar and Events Manager. If you are like me and use The Events Manager as your events plugin of choice, this plugin is a no-brainer as an extra add-on. As an add-on plugin this plugin needs The Events Calendar or Events Manager Installed and activated.
Rating: 5 out of 5
Plugins Overview:
John's Plugins: PHP/MySQL CPU performance statistics  – 4 , wp Hosting Performance Check  – 4, GeoIP Detection – 4
Marcus' Plugins:  Host Info – 3, Woo Floating Cart Lite – 4, Import Facebook Events – 5
Commercial /  Promotions:
Time to share this space with others, so currently I would like to let others know about a great resource for WordPress eCommerce issues. You can check out 
https://bobwp.com/
this site has great tips and useful information about WP Ecommerce, a great podcast and more check him out. .
Just some reminders:
Join my at the monthly ClassicPress / WordPress Meetup
Classicpress / WordPress Meetup
Rate us on
iTunes
,
blubrry.com
,
ViaWay.com
,
Stitcher Radio
and any place else you find us.
Interact with your Hosts
John can be contacted at:
Website: https://www.johnoverall.com/
WordPress Emergency Support: https://wppro.ca/wpemergency
Email: john@wppro.ca


Save
Save
Save
Save
Save
Save
Save
Save
Save
Save
Save
Save
Save
Save
Save
Save
Save
Save
Save
Save
Save
Save
Save
Save
Save
Save
Save
Save
Save
Save
Save
Save
Save
Save
Save
Save
Save
Save
Save
Save
Save
Save
Save
Save
Save
Save
Save
Save