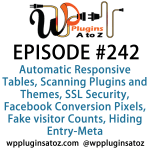 It's Episode 242 and we've got plugins for Automatic Responsive Tables, Scanning Plugins and Themes, SSL Security, Facebook Conversion Pixels, Fake visitor Counts, Hiding Entry-Meta. It's all coming up on WordPress Plugins A-Z!

Podcast: Play in new window | Download | Embed
Subscribe to WPPlugins A to Z on Google Podcasts | Email | RSS
Get all the grisly Plugin details and full access to the complete show notes on our website WPPluginsAtoZ.com! You can follow the show on Twitter at @wppluginsatoz, and join our Facebook at WordPressPluginsA2Z for the latest in WordPress Plugin related news - some we come across in-between shows, and some we talk about on our weekly show.
The WordPress Plugins A-Z Podcast can be found on
iTunes
,
SoundCloud
,
Stitcher Radio
and also on
WordPress Radio
. If you like what you hear on the show, we encourage you to share your enthusiasm with others that you know in the WordPress community and in social networks. Share on Twitter:
WP Plugins A to Z The Only #WordPress #Plugins #Podcast
Click To Tweet
Self Promotion
While we do enjoy bringing you the show week after week, we also make our living with WordPress and related promotional services. With that, we ask for a moment of your time for some self promotion. If you find these promotions of value, please share them with friends and colleagues.
---
Promotions from John Overall:
Has your
WordPress
site broken? Do you have a question or two about its functionality? Have you recieved the white screen of death? This may be time for some
Emergency WordPress Support.
Contact me at WPPro.ca/help or give me a quick call at 818-850-7729.
---
Promotions from Marcus Couch:
X² Marketing
is your full-service digital marketing and brand development agency. Whether you are a solo entrepreneur, small business or enterprise level company; power up your marketing with X2. From WordPress to ClickFunnels, Landing Pages to Social Campaigns, SEO, Paid Ads, Infusionsoft management and more. Visit
X2marketing.com
and get in touch with Marcus about your digital marketing needs.
My new and improved Membership Coach program is your go-to resource for all the Training, Advice, and Support needed to Develop and Grow a Profitable Membership Site. Be sure to head over to MembershipCoach.com and get on the waiting list for the first sessions, launching soon. You can also follow @membershipcoach on twitter to get the latest release dates and news. Signups are now active and Pre-Launch Enrollment is open!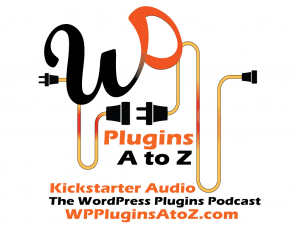 Yes we have a Kickstarter and we need your support to make it happen visit https://WPPluginsAtoZ.com/Kickstarter here is a sample of what is planned with the successful campaign.
The Purpose of this Kickstarter
Ability to operate WP Plugins Podcast and Website Full time
Improve the show including better sound quality
Increase to 2 Shows per week
More in-depth show notes with Transcripts
Theme Reviews and Interviews with developers
Creation of Plugin Training Videos Support Forums
Setup additional Websites to support the WordPress Community
WordPress News and other interesting WordPress related posts:
*WordPress Plugins Reviewed by John Overall**
Scan WP Theme and Plugin Detector
Sent in by Avi Klein
Version: 0.1
Author: Avi Klein
Last Updated:

1 month ago
The Lowdown:
This plugin does an ok job of scan WP website to discover the themes and plugins it is running. Some tests on my own site showed it to miss things but it is a good start. What this plugin does is allow people to search the
https://scanwp.net/
 from your website instead of sending them there.
Rating 3 Dragons
SSL Insecure Content Fixer
Version: 2.1.5
Author: WebAware
Last Updated:

7 days ago

Requires WordPress Version: 3.2.1 or higher
Compatible up to: 4.4
Active Installs: 10,000+
The Lowdown:
So if you install an SSL this is bound to happen to you espically if your site has been around a while. You will have mixed cotent usually images. And well it can be a pain to go though every page and post to clean it up. Install this little piece of magig and you will have it all working properly.
Rating 5 Dragons
Facebook Conversion Pixel
Version: 1.3.4
Author: Kellen Mace
Last Updated:

3 months ago

Requires WordPress Version: 3.0 or higher
Compatible up to: 4.3.2
Downloaded: 83,762 times
The Lowdown:
This plugin make inserting the conversion code from facebook an easy task. You can insert the specific tracking code for your Facebook ads. This can tell you how well your ad is actually performing and if it even converting. This is a pretty nice way  to insure your ads are actually working.
Rating 4 Dragons
*WordPress Plugins Reviewed by Marcus Couch**
This plugin automatically makes all the tables on your site responsive. It includes a Backend style editor with preview panel. You can specify only certain tables you'd like this plugin to affect, and specify the breakpoint for.
Rating: 5 out of 5
Fake whos online is a plugin that allows you to make your site seem more popular by displaying a fake amount of users online on your WordPress site.
Rating: 3 out of 5
Do you want to Remove/hide Author, Date, Category, Comment and Edit links like Entry-Meta just install this plugin and its removed all entry meta.
Rating: 4 out of 5
John's discussion this week about a project.
John's Plugins: Scan WP Theme and Plugin Detector – 3, SSL Insecure Content Fixer – 5, Facebook Conversion Pixel – 4
Marcus' Plugins: Automatic Responsive Tables – 5, Fake Who's Online for WordPress – 3, Remove/hide Author, Date, Category Like Entry-Meta – 4
Just some reminders:
Join my at the monthly ClassicPress / WordPress Meetup
Classicpress / WordPress Meetup
Rate us on
iTunes
,
blubrry.com
,
ViaWay.com
,
Stitcher Radio
and any place else you find us.
Interact with your Hosts
John can be contacted at:
Website: https://www.johnoverall.com/
WordPress Emergency Support: https://wppro.ca/wpemergency
Email: john@wppro.ca