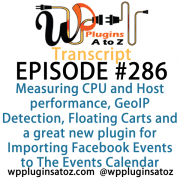 All transcripts start from the point in the show where we head off into the meat and potatoes. They are the complete verbatim of Marcus and John's discussion of the weekly plugins we have reviewed.
WordPress Plugins A to Z Podcast and Transcript for Episode #286


It's Episode 286 and we've got plugins for Measuring CPU and Host performance, GeoIP Detection, Floating Carts and a great new plugin for Importing Facebook Events to The Events Calendar. It's all coming up on WordPress Plugins A-Z!

---
Episode #286
John:                This week here my first plugin is PHP/MySQL CPU Performance Statistics. This plugin here — I had a brief job this past week to check out a client's website as to why it was running so poorly, and I'm starting to dig more and more into doing site performance analysis on websites and find out what's happening, whether it be their theme, their plugins, their server. Who's the problem and how do we solve it? So I found a few plugins along the way to help you solve that problem, and that's what this one here is for.
What it does is it tests out your PHP/MySQL configurations and it let you know how that is performing on your website. It sends internal tests, then it spits back a report to you, and then gives you a comparison report for what standards should be. It tells you if your server and MySQL is running too slow, if it's taking too much time, if it's having problems with the MySQL, MySQL inserts, the updates, etc.
It's a really great diagnostic tool to find out if MySQL is running correctly and if PHP is running correctly. So check this one out. I gave it a 4-Dragon rating. It's called PHP/MySQL CPU Performance Statistics.
Marcus:           How the heck did they fit that all in one slug?
John:                How did I get it without tripping over it?
Marcus:           Hmm…even better question. That's right. All right, this next plugin is kind of similar to what you've got going on there, John. It's called Host Info, and it actually shows you real-time server and environment information. It's pretty cool in terms of how it classifies and shows you statistics of your web server. I actually did this as a test on two different websites.
I did it on one that was on managed hosting and then I did it on a shared hosting, and I was very surprised in terms of what it showed me. But it's not really customizable and you can't really save it in relation to being able to look at archives or stuff like that. It's just kind of a basic snapshot of what's going on at the time for your host info. Kind of a handy tool but probably one that you would install then uninstall —
John:                Yeah?
Marcus:           — just right after you use it, so I gave this one a 3 out of 5.
John:                Well, still not bad.
Marcus:           No.
John:                It's a great way to find out what's happening.
Marcus:           Definitely.
John:                The next one I've got here for you is called WP Hosting Performance Check. Now this plugin here, what it does for you is when you put it in and install it, it sets up for your site and it requires an additional plugin, which I'll be talking about next. You can track the countries your visitors are coming from. But it starts monitoring everything across your site: all of the performance that is happening, page load times, server response times, what your technology is, whether it's PHP 5, 7, MySQL 10 or 5. It tells you all of these pieces and then it will monitor it.
If you leave it plugged in and turned on for several days, it'll keep monitoring to give you an average over the days and it'll tell you hour-by-hour what your peak loads are and what your low loads are, and what's happening in those timeframes. This is a really great diagnostic tool to run over the course of 48 hours or 72 hours to get a real idea of what's happening on your website. I found it to be very useful in that we were having a website that the client was complaining that they were seeing 404 errors and other issues while they were working on it. But when I was working on it, I couldn't get any of these to occur. I put this in and started showing that there were peak times during the day when the server was performing very slowly or was responding slowly. They are on a shared hosting platform with one of those companies out there that overloads their servers at times and you could see where it was hitting those peak loads.
Overall, it was showing a server poor response time while the web page loading times weren't too bad when the pages were actually loaded. Then it also showed that the technology for the server was a little bit out-of-date. So this is a really great plugin for finding that information and diagnosing what's happening on your site. So check it out: WP Hosting Performance Check and I gave it a 4-Dragon rating.
Marcus:           Hmm…pretty cool.
John:                Yeah.
Marcus:           That's a great way to look through them.
John:                Well, I've been running it on our websites just to see if my servers had been up to snuff and so far, they've been really great, so I'm kind of happy about that.
Marcus:           Very nice, very nice. Okay, for those of you out there that use WooCommerce, here's a pretty cool plugin. This is a freemium plugin but there's also a pro version. It's called Woo Floating Cart Lite and it's available in the Repository. What happens is when somebody adds something to your cart, it actually shows the cart in the lower right side instantly. So as they scroll through the different pages, the cart still remains visible and reminds them to check out.
Cart abandonment is one of those things that are just a slight improvement in cart abandonment. It could almost double your revenue – seriously – so this is a nice way to keep the cart in view, front and center at all times for your customer. Awesome plugin. Again, this is the lite version; there is a pro version that has more features and I rated this one a 4 out of 5.
John:                Very nice! I'm going to have to take advantage of that one because I'm just finishing up a WooCommerce website.
Marcus:           Nice! Yeah, give it a shot.
John:                I like that. All right, well the final plugin I've got here today is called GeoIP Detection. This plugin came about because of the previous plugin I talked about, the WP Hosting Performance Check. But I also discovered the GeoIP Detection can be used in many areas, especially if you're a developer. How it's used in the previous plugin is that it's used to track what countries your visitors are coming from to give you a report.
What you can also do with this plugin here is it has shortcodes that you can build into your theme development or plugin development. You can build this as a dependency to help with your geoIP tracking. Now, the plugin uses a couple of forms of the geoIP maps: it has its own built-in map that it takes from MaxMind or you can download the direct MaxMind IP map to it also to get more precise tracking with it. It's a really great plugin. It works relatively smoothly and installed rather well. Then it's got a lot of tips and tidbits in it on how to use it. So check it out if you're doing development and you want to do geoIP tracking, and I gave it a 4-Dragon rating.
Marcus:           Hmm…pretty cool! I'll have to check that out myself. Okay, finally, a lot of people out there use the Events Manager or the Events Calendar as one of their plugins or go-to events management tools on their website. A lot of people also use Facebook for their events. Now, you can use both. With this plugin, it's called Import Facebook Events, and it allows you to import your events from Facebook.com right into the Events Calendar and Events Manager.
So if you're like me and you use the Events Manager as your plugin, this one is a no-brainer as an extra add-on. It just completely imports all of your Facebook events and brings them right into your WordPress site with little effort required. It is pretty great. I love the Events Calendar. I use that for most of my clients and now that this is out, it gives me even more of a reason to love the plugin. It's called Import Facebook Events and I gave it a perfect 5 out of 5.
John:                Very nice. Wow, there seems to be a lot of plugins being built for the Events Manager and as I'm slowly switching over all the sites that use the previous calendar to this one.
Marcus:           Mm-hmm.
John:               
Marcus:           I like the Events Manager because it will allow me to import from Excel.
John:                Ah!
Marcus:           So if they're a recurring events or things like that, I can set it all up, set the description, set the buy links for the tickets and all of that, put it all into Excel, and away I go. I have one client that is in an instructional institution and they teach multiple classes every single day. It just kind of varies what city they're in; sometimes they're in Vegas, sometimes they're in the Midwest, and they kind of rotate around the country. For this, it's pretty nice because now we can have them just set up their events also in Facebook and bring it right in, so I love this plugin.
John:                Very nice. All right, well this week here I covered up PHP/MySQL CPU Performance Statistics, which I gave a 4 to; WP Hosting Performance Check, which I gave a 4 to; and GeoIP Detection, which I gave a 4 to.
Marcus:           And I talked about Host Info, which gets a 3 out of 5, Woo Floating Cart Lite gets a 4 out of 5, and we just talked about Import Facebook Events, which gets a 5 out of 5.
Save
Save
Save
Save
Save
Save
Save
Save
Save
Save
Save
Save
Save
Save
Save
Save
Save
Save
Save