All transcripts start from the point in the show where we head off into the meat and potatoes. They are the complete verbatim of Marcus and John's discussion of the weekly plugins we have reviewed.
WordPress Plugins A to Z Podcast and Transcript for Episode #276


It's Episode 276 and we've got plugins for keeping track of post creation times, Quizzes, Facebook Live Video, Site Notificiations and a Reviews Plugin that will have you seeing stars in Google. It's all coming up on WordPress Plugins A-Z!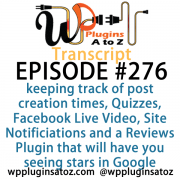 ---
Episode #276
John:                Okay, the first plugin I've got this week here is called Quiz Cat, and this is a premium plugin. It was submitted to us by David Hehenberger – hopefully, I got that right – and from fatcatapps.com. What this one here is, this is viral quizzes is definitely a thing. You know, you see them all the time in Facebook, Twitter – all kinds of places where people put a quiz up. You know, "What Superhero Are You?" "What Type of Cat Are You?" – blah, blah, on and on.
Well, creating those things, you often have to do them on other people's websites where they get to collect the data that you're trying to collect. You should be able to do it on your own site and that's what this plugin does for you. It allows you to create those viral quizzes on your website and it's a relatively easy plugin to do. It even helps you collect emails where people will have to submit their email to you to get the answers to the quiz that you've created. It integrates with MailChimp and Zapier and so you can collect and organize those emails into your mailing list.
You create unique quizzes tailored to your website focus. You can create two types of quizzes: you can create points quizzes or a quiz that tells them what kind of superhero they are if they answer all the things in the correct direction. The personality quizzes are great; they're lots of fun. It doesn't take too long to create a quiz if you have something in mind. Who knows? You might be real creative and get one that goes viral. It's a really good plugin.
I found it worked fairly well, although I did have some issues in the MU environment, which is what WP Plugins is built on. It just didn't seem to quite function correctly. I've contacted the developers to see if we can help sort it out for them. It could be fault because I've got so many plugins in there right now, there could be a plugin conflict also. But the first place I go is an MU conflict when a plugin doesn't work. So anyway, it's a great plugin; check it out. It's called Quiz Cat and I gave it a 4-Dragon rating.
Marcus:           Cool! Yeah, that's a great lead magnet – really great in terms of getting people sign up to your list, because those things are completely viral. I'd be curious to see if somebody can make an entire site out of that. That would be really cool.
John:                You probably could.
Marcus:           Yeah. So let's go to my first plugin. John, I've been trying desperately to blog every single day and it just hasn't happened for me. I got to five in a row and then it just like hit me and it's a little tough. So, you know, I use a project management system where I log all my time and sometimes it's difficult to track how long it takes to make a post from start to finish when you're going back into the editor ten different times over the course of three days. This plugin helps with that. It's called Post Worktime Logger, and it's a plugin that's essentially a tool that tracks all of the time you put into making each post.
It's a timer that shows exactly how long it takes in the editor, so as you're in the editor, the clock starts ticking so you can tell exactly how much time you've put into a particular post. That's great for people that are content people that do things for clients and they want to be able to bill it, or just for yourself to just see how long and how much time you used making a particular post. It's called Post Worktime Logger – great tool for tracking time. I rated it a 4 out of 5.
John:                Very nice. The only question I would have about it is does it continue to track the time if say you walk away from the computer screen and get caught up making lunch for your kids or something else that drags you away from the screen?
Marcus:           I think it does.
John:                Okay.
Marcus:           I don't think there's a pause option.
John:                Well, what I'm thinking is inactivity, like no mouse on the screen or something that indicates that someone is actually sitting in front of the computer. That's the only thing that I would do, because it happens to me. I'll get in the middle of something and all of the sudden my kids want something to eat, I've got to get up, go from the computer, go get them the food, and I forget that I've left something on the screen.
Marcus:           True.
John:                So that's the only thing. Other than that, it sounds like a fantastic plugin. It would be a great thing to have.
Marcus:           Yeah, I'm looking at it right now. It says it "checks activity and only updates working time…"
John:                Oh.
Marcus:           If you really worked on that.
John:                Okay, I'm going to have to install it and give it a test, because I would love to know how long it takes me to get my posts made everywhere I do them.
Marcus:           Yeah, so I mean it's just a little meta box that's on the right side in the post editor that tells your current and total work time on it.
John:                Sweet. All right, the next plugin I've got here is another premium plugin that was sent into us by Kuba Mikita and it's called Notification – actually, it's a free plugin – sorry. This plugin is one that allows you to create notifications for just about everything that happens in your WordPress website. You can create custom email notifications that go out to you for all of the common triggers and things that you might want to track, especially if you've got a site where you have people doing additional work on your site.
It will trigger if they post or a page is published or updated, if it's changed, if it's modified. You can set up email triggers that happen on these events. You can go through other triggers, such as pingbacks or trackbacks on posts and pages. If those aren't enough, you can even register custom triggers to your sites. If you have a specific event that you want to occur, you can register that custom trigger event to this plugin and when that event happens on your website, it'll send an email to you telling you that this event has happened.
You can determine what email addresses it goes to, so you can send them to multiple email addresses or just to the default admin email address. There's lots of ways to use this for tracking the activity in your website for the events that will normally occur. This helps ensure that things are happening when they're supposed to happen.
All in all, it looks to be a pretty great plugin and it helps ensure you get those important email notifications from your website. Check it out; it's called Notification, and I gave it a 4-Dragon rating.
Marcus:           Cool. All right, a lot of people right now are into and using Facebook Live Video. It sort of took over.
John:                It took over Blab and other live video feeds.
Marcus:           Yeah! So there are times where you'd like to actually take people off of Facebook and be able to show a video maybe on your website, and this plugin lets you do it. It's called WP Facebook Live Video, and it displays a live video from your Facebook page or your profile page on any WordPress post or page, just using a small, little shortcode.
So whenever you have a live video, it actually pops up and shows the video that's live right now. And if you don't have a live video going on at that time, it shows nothing, so it's great to use on the sidebar, a dedicated live page – like if you're going to do marcuscouch.com/live – a great way to have it to where you don't have to have connections in Facebook and everybody hooked into you and all that kind of stuff. It just lets people see it directly from your webpage on WordPress, so I gave it a 4 out of 5.
John:                Very nice! That could be very useful. So you mentioned briefly there that you could put it into a sidebar widget so that it's always visible.
Marcus:           Yes.
John:                That's an excellent thought. Yeah, the thought that occurred to me was to have it pop up if a video suddenly came live and someone was on your site too.
Marcus:           Well, it doesn't pop up in the sense of like a typical pop-up like we're thinking of. But if you put it on the sidebar and if you go live, then yes, that shortcode Facebook Live video shortcode will take over and show that live video, so you can put it anywhere you want: the sidebar, posts, pages – anything.
John:                That's sweet. A nice way to promote yourself and if someone happens to be visiting, the video starts playing, and there they have you.
Marcus:           Yeah, and I would think you know also that maybe a good way, if you wanted to have people to say sign up to a pseudo webinar or a walkthrough or something like that —
John:                Yeah?
Marcus:           — that would be great, because then you can have them go to one page where all your offers are, all your call to actions – everything. So check it out: WP Facebook Live Video.
John:                There you go. Okay, the final plugin I've got here is ACF Theme Code Pro. This is a premium plugin. It was sent into us by Aaron Rutley, and while I didn't use this plugin because I'm not using Advanced Custom Fields (which this plugin requires), I have used Advanced Custom Fields in the past.
What this plugin does is it helps you generate the code necessary to place into your theme for custom fields. It's a really great plugin. You set it up, you create your custom themes, you hit the buttons, it produces the code you need to place into your theme. They do have a free version that you can try out and there's a link in the show notes for the free version off of the WordPress Repository.
It will help ensure that you get your particular task done using the advanced custom field plugin. It looks like it's going to be a great help for those that use advanced custom field plugin to help ease the pain of getting all the custom fields into their theme, so check it out. It's a really great looking plugin: ACF Theme Code Pro, and I gave it a 4-Dragon rating.
Marcus:           Cool! I'm going to try that. Okay, I had a client last week come to me and talk about SERPS – the Search Engine Result Pages in Google. They noticed that a competitor was showing up for similar kinds of products and they had a star rating listed on their results. You know, you've seen that. You've searched for something in particular and you see like a rating system that Google puts in their search engine results.
This plugin lets you do that. It's called Reviews Plus, and it's a free WordPress plugin and it allows you to manage and display customer reviews for products, services, any kind of content you want. This essentially replaces the entire comments section for a selected post type and it provides a full rating summary that's fully compatible with Google guidance in order to show up in the results with the review stars in the listing. A great plugin, easy to set up, fantastic to use, good results – gave it a perfect 5 out of 5.
John:                Very nice! Yeah, that can be quite a benefit nowadays that so many people place so much emphasis on the ratings they find for everything.
Marcus:           Yes.
John:                Whether those ratings have any value or not is irrelevant; they still seem to place emphasis on them.
Marcus:           Yeah, it suckers me in. I always click on those.
John:                Yeah, I actually ignore them myself. I just treat the ratings as mostly false and continue along the way.
Okay, well, that's a great roundup. I covered up today Quiz Cat, which I gave a 4 to; Notification, which I gave a 4 to; and ACF Theme Code Pro, which I gave a 4 to.
Marcus:           And I spoke about Post Worktime Logger and gave that a 4 out of 5, WP Facebook Live Video, 4 out of 5, and we just talked about Reviews Plus, gives you a 5 out of 5.
Save
Save
Save
Save
Save
Save
Save
Save
Save
Save
Save
Save