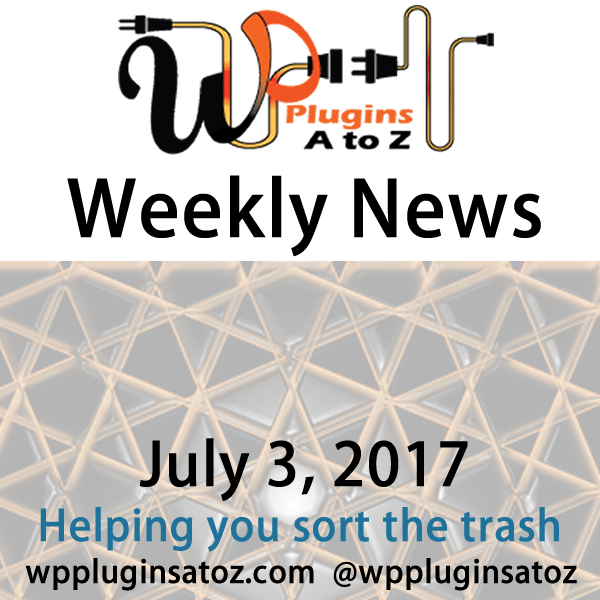 The Weekly round up of news, tips, and information to help you create the best possible WordPress website.
This is a weekly round up of WordPress news I have accumulated from across the web some old some new but always interesting. The new relates to WordPress and sometimes other areas of the web. It often has a focus on security and more.
We try to have news here that is not only important to help you with your website as well as new from the #wpdrama scene and more to share.
Some of the news here will be of interesting links to not only articles but training materials and other sources I can find online that will help you create a better WordPress website.
---
This week we have the following news for you.
WordPress: Protect your website from cyber criminals

WordPress is one of the most widely used platforms for hosting and site building in the world. Developers of the WordPress team do their best in rolling out monthly updates to keep sites secure, but admins can always tune their settings and install additional plugins to bolster security.

With cyber-attacks on the rise, it is always advised to use every security measure at our disposal that we consider can make us be safer. Regular maintenance, of course, is also something that should always be kept in mind and be automated if possible. Read original article here…. theusbport.com
How I Use Fiverr to Grow My WordPress Business

It's crucial that you explore as many avenues as possible for finding clients when you're starting out as a web developer. Platforms like Upwork can be a great place to start building your portfolio of work and list of clientele. Then there's Fiverr, a platform that is often overlooked.

Why is Fiverr overlooked? Because most people can't get past the fact that the initial pricing point is $5. When you put a lot of blood, sweat and tears into your work, $5 just isn't work the effort, right? But with some clever strategy on your part, you can use Fiverr to grow your WordPress business, perhaps at an even faster rate than you would with Upwork.

And how do I know all this? I use Fiverr myself as part of my own digital marketing business strategy. Read original article here…. premium.wpmudev.org
How to Conduct a Design Audit of Your Website

As your website grows, there's a chance its design might start to look somewhat stale. Keep in mind, design trends are constantly evolving, and being able to spot these issues is important if you want your site to look modern and 'fresh'. Plus, you'll also need to keep all of the aspects of your design looking uniform (and usable) to provide a good experience.

The best way to spot and correct these issues is with a design audit of your entire website. In this article, we're going to teach you what these audits are and how they can help you. Then we'll talk about some tools to help you conduct one, before finally showing you how to do so in three simple steps. Let's get to work! Read original article here…. elegantthemes.com
Tips Tuesday

Last week, an article appeared on WPMayor about a major change to the pricing structure on those paid extensions from Woo.

They cited a similar change in 2013 when pricing went from unlimited licenses to single site licenses.

And now, the renewal rates will no longer be at 50%.
10 WordPress SEO Tips to Get More Traffic to Your Website

You have decided to launch a blog and make it a real game-changer. So, what are the first steps that you will take in order to make it as popular and attention-grabbing as you wish? Enhancing your blog with an eye-catching design will surely work for better attraction of the new customers. However, this will work when a person has already landed on your page. But how can you make them actually find you on the web and how to keep their attention grabbed with your data? This is when a proper SEO optimization of your online resource comes into play.

The web offers a huge variety of guides and tutorials on how to optimize your content in a way that it ranks higher in the search. But which of those instructions are truly effective and will work well on your WordPress blog? We have decided to enumerate the 10 universal SEO techniques that will make your personal or corporate blog shine on the web, no matter what niche you are related to. Read original article here…. wpexplorer.com
How to Fix "Not Allowed to Access this Page" Error in WordPress

Picture this: You're working away on your WordPress site and then bam! You see this puzzling and face contorting error:

Sorry, you are not allowed to access this page.

"How is this even a thing?" you quietly shout. "I am allowed to access this page. I'm the admin!"

The frustration continues when you realize the fix isn't so cut and dry since there are multiple and equally possible reasons for the error. Read original article here…. premium.wpmudev.org
How to Clean Your WordPress Cache Like a Pro

I think you will agree when I say that the mention of cache doesn't elicit the best of feelings unless, of course, you're one of those tech-savvy cool kids. Nah, still it doesn't elicit the best of feelings.

Yet the concept of cache is so easy to understand, you don't need a degree in anything. Moreover, it turns out cleaning cache on your WordPress site is super-duper easy you can do it before the next guy makes a cup of coffee. Read original article here…. wpexplorer.com
And now for something older in the past article collections.
CodeCanyon By The Numbers

CodeCanyon is the leading marketplace for selling premium WordPress plugins owned by a digital marketplaces conglomerate – Envato. The marketplace grossed over $70,000,000 since 2009, processed 2.3 million sales of WordPress plugins, and has a growing community of 7.8 million members.

After seeing relatively optimistic results in the previous post where I analyzed ThemeForest, this post focuses on the CodeCanyon marketplace, trying to dive into its unit economics and understand what are the chances of "making a living" by using it to sell premium WordPress plugins. Read original article here…. freemius.com
4 Ridiculously Obvious Mistakes I Made Building WordPress Sites for Clients

Not a good way to be spending your time hours before the clocks chimed in the New Year.

Let's take a step back.

How did I end up in this situation, and why wasn't I chilling in a beach bar sipping on a Ti' Punch while waiting for the Champagne to cool?

The truth is, I hadn't put in the project management systems in place that would have prevented this situation.

I work at Planio, a project management tool, and I've talked to lots of WordPress developers on how they manage client projects using it. Read original article here…. premium.wpmudev.org
WordPress website go-live checklist

So you've designed a new WordPress website and it's ready to go live. Congratulations!

Going live is an important part of the web design process. Over the years, we have developed a detailed checklist of essential steps for launching a WordPress website. Read this checklist before you launch a website into the big wide world, and give it the best possible start.

There's a right and a wrong time to go live. For some reason our clients always want to go live on a Friday. Bad idea!

Schedule the launch of the website for as early in the week as possible. This leaves the longest possible time to complete the go-live checklist and fix any teething problems before the weekend, when your WordPress web designer may not be available. Read original article here…. barn2.co.uk
Free Online WordPress Theme Detector

Whoiswp.com is the ultimate online detecting tool that will help you find out what WordPress theme a site is using. Get ready to unleash your inner web designer and start creating the website of your dreams just by using this amazing platform and our free theme detector.

1. Copy the URL of any WordPress website 2. Open Whoiswp.com 3. Paste the copied link into the search box 4. Press the Search button 5. Done! Now you know that site's theme and plugins Read original article here…. whoiswp.com
Update a Free and Premium Version of the Same WordPress Plugin Error

As you might have noticed, there are some plugins that when you upgrade to the paid version, you are required to keep the free version installed as well. The reasoning or methods behind this are not something I don't care to understand.

But in many cases, when there is an update to one of them, often you will find an update to the other as well.

Naturally, you click both to upgrade at the same time. Read original article here…. bobwp.com
How Do You Educate People New to WordPress?

When a friend of mine asked for suggestions on what he should use to create a new site, I suggested WordPress. It is well supported, has an amazing community, and a ton of free themes and plugins to choose from. After getting WordPress installed on a new webhosting account, I left him be to see what issues he would run into and how he would configure the site.

After noticing the site was loading slowly three weeks later, I obtained admin access to try to determine what the problem was. The first thing I did was check which plugins he installed. One of the plugins added the ability to embed YouTube videos on the site using shortcodes. My friend was unaware that WordPress has oEmbed support which allows users to easily embed videos by pasting the URL into the editor. Read original article here…. wptavern.com
Well that's a wrap for this week more next week from WP Plugins A to Z.