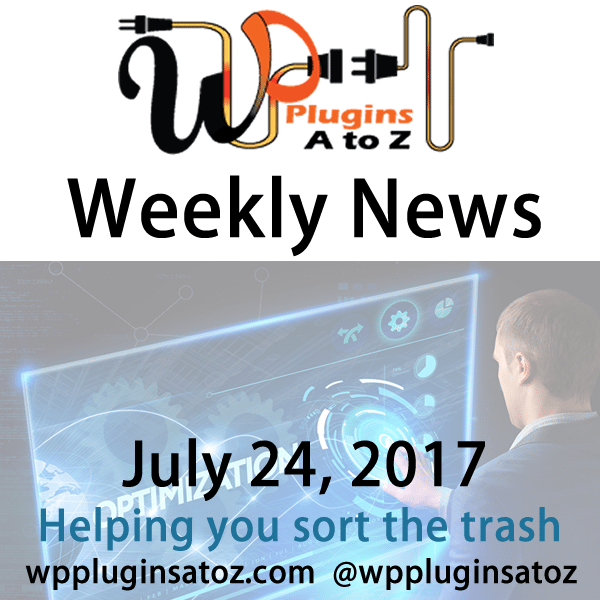 The Weekly round up of news, tips, and information to help you create the best possible WordPress website.
This is a weekly round up of WordPress news I have accumulated from across the web some old some new but always interesting. The new relates to WordPress and sometimes other areas of the web. It often has a focus on security and more.
We try to have news here that is not only important to help you with your website as well as new from the #wpdrama scene and more to share.
Some of the news here will be of interesting links to not only articles but training materials and other sources I can find online that will help you create a better WordPress website.
---
This week we have the following news for you.
13 Crucial WordPress Maintenance Tasks to Perform Regularly

Ever wondered which WordPress maintenance tasks you should be performing regularly? After starting a blog, often users don't perform maintenance checks unless something breaks. By running regular maintenance tasks, you can make sure that your WordPress site is always performing at its best. In this article, we will share 13 crucial WordPress maintenance tasks to perform regularly, and how to do each one of them.

Your WordPress site is a powerful system made of several parts. This includes your WordPress hosting, WordPress software itself, plugins, and themes. Read original article here…. wpbeginner.com
New Custom HTML Text Widget in WordPress 4.8.1

Get a sneak peek at the new Custom HTML Text Widget in WordPress 4.8.1.

This new widget will take the place of the original Text Widget that we had in previous WordPress version.

The devs made a way to safeguard your custom code in existing Text Widgets so that it doesn't get stripped out as you make the switch to the new Custom HTML widget.
How and Why to Switch to PHP 7

Get an overview and checklist of the steps needed to ensure your WordPress site has a smooth transition to PHP 7.

PHP versions below 5.6 are no longer supported.

The latest version of PHP is 7.x

Running below PHP 5.6 puts your site at risk for: Read original article here…. blogaid.net
Stop Stuffing WordPress Site With Plugins

The plethora of pre-built functionality from different plugins is one of the main advantages of the WordPress CMS. But a common beginner's mistake is to overuse them to solve problems that an experienced WordPress developer wouldn't dream of using a plugin for. And there is a good reason for it, so I'll take you through the top ones in this article.

I received a chat earlier this year from a digital agency that needed our help to code WordPress sites for them. The first question they asked to qualify us as a potential supplier was "Can you tell me how many plugins on average you include per site?". Read original article here…. pixelemu.com
WordPress Deprecated Functions: Be Sure to Test Your Plugins & Themes

Do you see an interesting plugin and install it willy-nilly, hoping it doesn't break your site? How scary! If yes, why? Because you like being exploited by malware, enjoy testing the accuracy of your backup restorations or because you don't know a better way? Let's try this…

Tip: The scanners only test for the presence of outdated, old, deprecated functions. TAC also checks for included malware. These tests help, but they're not magic. There are additional errors that could be present upon activation or conflicts that may arise when installing to your other site(s). Read original article here…. premium.wpmudev.org
5 New Things You Can Do with WordPress 4.8

In this article, we'll introduce you to WordPress 4.8, also referred to as 'Evans' in honor of jazz pianist and composer William John 'Bill' Evans. We'll run through this update's major changes and additions, and show you how to use them. Let's take a look!

Widgets have always been a simple way to customize your WordPress site's functionality and add important features. The core platform has developed quite the collection over time, including widgets that add calendars, lists of comments or posts, custom menus, and more to your site. Read original article here…. elegantthemes.com
How and When to Use the H1 Tag on Your WordPress Website

If you've ever done any research on search engine optimization, you've probably come across mentions of the H1 tag. But what is the H1 tag, where does it show up, and how should you actually use it to make your site better?

In this post, I'll get into some best practices for using your H1 tags to improve your site's search engine optimization and user experience.

I won't belabor this point because I'm guessing most of our readers are already at least a little bit familiar with H1 tags. But just in case you're not, here's a speed refresher:
5'Tips' and 'Reasons' For Savouring The Art of WordPress Development!

7 Reasons why you will love WordPress

An open source that will never pose the risk of burning a hole in your pocket. You can download, install and start using it for absolutely free of cost.

An easy to use and understand content management system attracting millions of developers with its simplicity.

There are thousands of plugins and extensions that accentuate the functionalities of a website. Moreover, a majority of them are free of cost. Read original article here…. hostreview.com
---
And now for something older in the past article collections.
Troubleshooting: WP redirects to an old post (_wp_old_slug)

This troubleshooting indeed took me a while to even understand why this could happen. The symptom is pretty simple: when trying to access a new post,  you are redirected to another (old) post. Sounds strange, here is how to recreate it.

Let's start with a fresh WordPress installation, where there is only one post called "Hello World". Now, let's do some experiment: Read original article here…. wordpress.2bearstudio.com
How To Give Access to Your WordPress Online Stores Dashboard

When I used to work on clients' projects, I often needed access to their site. In fact, it sometimes it was more than their WordPress site. When they gave me access to their online store, I always thought that it was like someone had given me a key to the front door of their brick-and-mortar shop. Now I know that isn't a fair comparison, because in the latter case all their products were at my finger tips. On the other hand, consider all the things available to me once I was inside that virtual door. Read original article here…. bobwp.com
Quick Tips To Speed Up Your WordPress

No one today likes to 'Wait'.  It is becoming tough for slow websites to stand out and engage with their users. As mentioned on kissmetrics blog, one-second delay in page response can result in a 7% reduction in conversions.

Forty percent of people abandon a website that takes more than 3 seconds to load. If you are running a website, you have very little time to show the content and convince a user to stay on your website. Read original article here…. bwdisrupt.businessworld.in
How Site Staging Could Save You Headaches with Your Online Store

Okay. To be fair, having staging services will save any WordPress site owner from major headaches.

But it is even more critical for online stores because it's your business, your storefront, and you don't want to have to suddenly close the doors.

Think of it this way. When you have a brick-and-mortar shop, you do repairs and upgrades. Maybe you are upgrading your lighting system. Well, you probably have the option of doing this during your closing hours rather than peak time. Read original article here…. bobwp.com
5 Ways to Integrate LinkedIn to Your WordPress Website

Want to add a dose of professionalism to your WordPress site? LinkedIn is by far the most popular social network for professionals. So if your site is focused on business or other topics professionals concern themselves with, then it's a good idea to take advantage of this fact and add some of the social network's elements to WordPress.

In this post, I'll go over the different methods of integrating this social network with WordPress. Then, I'll give you the best plugins and tools to accomplish each method. Let's get into it… Read original article here…. elegantthemes.com
Well that's a wrap for this week more next week from WP Plugins A to Z.