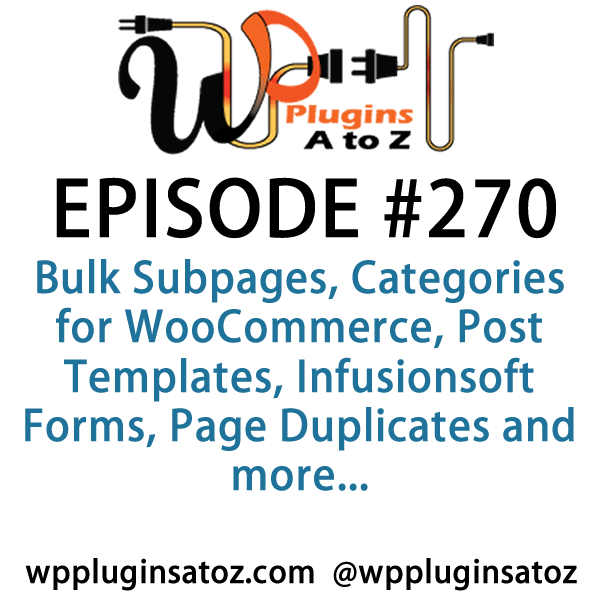 It's Episode 270 and we've got plugins for Bulk Subpages, Categories for WooCommerce, Post Templates, Infusionsoft Forms, Page Duplicates and more… It's all coming up on WordPress Plugins A-Z!
Podcast: Play in new window | Download | Embed
Subscribe to WPPlugins A to Z on Google Podcasts | Email | RSS
Get all the grisly Plugin details and full access to the complete show notes on our website WPPluginsAtoZ.com! You can follow the show on Twitter at @wppluginsatoz, and join our Facebook at WordPressPluginsA2Z for the latest in WordPress Plugin related news - some we come across in-between shows, and some we talk about on our weekly show.
The WordPress Plugins A-Z Podcast can be found on
iTunes
,
SoundCloud
,
Stitcher Radio
and also on
WordPress Radio
. If you like what you hear on the show, we encourage you to share your enthusiasm with others that you know in the WordPress community and in social networks. Share on Twitter:
WP Plugins A to Z The Only #WordPress #Plugins #Podcast
Click To Tweet
Self Promotion
While we do enjoy bringing you the show week after week, we also make our living with WordPress and related promotional services. With that, we ask for a moment of your time for some self promotion. If you find these promotions of value, please share them with friends and colleagues.
---
Promotions from John Overall:
Has your
WordPress
site broken? Do you have a question or two about its functionality? Have you recieved the white screen of death? This may be time for some
Emergency WordPress Support.
Contact me at WPPro.ca/help or give me a quick call at 818-850-7729.
---
Promotions from Marcus Couch:
X² Marketing
is your full-service digital marketing and brand development agency. Whether you are a solo entrepreneur, small business or enterprise level company; power up your marketing with X2. From WordPress to ClickFunnels, Landing Pages to Social Campaigns, SEO, Paid Ads, Infusionsoft management and more. Visit
X2marketing.com
and get in touch with Marcus about your digital marketing needs.
My new and improved Membership Coach program is your go-to resource for all the Training, Advice, and Support needed to Develop and Grow a Profitable Membership Site. Be sure to head over to MembershipCoach.com and get on the waiting list for the first sessions, launching soon. You can also follow @membershipcoach on twitter to get the latest release dates and news. Signups are now active and Pre-Launch Enrollment is open!
Thank Our Donors
We would like to thank our donors to the show, everyone who donates $50 or more will be acknowledged here with a mention and a link back to their page and all those below will be anonymous 
Thanks to all donors who came in under $50
For those who have asked about Patreon our Patreon account is now available at
https://patreon.com/wppluginsatoz
where you can donate on a monthly basis. As an incentive if you donate $40 a month you will gain access to the exclusive plugin tutorial videos on how to setup and use the plugins we review and use.  Thanks to our new Patreon Donors Much appreciated.
WordPress News and other interesting WordPress related posts:
WordPress Plugin Fixes SQL Injection Flaw That Let Attackers Dump Site Passwords

An SQL injection vulnerability exists in the Ninja Forms WordPress plugin that is both easy to exploit and allows an attacker to dump quite a lot sensitive information from affected sites.

The vulnerability affects Ninja Forms plugin versions prior to version 2.9.55.2, version where this issue was fixed. Read original article here…. news.softpedia.com
101 Awesome Ways to Speed Up Your WordPress Website

This article contains 101 ways to speed up your WordPress website, but it is far from being the definitive guide. If you have additional ways to help others speed up their sites, please feel free to contribute them in the comments section at the bottom of this post. Read original article here…. biteproof.com
We now have transcripts appearing on the website starting with Episode 255.
Listener Feedback / Audio Clips
Jeremy has a comment about sending us in plugin reviews…
While he did two of them we will save one for next episode and if any other listeners would like to submit please feel free to send them in.
**WordPress Plugins Reviewed by John Overall**
YITH WooCommerce Category Accordion
Version: 1.0.10
Author: YITHEMES
Last Updated: 4 months ago
Requires WordPress Version: 3.5.1 or higher
Compatible up to: 4.5.3
Active Installs: 1,000+
The Lowdown:
I went looking for something that could create an accordion style display for the categories in a woocommerce store. While there are several out there almost all of them to be useful require you to buy the premium version before they will do anything close to what you want.
Not much use as the free version no controls at all for how the cats are displayed.
Rating 2 Dragons as a free version
WooCommerce Collapsing Categories
Version: 0.0.1
Author: subhansanjaya
Last Updated: 2 weeks ago
Requires WordPress Version: 3.0 or higher
Compatible up to: 4.6
Active Installs: 1,000+
The Lowdown:
This one does excatly what you need it to do without having to buy the premium version. It allows you to create the acordian of your categories in a widget, exclude categories as needed, custom style it and it just works great.
Rating 4 Dragons
Duplicate Page
Version: 2.1
Author: mndpsingh287
Last Updated: 8 hours ago
Requires WordPress Version: 3.4 or higher
Compatible up to: 4.6
Active Installs: 30,000+
The Lowdown:
In need of a plugin that duplicates pages and posts clean and simple? Then this is the plugin for you simple to setup and use works just they way you want it to.
Rating 5 Dragons.
**WordPress Plugins Reviewed by Marcus Couch**
lets you to create multiple sub-pages in a batch/bulk manner saving time at any time in your WordPress site. This plugin will give you a startup screen in which you can add as many sub pages in a quick manner and then by clicking one button will create all the sub pages for a parent page.
Rating: 4 out of 5
provides the ability to select custom templates for each post type, even custom post types, as for Pages. Once you activate Templatify, a "Select Template" box will appear in every post edit screen filled with Pages Templates.
Rating: 5 out of 5
Infusionsoft is an amazing marketing tool, however it's web forms can leave you wanting more. Many styling options are left unchangeable with default Infusionsoft functionality. Thus I have taken it upon myself to add styling functionality to WordPress since Infusionsoft has now plans to overhaul the simple drag and drop builder.
Now all you have to do is copy the "un-styled HTML code" from the "CODE" section of your Infusionsoft Webform and paste it into the WordPress Form editor. Simple! And with over 40 options to style, you can make Infusionsoft Web Forms finally match the style of your website!
Rating: 4 out of 5
John's Plugins: YITH WooCommerce Category Accordion – 2, WooCommerce Collapsing Categories – 4, Duplicate Page – 5
Marcus' Plugins: Easy Bulk Subpage – 4, Templatify – 5, Formlift – 4
Time to share this space with others, so currently I would like to let others know about a great non profit society here in the Victoria area Heritage Acres 
https://heritageacresbc.ca/
 they help preserve our history for everyone. You can see steam engines from the 1800's ride the model railroad. If you become a member you even gain access to the Blacksmith shop and more check them out at 
https://heritageacresbc.ca/
Just some reminders:
Join my at the monthly ClassicPress / WordPress Meetup
Classicpress / WordPress Meetup
Rate us on
iTunes
,
blubrry.com
,
ViaWay.com
,
Stitcher Radio
and any place else you find us.
Interact with your Hosts
John can be contacted at:
Website: https://www.johnoverall.com/
WordPress Emergency Support: https://wppro.ca/wpemergency
Email: john@wppro.ca


Save
Save
Save
Save