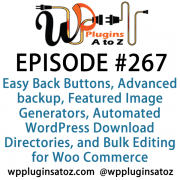 It's Episode 267 and we've got plugins for Easy Back Buttons, Advanced backup Features, Featured Image Generators, Automated WordPress Download Directories, and Bulk Editing for Woo Commerce.. It's all coming up on WordPress Plugins A-Z!
Podcast: Play in new window | Download | Embed
Subscribe to WPPlugins A to Z on Google Podcasts | Email | RSS
Get all the grisly Plugin details and full access to the complete show notes on our website WPPluginsAtoZ.com! You can follow the show on Twitter at @wppluginsatoz, and join our Facebook at WordPressPluginsA2Z for the latest in WordPress Plugin related news - some we come across in-between shows, and some we talk about on our weekly show.
The WordPress Plugins A-Z Podcast can be found on
iTunes
,
SoundCloud
,
Stitcher Radio
and also on
WordPress Radio
. If you like what you hear on the show, we encourage you to share your enthusiasm with others that you know in the WordPress community and in social networks. Share on Twitter:
WP Plugins A to Z The Only #WordPress #Plugins #Podcast
Click To Tweet
Self Promotion
While we do enjoy bringing you the show week after week, we also make our living with WordPress and related promotional services. With that, we ask for a moment of your time for some self promotion. If you find these promotions of value, please share them with friends and colleagues.
---
Promotions from John Overall:
Has your
WordPress
site broken? Do you have a question or two about its functionality? Have you recieved the white screen of death? This may be time for some
Emergency WordPress Support.
Contact me at WPPro.ca/help or give me a quick call at 818-850-7729.
---
Promotions from Marcus Couch:
X² Marketing
is your full-service digital marketing and brand development agency. Whether you are a solo entrepreneur, small business or enterprise level company; power up your marketing with X2. From WordPress to ClickFunnels, Landing Pages to Social Campaigns, SEO, Paid Ads, Infusionsoft management and more. Visit
X2marketing.com
and get in touch with Marcus about your digital marketing needs.
My new and improved Membership Coach program is your go-to resource for all the Training, Advice, and Support needed to Develop and Grow a Profitable Membership Site. Be sure to head over to MembershipCoach.com and get on the waiting list for the first sessions, launching soon. You can also follow @membershipcoach on twitter to get the latest release dates and news. Signups are now active and Pre-Launch Enrollment is open!
Thank Our Donors
We would like to thank our donors to the show, everyone who donates $50 or more will be acknowledged here with a mention and a link back to their page and all those below will be anonymous 
$55 from Jez at Jezweb Pty Ltd.
Keep up the good work guys, thank yuou for bringing to light new and interesting plugins each week. This donation is coming to you on behalf of one of our clients: Clements Airconditioning – www.ClementsCare.com.au
Thanks to all donors who came in under $50
For those who have asked about Patreon we will have a Patreon account launching in a couple weeks where you can donate on a monthly basis. We will be offing as an incentive plugin tutorial videos on how to setup and use the plugins we review and use.
WordPress News and other interesting WordPress related posts:
Listener Feedback / Audio Clips
Speakpipe from Jez at Jezweb Pty Ltd. coment about the Smart Crawl SEO plugin from WPMU and updraft plugin
**WordPress Plugins Reviewed by John Overall**
Featured Image Generator
Version: 1.0.1
Author: Aum Watcharapon
Last Updated: 2 days ago
Requires WordPress Version: 4.5.3 or higher
Compatible up to: 4.5.3
Active Installs: 60+
The  Lowdown:
If you are looking for another way to find great free creative commons license photos for your featured images this is a plugin for you. Very easy to install and use. The photos come from  
https://unsplash.com
 and they have a pretty good selection of images though no zombies. they look to be decent quality to high quality. The plugin set a link for your featured images you can then go search for an image upload it and set it as your featured.
what you can do
Customize beautiful font family from Google Font.
Set default thumbnail size for featured image.
Select / Upload photos from your computer or hosting for editing the photos.
Photos editor tools to make your featured image looks incredible.
Save to Media Library of WordPress and set to featured image to the post right away
All in all a pretty great plugin simple easy and works just the way we like them.
Rating 5 Dragons. 
sent in by Tsvetan Tsvetkov at https://ignitevision.bg/
IVGuard
The Lowdown:
This looks to be a premium plugin and looks to be in beta maybe after beta they will set the price.
IVGuard looks to be a pretty nice site protection plugin if a little confusing in whether it costs anything. It seems to make a backup of your site right away as you activate the plugin.
Looks like you can add multiple site although did not test that. Their dashboard is a bit confusing right now but I am sure it will improve. I found a place where it lists what they have labeled as suggestions but seems to be a list of files to have a look at. It did present a a couple false positives. All in all this looks like it will be a pretty good plugin once they get though the bugs and flow.
Rating 3 Dragons
UpDraft
Version: 0.6.1
Author: Paul Kehrer
Last Updated: 6 years ago
Requires WordPress Version: 3.0 or higher
Compatible up to: 3.1.4
Active Installs: 3,000+
The Lowdown:
This is a pretty decent backup plugin for those that need a straightforward backup plugin. You can set it to automatically backup daily, weekly or monthly. You can have it store locally, or FTP, Amazon S3, Rackspace or email you the file. Although emailing most backup files is pretty hard these days since they are often a few gigs in size. I am not sure about the function Jez mentioned that causes a backup just before updates. I tried this but did not get it to activate and cannot locate a setting for it but it is a great idea and if it does that such a great feature. It does seem to have a restore feature but I did not test that. All in all a pretty nice plugin
Rating 4 Dragons
**WordPress Plugins Reviewed by Marcus Couch**
Download Directory
Create a download directory website in a minute. Allow registered users to receive update alert for new software's version. I examined this for possible use of the Membership Coach site, but it doesn't have everything I'm looking for. It is though, a really nice self-updating directory service for WordPress.
Rating: 4 out of 5
Back Button
A simple back button added to all post types edit page. You can filter and navigate to posts lists without worrying about updating the post and lose the posts before. This is something I've kind of been seeking out for some time. I have developed a conference plugin and depending on what category or session speakers are being looked at, it was always hard to place a fixed back button. This seems to do a nice job so far.
Rating: 5 out of 5
Bulk Edit WooCommerce
With this plugin, you can bulk edit WooCommerce products fields such as SKU, Catalog Visibility, Stock, Quantity, Regular Price, Sale Price, Shipping Class, Weight and Dimensions.
This bulk edit plugin allows you to edit multiple products at a time whether it's a simple product. You can filter the products to edit using the Filter option provided by the plugin. Filters can be applied using various parameters like Type of the Product, Category of the Product, Attributes, Price, etc. You will be able to edit as many products as you want in just one step and edit fields such as SKU, Stock, Regular Price, Sale Price, Weight, Height, etc. The complete list is given below. You can even increase or decrease all prices in a category by a set percentage % or dollar value $ for quick sales or product price increases/decreases all in one step. You can even bulk add sale prices to products that do not currently have sale prices active. Also, change you can easily Regular Price by % or Flat price.
There is a premium version. So I took 1 point off for this version's review.
Rating: 4 out of 5
Plugins Overview:
John's Plugins: Featured Image Generator – 5, IVGuard- 3, UpDraft – 4
Marcus' Plugins:  Download Directory – 4, Back Button- 5, Bulk Edit Woo Commerce – 4
Time to do some promotions for my Beautiful Wife, Skye she has started writing again and is putting her short stories up on here website at
RunnerSkye.ca
there are some pretty great short stories with about one new one per week so go check them out at
RunnerSkye.ca
and please leave a comment for her.
Just some reminders:
Join my at the monthly ClassicPress / WordPress Meetup
Classicpress / WordPress Meetup
Rate us on
iTunes
,
blubrry.com
,
ViaWay.com
,
Stitcher Radio
and any place else you find us.
Interact with your Hosts
John can be contacted at:
Website: https://www.johnoverall.com/
WordPress Emergency Support: https://wppro.ca/wpemergency
Email: john@wppro.ca


Save