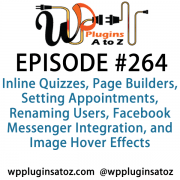 It's Episode 264 and we've got plugins for Inline Quizzes, Page Builders, Setting Appointments, Renaming Users, Facebook Messenger Integration, and Image Hover Effects.. It's all coming up on WordPress Plugins A-Z!
Podcast: Play in new window | Download | Embed
Subscribe to WPPlugins A to Z on Google Podcasts | Email | RSS
Get all the grisly Plugin details and full access to the complete show notes on our website WPPluginsAtoZ.com! You can follow the show on Twitter at @wppluginsatoz, and join our Facebook at WordPressPluginsA2Z for the latest in WordPress Plugin related news - some we come across in-between shows, and some we talk about on our weekly show.
The WordPress Plugins A-Z Podcast can be found on
iTunes
,
SoundCloud
,
Stitcher Radio
and also on
WordPress Radio
. If you like what you hear on the show, we encourage you to share your enthusiasm with others that you know in the WordPress community and in social networks. Share on Twitter:
WP Plugins A to Z The Only #WordPress #Plugins #Podcast
Click To Tweet
Self Promotion
While we do enjoy bringing you the show week after week, we also make our living with WordPress and related promotional services. With that, we ask for a moment of your time for some self promotion. If you find these promotions of value, please share them with friends and colleagues.
---
Promotions from John Overall:
Has your
WordPress
site broken? Do you have a question or two about its functionality? Have you recieved the white screen of death? This may be time for some
Emergency WordPress Support.
Contact me at WPPro.ca/help or give me a quick call at 818-850-7729.
---
Promotions from Marcus Couch:
X² Marketing
is your full-service digital marketing and brand development agency. Whether you are a solo entrepreneur, small business or enterprise level company; power up your marketing with X2. From WordPress to ClickFunnels, Landing Pages to Social Campaigns, SEO, Paid Ads, Infusionsoft management and more. Visit
X2marketing.com
and get in touch with Marcus about your digital marketing needs.
My new and improved Membership Coach program is your go-to resource for all the Training, Advice, and Support needed to Develop and Grow a Profitable Membership Site. Be sure to head over to MembershipCoach.com and get on the waiting list for the first sessions, launching soon. You can also follow @membershipcoach on twitter to get the latest release dates and news. Signups are now active and Pre-Launch Enrollment is open!
Thank Our Donors
We would like to thank our donors to the show, everyone who donates $50 or more will be acknowledged here with a mention and a link back to their page and all those below will be anonymous 
Thanks to Jez of Jezweb Pty Ltd who donated $50 
Thank you on behalf of one of our clients and recent site builds for Yellow Coaching –
www.yellowcoaching.com.au
>- Cheers Jez
with a message
Appreciate your work John and Marcus. I agree with your sentiments about jetpack. Completely unnecessary and I'd much rather not have our sites bound to the jetpack ecosystem. The killer for me was some years ago when jetpack/automattic just randomly would disable our entire wordpress.com account without warning and that would break all the jetpack stats for no reason that they would ever say and would after i asked eventually got it turn on again but three times and i was done so that pretty much burned the bridge for me with jetpack plus it is mostly useless fluff that i dont need anyway. Thank you for all the time you put into the show. All the best from Jez, CEO of Jezweb
Thanks to all donors who cam in under $50
Listener Feedback / Audio Clips
Four Star Review
Friday, July 01, 2016 8:29 PM
By Roger C Bennett
Great Podcast – Going Into My Second Year
I always enjoy listening to this podcast – Marcus and John are great hosts, and do a very good job at presenting relevant information and, in my opinion, fairly rating the plugins they review. I am going into my second year of listening to them. My only point of constructive criticism is that there seems to be technical issues on the podcast from time to time. I realize one of them lives in California and the other in British Columbia, so they are not present in the same studio, but oftentimes the sound quality of the podcast is not consistent and one of them sounds much better than the other due to whatever software they are using to host together. Other than that I would say great job, and please keep up the great work!
**WordPress Plugins Reviewed by John Overall**
Easy Appointments
Version: 1.8.16
Author: Nikola Loncar
Last Updated: 1 week ago
Requires WordPress Version: 3.7 or higher
Compatible up to: 4.5.3
Active Installs: 1,000+
The Lowdown:
This plugin sent in by one of our great listeners was something he discovered an thought should be shared with others. It is an appointment plugin that allows for multiple locations, services, workers and connections. This looks to be a great plugin that you can also customize to be personal for your business by setting custom messages and fields for the forms. Also setting redirects after they fill out the appointment.
The biggest drawback I see but also its advantage is that all appointments stay on the site there is not currently a google calendar integration, nor is there a way to collect funds though PayPal or another payment processor. All in all it looks pretty good
Rating 4 Dragons
Tailor Page Builder
Version: 1.3.0
Author: Andrew Worsfold
Last Updated: 1 hour ago
Requires WordPress Version: 4.3 or higher
Compatible up to: 4.5.3
Active Installs: 400+
The Lowdown:
This plugin is a custom page-builder that will work with almost any theme. The claim is any theme but to give it a good go I decided to test with a premium theme from codecanyon just to see what would happen since the theme had its own customizer built in I wanted to see what would happen. I found that it would not function properly too much confusion I am sure. To be fair I activate a random regular theme to see how it would work and I also discovered that it only works on "Pages" not Posts.
The interface is pretty nice and simple similar to the customizer, you drag and drop your elements and customize them up get the look you want for the page and your golden. Check it out if you are using a theme that is not already carrying its own customizer and you only want to change a page but if you also want to edit up posts you need a different customizer
Rating 4 Dragons
Quiz Cat – WordPress Quiz Builder
Version: 1.0.6
Author: Fatcat Apps
Last Updated: 1 month ago
Requires WordPress Version: 4.0 or higher
Compatible up to: 4.5.3
Active Installs: 400+
The Lowdown:
By now everyone who has a Facebook account which is pretty much everyone, has seen the "Quiz about life or what ever" popup. You go though it and it gives you your result of how intelligent you are that you know everything about pokemon go ect.
Well now you can create those same crazy quizzes on your own website as easy as boiling hot water. It is pretty easy to create a quiz using text and images you can have some creative fun here. Look for the Big WP Plugins Quiz coming soon.
Side note about this plugin is that is collects your user information to be fully used, granting it permissions for profile, site overview, url, wp version, php info and plugin and themes you are using. Also it gets info on when you activate, deactivate and uninstall plugins. You can skip not sure what happens if you do though.
All in all a pretty good plugin
Rating 4 Dragons
**WordPress Plugins Reviewed by Marcus Couch**
Image Hover Effects Pack
Image Hover Effects Pack is a collection of 150+ animated hover effects that are pure CSS3 based.It will allow you to add animated captions on the images with alot of customization options.It is 100% responsive and contains griding options. This would have received a perfect 5, but there is a pro version, so I took one point off.
Rating: 4 out of 5
User Rename by Azed
This plugin lets you easily and completely rename a user account (login + nicename + display name). I've had many instances where I've had to change a user name. This one is my new go-to plugin for that procedure.
Rating: 4 out of 5
Cf7 Messenger
Cf7 Messenger will help you send the Contact Form 7 data to your Facebook Messenger immediately. Be careful with this one, because you'll have to have a few safeguards in place to prevent the spambots from blowing up your FB messenger. Overall, this is a great concept and the perfect way to accept real-time feedback from your users.
Rating: 5 out of 5
John's discussion this week about a project.
John's Plugins: Easy Appointments – 4, Tailor Page Builder – 4, Quiz Cat – WordPress Quiz Builder – 4
Marcus' Plugins:  Image Hover Effects – 4, User Rename by Azed – 4,  CF7 Messenger – 5
Time to do some promotions for my Beautiful Wife, Skye she has started writing again and is putting her short stories up on here website at
RunnerSkye.ca
there are some pretty great short stories with about one new one per week so go check them out at
RunnerSkye.ca
and please leave a comment for her.
Just some reminders:
Join my at the monthly ClassicPress / WordPress Meetup
Classicpress / WordPress Meetup
Rate us on
iTunes
,
blubrry.com
,
ViaWay.com
,
Stitcher Radio
and any place else you find us.
Interact with your Hosts
John can be contacted at:
Website: https://www.johnoverall.com/
WordPress Emergency Support: https://wppro.ca/wpemergency
Email: john@wppro.ca


Save
Save
Save