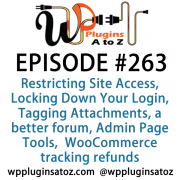 It's Episode 263 and we've got plugins for Restricting Site Access, Locking Down Your Login, Tagging your Attachments, Hooking up a better forum, Admin Page Tools, and a WooCommerce plugin for tracking refunds.. It's all coming up on WordPress Plugins A-Z!
Podcast: Play in new window | Download | Embed
Subscribe to WPPlugins A to Z on Google Podcasts | Email | RSS
Get all the grisly Plugin details and full access to the complete show notes on our website WPPluginsAtoZ.com! You can follow the show on Twitter at @wppluginsatoz, and join our Facebook at WordPressPluginsA2Z for the latest in WordPress Plugin related news - some we come across in-between shows, and some we talk about on our weekly show.
The WordPress Plugins A-Z Podcast can be found on
iTunes
,
SoundCloud
,
Stitcher Radio
and also on
WordPress Radio
. If you like what you hear on the show, we encourage you to share your enthusiasm with others that you know in the WordPress community and in social networks. Share on Twitter:
WP Plugins A to Z The Only #WordPress #Plugins #Podcast
Click To Tweet
Self Promotion
While we do enjoy bringing you the show week after week, we also make our living with WordPress and related promotional services. With that, we ask for a moment of your time for some self promotion. If you find these promotions of value, please share them with friends and colleagues.
---
Promotions from John Overall:
Has your
WordPress
site broken? Do you have a question or two about its functionality? Have you recieved the white screen of death? This may be time for some
Emergency WordPress Support.
Contact me at WPPro.ca/help or give me a quick call at 818-850-7729.
---
Promotions from Marcus Couch:
X² Marketing
is your full-service digital marketing and brand development agency. Whether you are a solo entrepreneur, small business or enterprise level company; power up your marketing with X2. From WordPress to ClickFunnels, Landing Pages to Social Campaigns, SEO, Paid Ads, Infusionsoft management and more. Visit
X2marketing.com
and get in touch with Marcus about your digital marketing needs.
My new and improved Membership Coach program is your go-to resource for all the Training, Advice, and Support needed to Develop and Grow a Profitable Membership Site. Be sure to head over to MembershipCoach.com and get on the waiting list for the first sessions, launching soon. You can also follow @membershipcoach on twitter to get the latest release dates and news. Signups are now active and Pre-Launch Enrollment is open!
Thank Our Donors
We would like to thank our donors to the show, everyone who donates $50 or more will be acknowledged here with a mention and a link back to their page and all those below will be anonymous
Thanks to Jez from JezWeb Pty Ltd in Australia, On behalf of one of our happy WordPress website clients, Pacific Boilers
https://www.pacificboilers.com.au
 thank you for the podcast
Thanks to all donors who cam in under $50
WordPress News and other interesting WordPress related posts:
Listener Feedback / Audio Clips
Speakpipe Question from Rob Nesbit in the UK with a comment and a question about Jetpack
**WordPress Plugins Reviewed by John Overall**
Login LockDown
Version: v1.6.1
Author: Michael VanDeMar
Last Updated: 2 years ago
Requires WordPress Version: 3.6 or higher
Compatible up to: 4.0.12
Active Installs: 200,000+
The Lowdown:
This is a simple tool to help limit the number of times that anyone can attempt to login into your site. This can be a helpful security tools if your site is regularly under attack as many are. Set the number of failed attempts allowed and over what time period and then how long to lock the IP. You can even have it hide the login errors and immediately lock out invalid user names, just be aware if you make a typo on your user name you could lock yourself out.
Pretty straightforward tool and easy to use.
Rating 5 Dragons. 
 Restricted Site Access
Version: 5.1
Author: Jake Goldman, 10up, Oomph
Last Updated: 2 years ago
Requires WordPress Version: 3.5 or higher
Compatible up to: 4.0.12
Active Installs: 20,000+
The Lowdown:
Do you need to lock-down your site while doing development, this plugin is a great way to handle that job. You can also allow specific IP address though or send non-logged in users to a specific page. You can show them a simple message or send them direct to the login window.
Rating 5 Dragons
Sent in by Jay O-H
Admin Page Spider
Version: 1.11
Author: J7Digital
Last Updated: 1 week ago
Requires WordPress Version: 4.4.0 or higher
Compatible up to: 4.5.3
Active Installs: 200+
The Lowdown
This is an admin plugin to help make the job of doing your edits easier. It creates a menu item in your admin tool-bar that allows you to jump to any of your pages for quick editing. Works pretty well and makes the job of finding those pages much easier when your are updating or doing your development.
Rating 5 Dragons
**WordPress Plugins Reviewed by Marcus Couch**
Attachment Taxonomies
I've been waiting for this plugin to come out for YEARS. Once installed and activated, tag and category sub-menu items appear in the Media menu. Similar to managing categories and tags for posts, you can manage categories and tags for attachments. This isn't 100% perfect in terms of full functionality. For instance the creation of the tags up front is kind of a pain, but I hear through the grapevine that this is going to be fixed soon in another revision. As someone with sites that can contain up to 50,000 images, this one is a big winner in my book.
Rating: 5 out of 5
WP Discourse
This plugin acts as an interface between your WordPress site and your Discourse forum.
It allows you to:
– Publish WordPress posts to Discourse
– Use Discourse to generate comments and discussion for your WordPress posts
– Select which comments are to be displayed on the WordPress site based on post score and commenter trust level
– Use your WordPress site as the Single Sign On provider for your Discourse forum
Rating: 5 out of 5
Refund Report for WooCommerce
The Refund Report plugin allows you to analyze which of your WooCommerce store's products are being returned most often by providing summary data on line-item refund quantities and amounts over a specified time period. The report can be viewed in the admin or downloaded in Comma-Separated Values (CSV) format.
Important note: In order for this plugin to work, you must issue refunds on a line-item basis. Simply changing the order status to Refunded will not cause the items in the order to appear as refunded in this report. If the entire order was returned, please refund the individual line items as well as changing the order status.
Features:
– Use a date range preset, or specify custom start and end dates.
– Report on all products in your store, or limit the report to only include products within certain categories or only specific product IDs.
– Customize the report sorting order (sort by Product ID, Quantity Refunded, or Amount Refunded).
Rating: 4 out of 5
John's Plugins: Login LockDown – 5,  Restricted Site Access – 5, Admin Page Spider – 5
Marcus' Plugins:  Attachment Taxonomy – 5, WP Discourse – 5, Refund Report for WooCommerce – 4
Time to do some promotions for my Beautiful Wife, Skye she has started writing again and is putting her short stories up on here website at
RunnerSkye.ca
there are some pretty great short stories with about one new one per week so go check them out at
RunnerSkye.ca
and please leave a comment for her.
Just some reminders:
Join my at the monthly ClassicPress / WordPress Meetup
Classicpress / WordPress Meetup
Rate us on
iTunes
,
blubrry.com
,
ViaWay.com
,
Stitcher Radio
and any place else you find us.
Interact with your Hosts
John can be contacted at:
Website: https://www.johnoverall.com/
WordPress Emergency Support: https://wppro.ca/wpemergency
Email: john@wppro.ca


Save
Save
Save