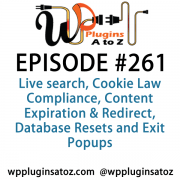 It's Episode 261 and we've got plugins for Live search, Cookie Law Compliance, Content Expiration & Redirect, Database Resets and Exit Popups It's all coming up on WordPress Plugins A-Z!
Podcast: Play in new window | Download | Embed
Subscribe to WPPlugins A to Z on Google Podcasts | Email | RSS
Get all the grisly Plugin details and full access to the complete show notes on our website WPPluginsAtoZ.com! You can follow the show on Twitter at @wppluginsatoz, and join our Facebook at WordPressPluginsA2Z for the latest in WordPress Plugin related news - some we come across in-between shows, and some we talk about on our weekly show.
The WordPress Plugins A-Z Podcast can be found on
iTunes
,
SoundCloud
,
Stitcher Radio
and also on
WordPress Radio
. If you like what you hear on the show, we encourage you to share your enthusiasm with others that you know in the WordPress community and in social networks. Share on Twitter:
WP Plugins A to Z The Only #WordPress #Plugins #Podcast
Click To Tweet
Self Promotion
While we do enjoy bringing you the show week after week, we also make our living with WordPress and related promotional services. With that, we ask for a moment of your time for some self promotion. If you find these promotions of value, please share them with friends and colleagues.
---
Promotions from John Overall:
Has your
WordPress
site broken? Do you have a question or two about its functionality? Have you recieved the white screen of death? This may be time for some
Emergency WordPress Support.
Contact me at WPPro.ca/help or give me a quick call at 818-850-7729.
---
Promotions from Marcus Couch:
X² Marketing
is your full-service digital marketing and brand development agency. Whether you are a solo entrepreneur, small business or enterprise level company; power up your marketing with X2. From WordPress to ClickFunnels, Landing Pages to Social Campaigns, SEO, Paid Ads, Infusionsoft management and more. Visit
X2marketing.com
and get in touch with Marcus about your digital marketing needs.
My new and improved Membership Coach program is your go-to resource for all the Training, Advice, and Support needed to Develop and Grow a Profitable Membership Site. Be sure to head over to MembershipCoach.com and get on the waiting list for the first sessions, launching soon. You can also follow @membershipcoach on twitter to get the latest release dates and news. Signups are now active and Pre-Launch Enrollment is open!
Thank Our Donors
We would like to thank our donors to the show, everyone who donates $50 or more will be acknowledged here with a mention and a link back to their page and all those below will be anonymous
This episode we would like to thank:
Jezweb Pty Ltd who donated $50
Hi John, Marcus, keep up the great work with the podcast. Thank you from Jez at
www.jezweb.com.au
in Australia
Thanks to all donors who came in under $50
WordPress News and other interesting WordPress related posts:
*WordPress Plugins Reviewed by John Overall**
sent in by
Lord Pappi
ajax live search
Version: 2.1.0
Author: Picocodes
Last Updated: 4 days ago
Requires WordPress Version: 4.1 or higher
Compatible up to: 4.5.3
The Lowdown:
This is a pretty nice ajax search plugin as a free version it works pretty well and is decently fast after the initial load of data. It looks like the premium version offers a better relevance algorithm and some AI as well as the ability to set sponsored results.
Rating 4 Dragons
EU Cookie Law Compliance
Version: 1.0.1
Author: mesmeriseme
Last Updated: 22 hours ago
Requires WordPress Version: 3.8 or higher
Compatible up to: 4.5.3
The Lowdown:
A fast simple way to come into complaince with the EU cookie law that says you must notify your visitors about the use of cookies on the site and give them the ability to refuse them. Of course if they do then the site won't work since WordPress depends on cookies.
Rating 5 Dragons
Content Expiration & Redirect
Version: 1.0
Author: Review Squirrel
Last Updated: 1 month ago
Requires WordPress Version: 3.8 or higher
Compatible up to: 4.5.3
Active Installs: 30+
The Lowdown:
This is a great plugin if you have content that is expired on your site and you would like to redirect the traffic it creates to something more useful. Simply set an expiration for the post/page the a redirect and your done. It is also great if you are adding content that is going to expire after a while.
Rating 4 dragons.
*WordPress Plugins Reviewed by Marcus Couch**
Enables customer to send files directly when they purchase items, during product detail page, cart page or checkout page on your WooCommerce Store. This plugin is a good tool which specially puts a great part in stores, which sell customized item to their customers, i.e Printing Shops & Clothing stores, just for example but many categories are there that can use this plugin.
Rating: 4 out of 5
It adds a settings page to "Dashboard"->"Tools"->"Reset Database" where you can simply reset the database of your WordPress. Very useful tool for programmers to reset the database. Secure – requires admin password to complete. I use this for my staging sites and it's really great.
Rating: 5 out of 5
An Exit Popup enables you to display a jquery modal window, which can include text, images, videos, forms, maps and so on, before a visitor leaves your website.
Exit Popup intelligently detects the mouse behaviors and then pops up a modal window when your visitors are about to close the current webpage, helping you increase your landing page conversion rates, newsletter subscribers and so on. From experience, you can expect a 7% to 12% conversion rate increase – depending on your audience, traffic quality and offer. Display almost anything you could display on a normal webpage using HTML. Control the Height and Width of your Popup window. Control how often your visitors see the popup
Rating: 5 out of 5
John's discussion this week about a project.
John's Plugins: Ajax live search  – 4, EU Cookie Law Compliance  – 5, Content Expiration & Redirect – 4
Marcus' Plugins:  Woo File Dropzone – 4, Reset Database – 5, Exit Popup – 5
Time to do some promotions for my Beautiful Wife, Skye she has started writing again and is putting her short stories up on here website at RunnerSkye.ca there are some pretty great short stories with about one new one per week so go check them out at
RunnerSkye.ca
and please leave a comment for her. 
Just some reminders:
Join my at the monthly ClassicPress / WordPress Meetup
Classicpress / WordPress Meetup
Rate us on
iTunes
,
blubrry.com
,
ViaWay.com
,
Stitcher Radio
and any place else you find us.
Interact with your Hosts
John can be contacted at:
Website: https://www.johnoverall.com/
WordPress Emergency Support: https://wppro.ca/wpemergency
Email: john@wppro.ca


Save