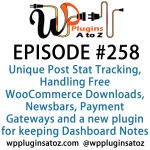 It's Episode 258 and we've got plugins for  Unique Post Stat Tracking, Handling Free WooCommerce Downloads, Newsbars, Payment Gateways and a new plugin for keeping Dashboard Notes. It's all coming up on WordPress Plugins A-Z!
Transcript for Episode 258 can be found here.
Podcast: Play in new window | Download | Embed
Subscribe to WPPlugins A to Z on Google Podcasts | Email | RSS
Get all the grisly Plugin details and full access to the complete show notes on our website WPPluginsAtoZ.com! You can follow the show on Twitter at @wppluginsatoz, and join our Facebook at WordPressPluginsA2Z for the latest in WordPress Plugin related news - some we come across in-between shows, and some we talk about on our weekly show.
The WordPress Plugins A-Z Podcast can be found on
iTunes
,
SoundCloud
,
Stitcher Radio
and also on
WordPress Radio
. If you like what you hear on the show, we encourage you to share your enthusiasm with others that you know in the WordPress community and in social networks. Share on Twitter:
WP Plugins A to Z The Only #WordPress #Plugins #Podcast
Click To Tweet
Self Promotion
While we do enjoy bringing you the show week after week, we also make our living with WordPress and related promotional services. With that, we ask for a moment of your time for some self promotion. If you find these promotions of value, please share them with friends and colleagues.
---
Promotions from John Overall:
Has your
WordPress
site broken? Do you have a question or two about its functionality? Have you recieved the white screen of death? This may be time for some
Emergency WordPress Support.
Contact me at WPPro.ca/help or give me a quick call at 818-850-7729.
---
Promotions from Marcus Couch:
X² Marketing
is your full-service digital marketing and brand development agency. Whether you are a solo entrepreneur, small business or enterprise level company; power up your marketing with X2. From WordPress to ClickFunnels, Landing Pages to Social Campaigns, SEO, Paid Ads, Infusionsoft management and more. Visit
X2marketing.com
and get in touch with Marcus about your digital marketing needs.
My new and improved Membership Coach program is your go-to resource for all the Training, Advice, and Support needed to Develop and Grow a Profitable Membership Site. Be sure to head over to MembershipCoach.com and get on the waiting list for the first sessions, launching soon. You can also follow @membershipcoach on twitter to get the latest release dates and news. Signups are now active and Pre-Launch Enrollment is open!
Thank Our Donors
We would like to thank our donors to the show, everyone who donates $50 or more will be acknowledged here with a mention and a link back to their page and all those below will be anonymous
Thanks to all donors who came in under $50
WordPress News and other interesting WordPress related posts:
A Comprehensive Guide to Editing .htaccess for WordPress Security
Stored XSS in Jetpack Plugin Puts over One Million WordPress Sites at Risk
The reasons to stay upto date are always there if you use Jetpack and have not updated do it today.
Listener Feedback / Audio Clips
We have a couple Canadian Reviews for you
Essential WordPress Podcast *****
by Denzil-Mykins
If you are a WP developer or designer, this should be an essential part of your podcast listening. Packed with tips and opinion, it has really helped us to stay on top of the latest plugins and see what can be achieved. Thanks from Market 2 All, 
https://www.market2all.com/
mobile-friendly email newsletter tool! ~ Paul Mycroft
Lifesaver!
Lifesaver! *****
by Beado777
Definitely a must-listen if you're even PLANNING to start your blog, and plenty of savvy here for those whom already do WordPress.
A valuable routine podcast for this self-publisher.
*WordPress Plugins Reviewed by John Overall**
post-views
Version: 2.6.4
Author: Suny Tse
Last Updated: 4 months ago
Requires WordPress Version: 2.8 or higher
Compatible up to: 4.4.3
Active Installs: 10,000+
The Lowdown:
This is for those of you who like your stats and want to know how many times a post has been looked at, it give some crazy amount of charts and let you know how often a post has been looked at.
Rating 4 Dragons
WP – jNewsbar Plugin
Premium Plugin
The Lowdown:
Available at CodeCanyon this is a pretty good newsbar plugin that places a footer or header floating newsbar that pulls your posts and you get to determine what pages to show it on you can even create multiple bars. While it is pretty good the one thing lacking I found was the ability to set per category.
Rating 3 Dragons
WP Dashboard Notes
Version: 1.0.8.2
Author: Jeroen Sormani
Last Updated: 2 months ago
Requires WordPress Version: 3.8 or higher
Compatible up to: 4.5.2
Active Installs: 9,000+
The Lowdown:
If you have a site with multiple admins you will find from time to time it is necessary to communicate with about things that need to be done. There are multiple ways to acomplish this but a great one I found is the Dashboard notes. This plugin allows you to create sticky notes for the dashboard of your WordPress admin. You can give the notes multiple colours if your inclined the notes stand out when you log in so you eye is drawn to them to look at. This is a quick easy plugin to use and works very well
Rating 5 Dragons
*WordPress Plugins Reviewed by Marcus Couch**
Download Now for WooCommerce allows users to download products from the product page without going through the checkout process. If the product is downloadable and the regular price is 0.00, the "Add to Basket" button is replaced with a "Download Now" button. The plugin can be customised from the settings link on the plugin page. You can change the button text, whether it shows for sale items to, and you can even customise the button CSS styles!
Rating 4 out of 5
This plugin for woocommerce lets you select the available payment gateways for each individual product. You can select for each individual product the payment gateway that will be used by checkout. If no selection is made, then the default payment gateways are displayed. If you for example only select paypal then only paypal will available for that product by checking out.
Rating: 4 out of 5
Hide Price of the products on shop and product detail page until user is not logged in or until password is entered.
Rating: 5 out of 5
John's Plugins:
post-views  -4, WP – jNewsbar Plugin  – 3, WP Dashboard Notes – 5
Marcus' Plugins:  Download Now – WooCommerce – 4, WooCommerce Payment Gateway Per Product – 4, Hide Price Until Login – 5
Just some reminders:
Join my at the monthly ClassicPress / WordPress Meetup
Classicpress / WordPress Meetup
Rate us on
iTunes
,
blubrry.com
,
ViaWay.com
,
Stitcher Radio
and any place else you find us.
Interact with your Hosts
John can be contacted at:
Website: https://www.johnoverall.com/
WordPress Emergency Support: https://wppro.ca/wpemergency
Email: john@wppro.ca


Save
Save
Save
Save