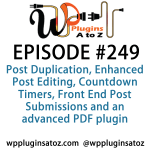 It's Episode 249 and we've got plugins for Post Duplication, Enhanced Post Editing, Countdown Timers, Front End Post Submissions and an advanced PDF plugin. It's all coming up on WordPress Plugins A-Z!

Podcast: Play in new window | Download | Embed
Subscribe to WPPlugins A to Z on Google Podcasts | Email | RSS
Get all the grisly Plugin details and full access to the complete show notes on our website WPPluginsAtoZ.com! You can follow the show on Twitter at @wppluginsatoz, and join our Facebook at WordPressPluginsA2Z for the latest in WordPress Plugin related news - some we come across in-between shows, and some we talk about on our weekly show.
The WordPress Plugins A-Z Podcast can be found on
iTunes
,
SoundCloud
,
Stitcher Radio
and also on
WordPress Radio
. If you like what you hear on the show, we encourage you to share your enthusiasm with others that you know in the WordPress community and in social networks. Share on Twitter:
WP Plugins A to Z The Only #WordPress #Plugins #Podcast
Click To Tweet
Self Promotion
While we do enjoy bringing you the show week after week, we also make our living with WordPress and related promotional services. With that, we ask for a moment of your time for some self promotion. If you find these promotions of value, please share them with friends and colleagues.
---
Promotions from John Overall:
Has your
WordPress
site broken? Do you have a question or two about its functionality? Have you recieved the white screen of death? This may be time for some
Emergency WordPress Support.
Contact me at WPPro.ca/help or give me a quick call at 818-850-7729.
---
Promotions from Marcus Couch:
X² Marketing
is your full-service digital marketing and brand development agency. Whether you are a solo entrepreneur, small business or enterprise level company; power up your marketing with X2. From WordPress to ClickFunnels, Landing Pages to Social Campaigns, SEO, Paid Ads, Infusionsoft management and more. Visit
X2marketing.com
and get in touch with Marcus about your digital marketing needs.
My new and improved Membership Coach program is your go-to resource for all the Training, Advice, and Support needed to Develop and Grow a Profitable Membership Site. Be sure to head over to MembershipCoach.com and get on the waiting list for the first sessions, launching soon. You can also follow @membershipcoach on twitter to get the latest release dates and news. Signups are now active and Pre-Launch Enrollment is open!
We would like to thank our donors to the show, everyone who donates $50 or more will be acknowledged here with a mention and a link back to their page and all those below will be anonymous
This episode we would like to thank:
Thanks to Dave from 
https://munchmobileapps.com/
 has donated $50 to the show this looks like an app for your android, kindle or nook that will turn your tablet into a digital picture frame.
John's Rant: What to rant about?
WordPress News and other interesting WordPress related posts:
WordPress 4.5 Release Candidate has dropped, so we can expect a release of 4.5 any day now.
Some of the features included:
Theme Logo Support
Adding theme logo from customizer is a long awaited feature. WordPress 4.5 will add theme logo support to WordPress core.
Many premium WordPress themes already allow users to upload custom logo using their own options panel. With the core support for the feature, it would become possible for users to do that from the theme customizer.
Visual Editor Improvements
Majority of WordPress users spend most of their time creating content. Anything that can make the writing experience better and faster is always a good thing.
WordPress 4.5 will bring some new improvements to the visual editor, which will improve the writing experience for users.
Inline Link Editing
WordPress comes with some great time saving shortcuts, which all help you write faster. One of these shortcuts is CTRL+K (Command+K on Mac), which allows you to insert links in posts.
This shortcut opens the insert link popup, which is a bit distracting.
With WordPress 4.5, pressing CTRL+K will show an inline insert link menu. Simply type the URL and continue writing your post without removing hands from keyboard.
Responsive Preview in Customizer
WordPress 4.5 will bring another cool addition to the customizer. You would now be able to see responsive previews of your site directly in the customizer.
You can click on the device icon at the bottom to switch the view between devices. Currently it shows Desktop, tablet, and mobile device previews. This gives you a generic idea of how your site would look on these devices.
Optimized Image Size Generation
WordPress introduced responsive images in WordPress 4.4. This means that since 4.4, users on smaller screens get to see a smaller image appropriate for their screen.
This feature is great as it not only improves performance of websites on smaller screens, it also saves them money on data plans.
WordPress 4.5 will improve this further more. It will optimize images further to reduce their site upto 50% without any visible quality loss.
We still recommend saving images optimized for web for best results.
Allow Users to Login Using Email Address
It is hard to keep track of all the usernames we use across all the different sites. This is why many popular sites like Facebook, Twitter, and others allow their users to use their email address as username.
*WordPress Plugins Reviewed by John Overall**
Multisite Post Duplicator
Version: 0.7.4
Author: Mario Jaconelli
Last Updated:

1 month ago

Requires WordPress Version: 3.0.1 or higher
Compatible up to: 4.4.2
Active Installs: 100+
The Lowdown:
When working on a site there are many times when you need to duplicate a posts or page. This is simply because the post may have a majority of the information you already need to work with and you only have to change a few lines for a new post. Or you simple need some same content in a hurry. Or maybe you want to share the same content across multiple domains in your MU install.
This plugin makes that job pretty easy to accomplish install activate and choose the post type, the specific post/page, where you want it to go and the user to attribute it to.  It will copy tag, featured image and other media.
All in all a pretty good post duplicator.
Rating 4 dragons
Duplicator – Backup, copy, clone
Version: 1.1.4
Author: LifeInTheGrid
Last Updated:

1 month ago

Requires WordPress Version: 3.9 or higher
Compatible up to: 4.4.2
Active Installs: 700,000+
The Lowdown:
This is another in a long list of duplicator plugins I have reviewed over the years but this one is a good one that is pretty easy to use.
Every once in a while I am called upon to move a website where the client does not have cpanel or FTP access for what ever reason. Well this time I though I would try out a duplicator plugin I had never used before as I am always looking for good plugins that can form the staple I use for many tasks.
This plugin also have an installer built in for when you are moving to anew hosting provider (I did discover that it does not work very well for cheep hosting though) the good thing is that it makes a zip file of everything including the database which is all I really need when moving a site to a new host where I have the complete FTP and cpanel access.
This is a pretty great plugin to make the job of moving easier when you only have admin access to a site
Rating 4 dragons
T(-) Countdown
Version: 2.3.10
Author: twinpictures, baden03
Last Updated:

4 months ago

Requires WordPress Version: 4.0 or higher
Compatible up to: 4.4.0
Active Installs: 20,000+
The Lowdown:
Almost everyone has need of a countdown timer form time to time and I have tried many of them over the years. This one is a new one for me and looked pretty good in the repository so I thought what the hell lets give it a spin.
It has 3 basic themes for display you get to add message using the rockstar features that have been included free by the author.
These features include the ability to add a message before and/or after the timer. Use any of the included CSS themes or create your own for the display.
You can also have and auto launch of an event once the countdown timer reaches zero and a few other great features check this out a really great countdown timer.
Rating 5 dragons.
*WordPress Plugins Reviewed by Marcus Couch**
WP Frontend Submit(WFS) can let you add a frontend form via shortcode that enables your visitors to submit posts and upload images. Just add the shortcode to any Post, Page, or Widget. WFS uses WordPress native Customize for several basic settings:
Allow visitors or only logged users to submit posts
Set post status as published immediately or require admin's approval
Set the maximum number of images a user can upload for each submission
Rating: 3 out of 5
WP Advanced PDF is a pdf generator for posts to pages. This plugin enables your blog readers to create pdf of posts of your blog. WP Advanced PDF relies on the TCPDF class to render PDF. This makes WP Advanced PDF a completely self contained PDF generating plugin. This plugin has possibility to limit access to pdfs to registered users or present links to all visitors.
Rating: 4 out of 5
GoWorks Styler adds new buttons to the WordPress visual editor, allowing you to enhance your posts and pages with custom colors, opacity, borders, padding, and more. Use GoWorks Styler to draw attention to important text on your page, to set off sections with colored backgrounds, or to create buttons and badges.
GoWorks Styler makes the Background color button visible and extends both it and the Text color button with new opacity settings. The plugin also adds entirely new buttons to the editor. The new Border button allows you to highlight content with colored borders and adjustable line thickness, styles, and corner rounding. The new Spacing button works well with the border feature. Use it to set horizontal and vertical padding and margins around your content.
No CSS knowledge is required. To color text or backgrounds, select the text to be colored and choose a color from the Text color or Background color dropdown panel. You can add padding and margins with the Spacing button. To make a button or badge, color the text as above, and then choose a rounded border and suitable padding.
Rating: 5 out of 5
John's discussion this week about a project.
John's Plugins: Multisite Post Duplicator – 4, Duplicator – Backup, copy, clone – 4, T(-) Countdown – 5
Marcus' Plugins: WP Front End Submit – 3, WP Advanced PDF – 4, GoWorks Styler – 5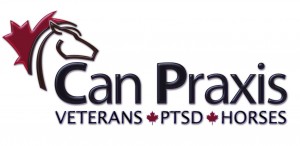 I am running a Marathon and since it is the only one I plan to run I am looking to support a great organization that supports Canadian Vets suffering from PTSD. The group is called Can Praxis and they use Equine (horse) Therapy to helps vets learn to deal with the emotions that come from PTSD. I am raising the money though Wounded Warriors Canada who will send the money direct to Can Praxis. Please support our vets by going here and donating what ever you can. If your Canadien you will also get a tax receipt for your donation. 
The
Membership Coach
program is your go-to resource for all the Training, Advice, and Support needed to Develop and Grow a Profitable Membership Site. Be sure to head over to MembershipCoach.com and get on the waiting list for the first sessions, launching soon. You can join for as low as $67 a month with a full money back guarantee. You can also follow @membershipcoach on twitter to get the latest release dates and news.
Just some reminders:
Join my at the monthly ClassicPress / WordPress Meetup
Classicpress / WordPress Meetup
Rate us on
iTunes
,
blubrry.com
,
ViaWay.com
,
Stitcher Radio
and any place else you find us.
Interact with your Hosts
John can be contacted at:
Website: https://www.johnoverall.com/
WordPress Emergency Support: https://wppro.ca/wpemergency
Email: john@wppro.ca