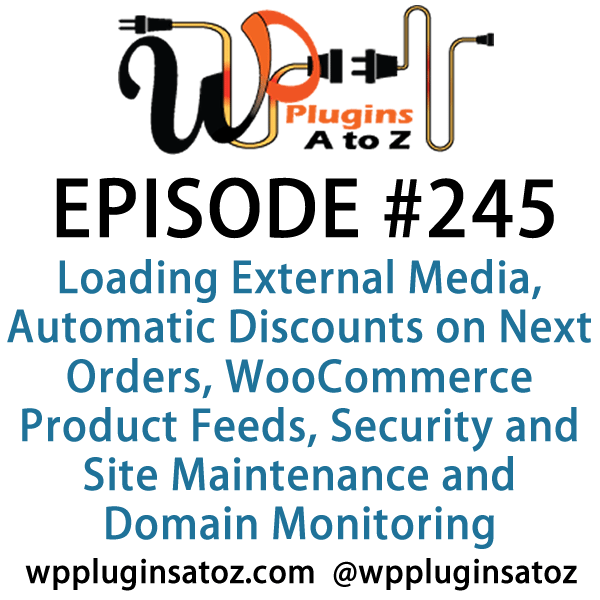 It's Episode 245 and we've got plugins for Loading External Media, Automatic Discounts on Next Orders, WooCommerce Product Feeds, Notifications, Security and Site Maintenance and Domain Monitoring. It's all coming up on WordPress Plugins A-Z!

Podcast: Play in new window | Download | Embed
Subscribe to WPPlugins A to Z on Google Podcasts | Email | RSS
Get all the grisly Plugin details and full access to the complete show notes on our website WPPluginsAtoZ.com! You can follow the show on Twitter at @wppluginsatoz, and join our Facebook at WordPressPluginsA2Z for the latest in WordPress Plugin related news - some we come across in-between shows, and some we talk about on our weekly show.
The WordPress Plugins A-Z Podcast can be found on
iTunes
,
SoundCloud
,
Stitcher Radio
and also on
WordPress Radio
. If you like what you hear on the show, we encourage you to share your enthusiasm with others that you know in the WordPress community and in social networks. Share on Twitter:
WP Plugins A to Z The Only #WordPress #Plugins #Podcast
Click To Tweet
Self Promotion
While we do enjoy bringing you the show week after week, we also make our living with WordPress and related promotional services. With that, we ask for a moment of your time for some self promotion. If you find these promotions of value, please share them with friends and colleagues.
---
Promotions from John Overall:
Has your
WordPress
site broken? Do you have a question or two about its functionality? Have you recieved the white screen of death? This may be time for some
Emergency WordPress Support.
Contact me at WPPro.ca/help or give me a quick call at 818-850-7729.
---
Promotions from Marcus Couch:
X² Marketing
is your full-service digital marketing and brand development agency. Whether you are a solo entrepreneur, small business or enterprise level company; power up your marketing with X2. From WordPress to ClickFunnels, Landing Pages to Social Campaigns, SEO, Paid Ads, Infusionsoft management and more. Visit
X2marketing.com
and get in touch with Marcus about your digital marketing needs.
My new and improved Membership Coach program is your go-to resource for all the Training, Advice, and Support needed to Develop and Grow a Profitable Membership Site. Be sure to head over to MembershipCoach.com and get on the waiting list for the first sessions, launching soon. You can also follow @membershipcoach on twitter to get the latest release dates and news. Signups are now active and Pre-Launch Enrollment is open!
WordPress News and other interesting WordPress related posts:
How to Find and Install Hundreds of Free Plugins from GitHub
Listener Feedback / Audio Clips
So Helpful! (5 Stars)
by MsDaphneB – Feb 8, 2016
There are a zillion plugins out there, but Marcus and John break it down by picking the most useful and reliable options out there. This podcast is in my top 5 MUST listen to each week. Thanks for all of your hard work guys! It saves all of us a ton of time trying to navigate through the 40,000 in the repository.
One of My Favorite Podcasts  (5 Stars)
by Jimmy Bearden
I have been building websites for several years and I truly enjoy listening to the WP Plugins A-Z Crew. You will always learn something by listening to this podcast. Thank you for taking the time to do this for the community. I really do appreciate it!
*WordPress Plugins Reviewed by John Overall**
InstantLy
premium Plugin
Referred by Ivan Ciric
The Lowdown:
This plugin is great in most aspects I do like the way it works and it allows you to see how many are on your site and then to create a message to blast out to them. This is a great way to communicate an instant special or simply to get some attention for the visitor.
You get a spot on your WP dashboard to enter the message you want to send out, you can determine how long the message appears on the site also the default is 10 sec
it seems to work very well on a single install of WordPress but I was having issues using it in an MU environment. After about 10 min all seemed to function well for it and the tests worked out great.
Rating 4 Dragons.
Web Ranger
Referred by Dominic Lucenario
Version: 1.0.0
Author: Dominic Lucenario
Last Updated:

1 week ago

Requires WordPress Version: 3.4 or higher
Compatible up to: 4.4.2
Active Installs: 10+
The Lowdown:
This is a freemium 3rd party service plugin that offers security protection and monitoring for your website.. pretty easy to get setup and you can even register your free account while you setup the plugin.
They give you a web console where you can go and see the results on any issues found on your site and if you move the higher tier for the plugin service you get the support of their security team to help deal with the issues.
This looks to be a pretty nice way to monitor things and seems to work well in MU. I will come back with reports as they come in on this.
Rating 4 Dragons
Domain Check Plugin
Referred by Domain Check
Version: 1.0.5
Author: Domain Check
Last Updated:

1 week ago

Requires WordPress Version: 3.8 or higher
Compatible up to: 4.4.2
Active Installs: 40+
The Lowdown:
This is a good plugin if you want to have a second tier monitoring your domains something you can view from inside your WordPress website, (since we know we never go outside of that right).. While this is a great idea and will help provide you with coupons and deals on coupons and hosting I can't help but wonder if all the links aren't affiliate links for the developer. not that that is an issue but I feel it needs to be spelled out if they are.
I am not sure how valuable this is due to me already using a couple tools to monitor my domains and since I do not look for deals all that often those may be of help but the rest is not allot of use for me.
Rating 3 Dragons
*WordPress Plugins Reviewed by Marcus Couch**
Upload files from or create external links from third-party services (Dropbox, Box, OneDrive, Google Drive and Instragram).
This plugin provides convenient way of linking and using files from the services listed above. It is intuitive, controls located where you expect them to be. For instance if you would like to create a link to your file in your Dropbox account, just press Add Media and choose Insert from URL media tab and then click Link to Dropbox button.
Rating: 5 out of 5
A customer ordering something from your shop for the first time is great. But how do you entice them back to buy more? And how do you keep them coming back?
Next Order Discount (NOD) is an extension to the WooCommerce WordPress plugin that enables shop owners to attract further purchases from their customers automatically and without any need for manual intervention. Following an initial order, NOD can be configured to schedule a customized follow up email to the customer tempting them to complete further purchases by offering a shop discount. The coupons are automatically created within WooCommerce and can be included in the email content with the use of shortcodes.
Rating: 4 out of 5
WooCommerce Product Feed is a product feed making system for boosting your WooCommerce based online store products to multiple shopping engine you know. The main target of this plugin is to generate product feed for your woocommerce store products , update product information according to given schedule and sync your product to different shopping engines via HTTP or FTP so that real buyer can get your product into price comparison and search engines like Google, pricegrabber, pricerunner, nextag amazon, ebay and many more .
Rating: 4 out of 5
John's discussion this week about a project.
John's Plugins: InstantLy – 4, Web Ranger – 4, Domain Check Plugin – 3
Marcus' Plugins: External Media – 5, Next Order Discount – 4, WooCommerce Product Feed – 4
Just some reminders:
Join my at the monthly ClassicPress / WordPress Meetup
Classicpress / WordPress Meetup
Rate us on
iTunes
,
blubrry.com
,
ViaWay.com
,
Stitcher Radio
and any place else you find us.
Interact with your Hosts
John can be contacted at:
Website: https://www.johnoverall.com/
WordPress Emergency Support: https://wppro.ca/wpemergency
Email: john@wppro.ca