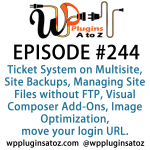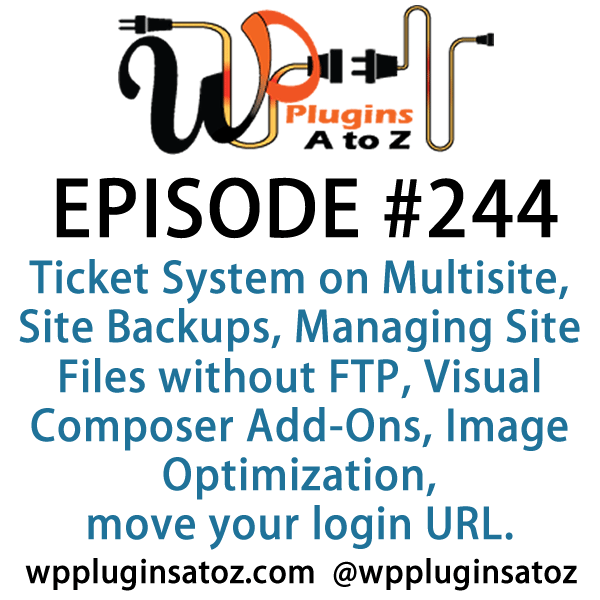 It's Episode 244 and we've got plugins for Implementing a Ticket System on Multisite, Site Backups, Managing Site Files without FTP, Visual Composer Add-Ons, Image Optimization and a plugin to move your login URL. It's all coming up on WordPress Plugins A-Z!

Podcast: Play in new window | Download | Embed
Subscribe to WPPlugins A to Z on Google Podcasts | Email | RSS
Get all the grisly Plugin details and full access to the complete show notes on our website WPPluginsAtoZ.com! You can follow the show on Twitter at @wppluginsatoz, and join our Facebook at WordPressPluginsA2Z for the latest in WordPress Plugin related news - some we come across in-between shows, and some we talk about on our weekly show.
The WordPress Plugins A-Z Podcast can be found on
iTunes
,
SoundCloud
,
Stitcher Radio
and also on
WordPress Radio
. If you like what you hear on the show, we encourage you to share your enthusiasm with others that you know in the WordPress community and in social networks. Share on Twitter:
WP Plugins A to Z The Only #WordPress #Plugins #Podcast
Click To Tweet
Self Promotion
While we do enjoy bringing you the show week after week, we also make our living with WordPress and related promotional services. With that, we ask for a moment of your time for some self promotion. If you find these promotions of value, please share them with friends and colleagues.
---
Promotions from John Overall:
Has your
WordPress
site broken? Do you have a question or two about its functionality? Have you recieved the white screen of death? This may be time for some
Emergency WordPress Support.
Contact me at WPPro.ca/help or give me a quick call at 818-850-7729.
---
Promotions from Marcus Couch:
X² Marketing
is your full-service digital marketing and brand development agency. Whether you are a solo entrepreneur, small business or enterprise level company; power up your marketing with X2. From WordPress to ClickFunnels, Landing Pages to Social Campaigns, SEO, Paid Ads, Infusionsoft management and more. Visit
X2marketing.com
and get in touch with Marcus about your digital marketing needs.
My new and improved Membership Coach program is your go-to resource for all the Training, Advice, and Support needed to Develop and Grow a Profitable Membership Site. Be sure to head over to MembershipCoach.com and get on the waiting list for the first sessions, launching soon. You can also follow @membershipcoach on twitter to get the latest release dates and news. Signups are now active and Pre-Launch Enrollment is open!
John's Rant: What to rant about?
The show will be changing over the next few week with regards to advertising. The ads you currently see on the site are all affiliate links and due to what I have finally realized about affiliate links I will be removing them. 
It seems that affiliate links have never really returned more than beer money so they will be removed and eventually replaced with advertising from developers and company's offering products that are specific to WordPress. I will be getting up a price list for the advertising in the coming weeks and all advertisers on the site will also get a read out in the show. 
I will also be adding a page for support from the community with the new donations page you will also be able to create one time donations as well as ongoing subscriptions to the show. 
WordPress News and other interesting WordPress related posts:
WordPress has released a security fix 4.4.2 you need to do this ASAP if not already completed. 
*WordPress Plugins Reviewed by John Overall**
Optimis
Premium Plugin
Sent in by Brian Jackson
The Lowdown:
This is a pretty nice image optimizer plugin that works well as a basic one but is limited to the types of images . The one thing I did not find intuitive was how to enter the license key. It seems to have to enter the key on the plugin listings page instead of in the plugin settings page. I actually had to look it up on their site.  For $19 you can have this simple easy to use image optimizer plugin that Makes optimizing your images a breeze.
You can use the plugin without the license but you are limited to 100k files for optimization and you can do up to 5mg files with a license
Optimization is a breeze from the tools menu simply click Optimiz Images it fins the mages and then click optimize them seems to work very well
Rating 3 Dragons
Super Backup & Clone – Migrate for WordPress
Premium Plugin
sent in by Alex Spinu
The Lowdown:
This is a premium fully featured backup plugin with a very intuitive dashboard that is pretty easy to get around in.  It does snapshots, migrations and restores. Initial testing on my sandbox shows that it works quite well and is easy to navigate and does a decent restore and migration.
This plugin is surprising good considering all the backup plugins out that that are hard to use this one is very simple.
here is what they have to say about the features.
Key Features
Intuitive Dashboard – Get a quick overview of existing backup instances
Cloud Sync – Working with a staging & a production server? We got you covered! WP SuperBackup allows you to easily sync across all files, or just the ones you really need between the servers, in just a few minutes. This all happens automatically based on a schedule you define!
Set up "Snapshots" – You can have one, or any number of backup instances
Snapshot Logs – Easily track all backup tasks and always know what the current status of your latest backup is
Instance Migration – If you've stored a backup on your trust hard disk drive, this feature allows you to easily import it and migrate it onto your current WordPress installation! You have full control over what files get migrated, so you can make sure they don't break the installation, once migration is complete.
One Click Restore – Pick any snapshot, click Restore, Done!
Cloud Snapshots – If you want to be extra safe, the plugin allows you to upload your backups to the cloud, you know, just in case your server burns altogether!
Backup Destinations – WP SuperBackup supports a plethora of cloud services, including but not limited to your own (s)FTP accounts, Google Drive, Dropbox etc
Easy setup – A quick visit to the "General Settings" tab enables you to set up email notifications, define a quota, the backup directory (on the same server) or simply clean up existing backup files
Self-diagnosis – The "System" panel allows you to run a live check on your server settings and immediately flags any potential issues, so that you can address them before you even begin backing up!
Great Support – Need help or have a question? Fear not! We've built in the documentation so you have it, right there, within the WP SuperBackup dashboard, together with a direct link to contact us via our Support system.
Creating a new Snapshot is as easy as pressing a button, literally! All you need is provide a name, and select one of the predefined destinations, and you're good to go in just a few seconds.
This plugin allows you to back up all your WordPress, as well as non-WP files immediately, to your own cloud, or on the same server, for safe keeping and easy restoration and much, much more!
The Migrate panel allows you to easily migrate a different backup onto your current working server. This allows you to import a pre-existing backup, either from your own hard drive, or an external URL. With extensive settings we've ensured that you have full control over what is migrated, so that you can rest assured that the migration will not break your current installation, before you even hit the button!
Rating 5 Dragons
Login Form Anywhere
Promotional plugin
Version: 1.4
Author: BCS Website Services
Last Updated:

1 month ago

Requires WordPress Version: 3.0.1 or higher
Compatible up to: 4.4.2
Active Installs: 90+
The lowdown:
This is a simple plugin for adding a login form anywhere on you website, the plugin is simple to use simply use the shotcode  anywhere you want a login form to appear and set the redirect page you want after login. If you do not set a redirect page it will stay on same page. Just a simple plugin with a single purpose.
Rating 4 Dragons
*WordPress Plugins Reviewed by Marcus Couch**
Multisite Ticket System is a plugin for WordPress Multisite Network. Super Admin receives tickets and manages settings (categories and e-mail addresses). Administrators of the sites (only) can submit tickets. The plugin also provides comment sections for updating tickets.
There are a lot of WordPress Ticket System plugins out there, but rarely ones (or none) that are intended for improved communication between Super Admin and Site Administrators in a Multisite Network.
Rating: 5 out of 5
Most robust and powerful file manager for wordpress. You can upload, delete, copy, move, rename, archive, extract files. You don't need to worry about ftp any more. It is realy simple and easy to use. Just install the plugin following standard wordpress plugin install process and visit your dashbord. You will find a side menu called file manager. Just click on it to open file manager.
Rating: 4 out of 5
Addons for Visual Composer features professional looking, easy to use yet highly functional extensions that can be used in a WPBakery Visual Composer page builder.  Visual Composer plugin must be activated to use this plugin. After you activate the required plugins, the elements should be available for use in Visual Composer.
Rating: 4 out of 5
John's discussion this week about a project.
John's Plugins: Optimis – 3, Super Backup & Clone – Migrate for WordPress – 5, Login Form Anywhere – 4
Marcus' Plugins: Multisite Ticket System  – 5, File Manager – 4, Addons for Visual Composer – 4
Just some reminders:
Join my at the monthly ClassicPress / WordPress Meetup
Classicpress / WordPress Meetup
Rate us on
iTunes
,
blubrry.com
,
ViaWay.com
,
Stitcher Radio
and any place else you find us.
Interact with your Hosts
John can be contacted at:
Website: https://www.johnoverall.com/
WordPress Emergency Support: https://wppro.ca/wpemergency
Email: john@wppro.ca