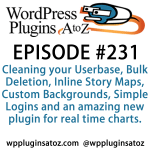 It's Episode 231 and we've got plugins for Cleaning your Userbase, Bulk Deletion, Inline Story Maps, Custom Backgrounds, Simple Logins and an amazing new plugin for real time charts. It's all coming up on WordPress Plugins A-Z!

Podcast: Play in new window | Download | Embed
Subscribe to WPPlugins A to Z on Google Podcasts | Email | RSS
Get all the grisly Plugin details and full access to the complete show notes on our website WPPluginsAtoZ.com! You can follow the show on Twitter at @wppluginsatoz, and join our Facebook at WordPressPluginsA2Z for the latest in WordPress Plugin related news - some we come across in-between shows, and some we talk about on our weekly show.
The WordPress Plugins A-Z Podcast can be found on
iTunes
,
SoundCloud
,
Stitcher Radio
and also on
WordPress Radio
. If you like what you hear on the show, we encourage you to share your enthusiasm with others that you know in the WordPress community and in social networks. Share on Twitter:
WP Plugins A to Z The Only #WordPress #Plugins #Podcast
Click To Tweet
Self Promotion
While we do enjoy bringing you the show week after week, we also make our living with WordPress and related promotional services. With that, we ask for a moment of your time for some self promotion. If you find these promotions of value, please share them with friends and colleagues.
---
Promotions from John Overall:
Has your
WordPress
site broken? Do you have a question or two about its functionality? Have you recieved the white screen of death? This may be time for some
Emergency WordPress Support.
Contact me at WPPro.ca/help or give me a quick call at 818-850-7729.
---
Promotions from Marcus Couch:
X² Marketing
is your full-service digital marketing and brand development agency. Whether you are a solo entrepreneur, small business or enterprise level company; power up your marketing with X2. From WordPress to ClickFunnels, Landing Pages to Social Campaigns, SEO, Paid Ads, Infusionsoft management and more. Visit
X2marketing.com
and get in touch with Marcus about your digital marketing needs.
My new and improved Membership Coach program is your go-to resource for all the Training, Advice, and Support needed to Develop and Grow a Profitable Membership Site. Be sure to head over to MembershipCoach.com and get on the waiting list for the first sessions, launching soon. You can also follow @membershipcoach on twitter to get the latest release dates and news. Signups are now active and Pre-Launch Enrollment is open!
John's Rant: What to rant about?
Fresh from a vacation that was not nearly long enough nor a complete vacation from electronics.
*WordPress Plugins Reviewed by John Overall**
Clean Up Zombie Users
Version: 0.4f
Author:Imperative Ideas
Last Updated:

2 years ago

Requires WordPress Version: 3.0.1 or higher
Compatible up to: 3.8.10
Active Installs: 600+
The Lowdown:
An older plugin but can be very useful if you need to clean up a site full of spammer registrations. It works pretty nicely and simple. Keep in mind it just bulk erases users based on if they have made a comment or post. Do not use on a commerce site as those users do not make posts.
rating 3 Dragons
Bulk Delete
Version: 5.5.1
Author:Sudar
Last Updated:

2 weeks ago

Requires WordPress Version: 3.9 or higher
Compatible up to: 4.3
Active Installs: 40,000+
The Lowdown
A much better way to clean up everything this allow you to choose separate things to delete, posts by category, tags, custom types and more. It also has the ability to schedule deletes. Remove data by dates all in all pretty good.
Rating 4 Dragons
Simple Login Log
Version: 1.1.0
Author:Max Chirkov
Last Updated:

2 years ago

Requires WordPress Version: 3.0 or higher
Compatible up to: 3.8.10
Active Installs: 20,000+
The Lowdown:
Needed for the above plugin. This tracks all user activity for post creation and creates a log making it easy to delete stuff. Also good to know who is login on your site and when.
rating 3 dragons
*WordPress Plugins Reviewed by Marcus Couch**
StoryMaps helps you expand your posts that highlight the locations of a series of events. Categorise StoryMap slides and view Slide categories as their own storymap. Easily embed StoryMaps into posts or pages with shortcodes.Rating: 4 out of 5
——
This purpose of this plugin is to let you get the most out of charting libraries that already exist and are awesome. There are many of them out there, and most of them are free. Many of the other commercial libraries are free for a personal or non-profit project, or have a free branded version, which may have a small link to their website.Rating: 5 out of 5
———
This plugin allows users to set a custom background on a per-post basis. This plugin hooks into the WordPress custom-background theme feature and overwrites the values on single post views if the post has been given a custom background.Rating: 4 out of 5
John's discussion this week about a project.
Discussion about the issue when cron jobs go bad and how to clean up the mess (note does require going into database.)
When you find that your cron jobs have gone bad and it happens from time to time. Not sure what happened to a site I mange but it kept overloading for no apparent reason and in the process of going though and cleaning it up I found that it had several hundred cron jobs built up as well. So in investigating how to clean this up I found there is no real plugin that will help here and you have to roll up your sleeves and get to work.
You need to get into your database and remove them, to do this you need to access your database search for the word 'cron' then when you fins it look in the options table find the 'cron' line click it and the when opened delete the info. After words the system will rebuild the proper cron jobs again.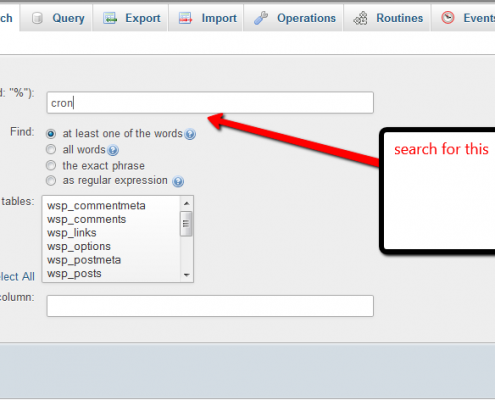 Search for Cron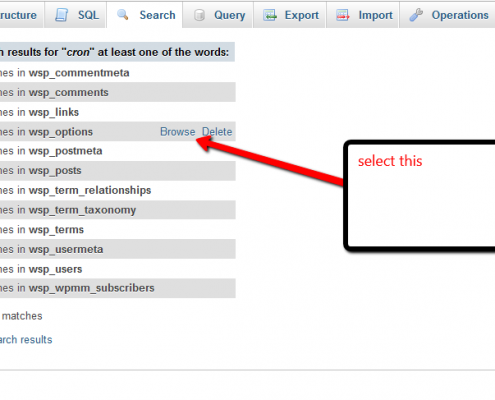 Find the one with options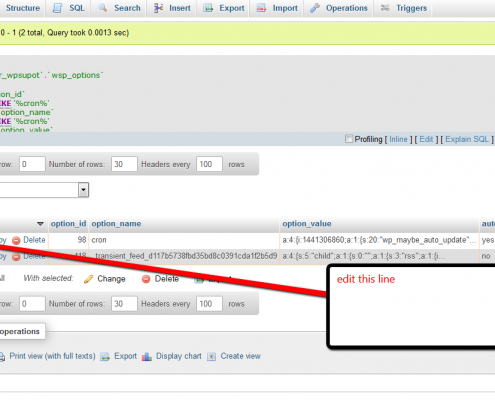 Edit the line for cron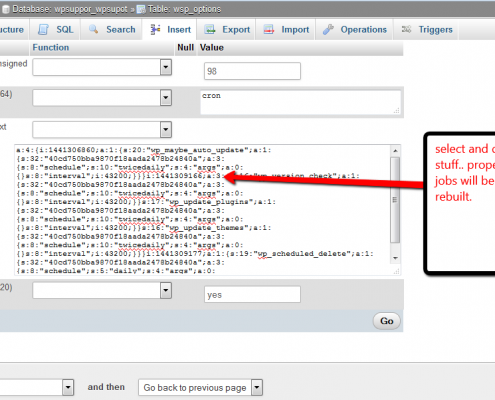 Highlight and delete this junk
Plugins Overview:
John's Plugins:   Clean Up Zombie Users – 3, Bulk Delete – 4, Simple Login Log -3
Marcus' Plugins: StoryMaps – 4, Blazing Charts – 5, Custom Background Per Page – 4
Just some reminders:
Join my at the monthly ClassicPress / WordPress Meetup
Classicpress / WordPress Meetup
Rate us on
iTunes
,
blubrry.com
,
ViaWay.com
,
Stitcher Radio
and any place else you find us.
Interact with your Hosts
John can be contacted at:
Website: https://www.johnoverall.com/
WordPress Emergency Support: https://wppro.ca/wpemergency
Email: john@wppro.ca