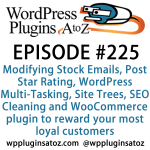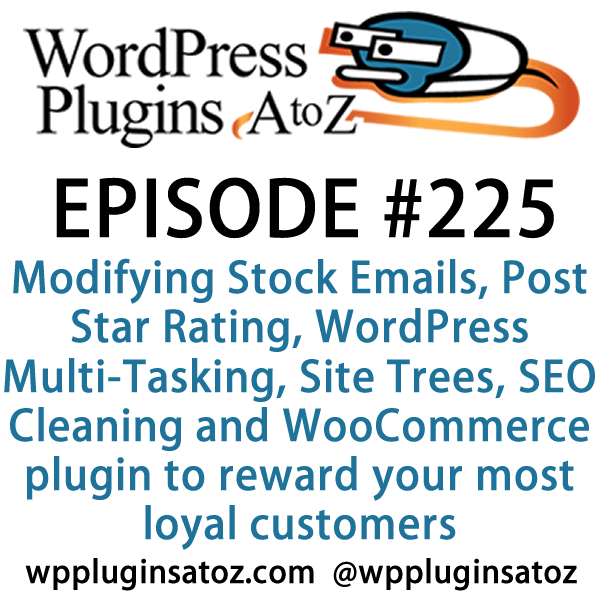 It's Episode 225 and we've got plugins for Modifying Stock Emails, Post Star Rating, WordPress Multi-Tasking, Site Trees, SEO Cleaning and a great new WooCommerce plugin to reward your most loyal customers. It's all coming up on WordPress Plugins A-Z!

Podcast: Play in new window | Download | Embed
Subscribe to WPPlugins A to Z on Google Podcasts | Email | RSS
Get all the grisly Plugin details and full access to the complete show notes on our website WPPluginsAtoZ.com! You can follow the show on Twitter at @wppluginsatoz, and join our Facebook at WordPressPluginsA2Z for the latest in WordPress Plugin related news - some we come across in-between shows, and some we talk about on our weekly show.
The WordPress Plugins A-Z Podcast can be found on
iTunes
,
SoundCloud
,
Stitcher Radio
and also on
WordPress Radio
. If you like what you hear on the show, we encourage you to share your enthusiasm with others that you know in the WordPress community and in social networks. Share on Twitter:
WP Plugins A to Z The Only #WordPress #Plugins #Podcast
Click To Tweet
Self Promotion
While we do enjoy bringing you the show week after week, we also make our living with WordPress and related promotional services. With that, we ask for a moment of your time for some self promotion. If you find these promotions of value, please share them with friends and colleagues.
---
Promotions from John Overall:
Has your
WordPress
site broken? Do you have a question or two about its functionality? Have you recieved the white screen of death? This may be time for some
Emergency WordPress Support.
Contact me at WPPro.ca/help or give me a quick call at 818-850-7729.
---
Promotions from Marcus Couch:
X² Marketing
is your full-service digital marketing and brand development agency. Whether you are a solo entrepreneur, small business or enterprise level company; power up your marketing with X2. From WordPress to ClickFunnels, Landing Pages to Social Campaigns, SEO, Paid Ads, Infusionsoft management and more. Visit
X2marketing.com
and get in touch with Marcus about your digital marketing needs.
My new and improved Membership Coach program is your go-to resource for all the Training, Advice, and Support needed to Develop and Grow a Profitable Membership Site. Be sure to head over to MembershipCoach.com and get on the waiting list for the first sessions, launching soon. You can also follow @membershipcoach on twitter to get the latest release dates and news. Signups are now active and Pre-Launch Enrollment is open!
Listener Feedback / Audio Clips
Love This Podcast—practical and useful
5 Stars in iTunes by Joubert Pascal from Canada
As a newbie WordPress blogger (Francetraveltips.com) I listen to this podcast every week to get ideas on how to improve my website. I like how you rate different plugins and also give advice on running websites. Keep up the great work! Janice Chung Toronto
View in browser
WordPress News and other interesting WordPress related posts:
*WordPress Plugins Reviewed by John Overall**
SiteTree
Version: 1.5.3
Author: Luigi Cavalieri
Last Updated: 

2 years ago

Requires WordPress Version: 3.3 or higher
Compatible up to: 3.6.1
Active Installs: 10,000+
the Lowdown:
It has been a while since I have had this request but I see it can still be useful to have a human readable sitemap on a page especially on a 404 page. This plugin helps keeping one of these up to date. simple to use and setup it may be a little old but seems to work great.
Rating 4 Dragons
SO Clean Up WP SEO
Version: 1.4
Author: SO WP
Last Updated: 

2 weeks ago

Requires WordPress Version: 4.0 or higher
Compatible up to: 4.3-alpha
Active Installs: 40+
The Lowdown:
This plugin cleans up the junk in WordPress SEO by Yoast. so if you are annoyed by any of the following then try it out.
As per the current release, the plugin removes and/or disables the following unwanted items:
removes sidebar ads on all WordPress SEO settings pages
removes the WordPress SEO settings from the Admin Bar
removes updated nag
sets plugin-intro-tour user_meta to true (means done)
removes the keyword/description columns on edit Posts/Pages pages
Nice and simple
rating 4 Dragons
Admin Starred Posts
Version: 1.0.1
Author: Luis Orozco
Last Updated: 

1 month ago

Requires WordPress Version: 3.8 or higher
Compatible up to: 4.2.2
The Lowdown:
This plugin allows you to star your posts in such a way as to allow you mark them as important pretty simple to use setup and then start marking your posts.
Rating 3 Dragons.
*WordPress Plugins Reviewed by Marcus Couch**
WindowPress
Multitasking made easy. WindowPress allows you to open multiple pages in your backend, limiting all administration tasks to just one browser tab.
Rating:
 5 out of 5
Woocommerce Groups by Sales
Your customers will be joined to groups according to their total sales. Apply discounts, get more access, or simply reward the best customers.
Rating:
 5 out of 5
---
Plugins Overview:
John's Plugins: SiteTree – 4, SO Clean Up WP SEO – 4, Admin Starred Posts – 3
Marcus' Plugins: WordPress Leads – Edit Core WordPress Email Templates – 3, WindowPress – 5, Woocommerce Groups by Sales – 5
Just some reminders:
Join my at the monthly ClassicPress / WordPress Meetup
Classicpress / WordPress Meetup
Rate us on
iTunes
,
blubrry.com
,
ViaWay.com
,
Stitcher Radio
and any place else you find us.
Interact with your Hosts
John can be contacted at:
Website: https://www.johnoverall.com/
WordPress Emergency Support: https://wppro.ca/wpemergency
Email: john@wppro.ca