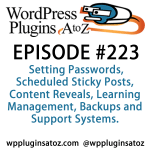 It's episode 223 and we've got plugins for Setting Passwords, Scheduled Sticky Posts, Content Reveals, Learning Management, Backups and Support Systems. It's all coming up on WordPress Plugins A-Z!

Podcast: Play in new window | Download | Embed
Subscribe to WPPlugins A to Z on Google Podcasts | Email | RSS
Get all the grisly Plugin details and full access to the complete show notes on our website WPPluginsAtoZ.com! You can follow the show on Twitter at @wppluginsatoz, and join our Facebook at WordPressPluginsA2Z for the latest in WordPress Plugin related news - some we come across in-between shows, and some we talk about on our weekly show.
The WordPress Plugins A-Z Podcast can be found on
iTunes
,
SoundCloud
,
Stitcher Radio
and also on
WordPress Radio
. If you like what you hear on the show, we encourage you to share your enthusiasm with others that you know in the WordPress community and in social networks. Share on Twitter:
WP Plugins A to Z The Only #WordPress #Plugins #Podcast
Click To Tweet
Self Promotion
While we do enjoy bringing you the show week after week, we also make our living with WordPress and related promotional services. With that, we ask for a moment of your time for some self promotion. If you find these promotions of value, please share them with friends and colleagues.
---
Promotions from John Overall:
Has your
WordPress
site broken? Do you have a question or two about its functionality? Have you recieved the white screen of death? This may be time for some
Emergency WordPress Support.
Contact me at WPPro.ca/help or give me a quick call at 818-850-7729.
---
Promotions from Marcus Couch:
X² Marketing
is your full-service digital marketing and brand development agency. Whether you are a solo entrepreneur, small business or enterprise level company; power up your marketing with X2. From WordPress to ClickFunnels, Landing Pages to Social Campaigns, SEO, Paid Ads, Infusionsoft management and more. Visit
X2marketing.com
and get in touch with Marcus about your digital marketing needs.
My new and improved Membership Coach program is your go-to resource for all the Training, Advice, and Support needed to Develop and Grow a Profitable Membership Site. Be sure to head over to MembershipCoach.com and get on the waiting list for the first sessions, launching soon. You can also follow @membershipcoach on twitter to get the latest release dates and news. Signups are now active and Pre-Launch Enrollment is open!
Listener Feedback / Audio Clips
iTunes Review by htown1226 from USA on April 25, 2015
I have been listening to this podcast now for over 6 months. There are so many plugins to choose from it becomes difficult to know which ones to trust and which ones will work without the long tedious process of trial and error. After listing to John and Marcus, you will quickly begin to eliminate this task by listening to their advice and reviews of some of the best plugins for WordPress. John also is a wonderful source for those nasty little problems that have with your WordPress site. He has assisted me on a hacked site as well as a large project and came through in a timely and professional manner in both cases.
*WordPress Plugins Reviewed by John Overall**
Premium Plugin
Set Password
https://premium.wpmudev.org/project/set-password-on-wordpress-mu-blog-creation/
The Lowdown:
This is a simple plugin that makes life easier for your users. Normal operations when craretiing a new site in MU is that it creates and sends a password to the user. This plugin allows them to choose thier password while siging up and with the proper settings on your nwetwork you can enforce a strong password. Pretty easy to use and setup.
Rating 4 dragons
Premium Plugin
Snapshot
https://premium.wpmudev.org/project/snapshot/
The Lowdown:
Backup, Back and backup again that is my motto. As we all know nothing beats a good backup when things go wrong and we all know how smooth the internet always operates right? Well this plugin allows you to make a complete network backup and store it locally, to amazon s3, dropbox, ftp, Google drive or GreenQloud Storage. You do need to set it to back up the individual blogs on your network. It keeps 5 archives has an instant restore function and saves all important files and data table. an excellent plugin for a network.
Rating 5 Dragons
Premium Plugin
Support System
https://premium.wpmudev.org/project/support-system/
The Lowdown:
Now if your going to run a network of sites for users sooner or later you are going to have to answer some support queries. This system integrates into your network to allow users and you can set the level of access to insure your paying customer get priority support. You also get to create a Q&A section for FAQs that will help everyone. It does take some work to get it customized the way you want and displaying the FAQs for non members requires some coding but it really is a great plugin.
Rating 4 Dragons.
*WordPress Plugins Reviewed by Marcus Couch**
LearnPress
https://wordpress.org/plugins/learnpress/
LearnPress is a comprehensive LMS solution for WordPress. This WordPress LMS Plugin can be used to easily create, manage and sell courses online. Each course curriculum can be made with lessons and quizzes which can be managed with easy-to-use user interface.
What I found really unique about this LMS system is that you can migrate and import all the courses to any other WP install that has LearnPress activated.
Rating: 4 out of 5
—–
Scheduled Stickiness
https://wordpress.org/plugins/scheduled-stickiness/
Sometimes you like a post to be sticky during a time interval in the future and not immediately when publishing. This plugin lets you specify when the stickiness should begin and end. Once you have set the start and end dates, you don't have to change the stickiness manually, the plugin uses WordPress's cron job to set and unset stickiness. It works right out of the post editor!
Rating: 4 out of 5
——–
WP Revealer
https://wordpress.org/plugins/wp-revealer/
WP Revealer is a WordPress content display plugin that hides content and displays it at a precise time. WP Revealer is the perfect "Magic Button" script for WordPress based video sales pages. Perfect for Call To Action (CTA) buttons, or displaying any content after a period of time.
Simple to use shortcode, No complicated admin panel required, Works with all browsers, Hide and display content down to the second.
Rating: 4 out of 5
Plugins Overview:
John's Plugins: Set Password – 4, Snapshot – 5, Support System – 4
Marcus' Plugins: LearnPress – 4, Scheduled Stickiness – 4, WP Revealer – 4
Just some reminders:
Join my at the monthly ClassicPress / WordPress Meetup
Classicpress / WordPress Meetup
Rate us on
iTunes
,
blubrry.com
,
ViaWay.com
,
Stitcher Radio
and any place else you find us.
Interact with your Hosts
John can be contacted at:
Website: https://www.johnoverall.com/
WordPress Emergency Support: https://wppro.ca/wpemergency
Email: john@wppro.ca