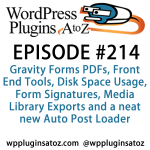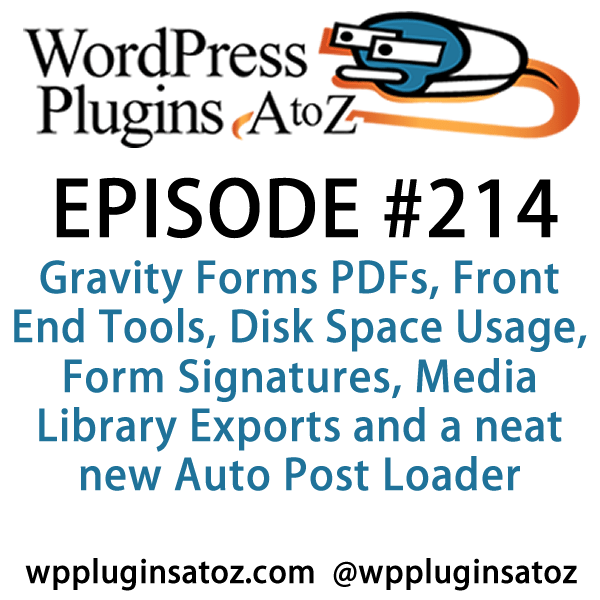 It's episode 214 and we've got plugins for Gravity Forms PDFs, Front End Tools, Disk Space Usage, Form Signatures, Media Library Exports and a neat new Auto Post Loader. It's all coming up on WordPress Plugins A-Z!

Podcast: Play in new window | Download | Embed
Subscribe to WPPlugins A to Z on Google Podcasts | Email | RSS
Get all the grisly Plugin details and full access to the complete show notes on our website WPPluginsAtoZ.com! You can follow the show on Twitter at @wppluginsatoz, and join our Facebook at WordPressPluginsA2Z for the latest in WordPress Plugin related news - some we come across in-between shows, and some we talk about on our weekly show.
The WordPress Plugins A-Z Podcast can be found on
iTunes
,
SoundCloud
,
Stitcher Radio
and also on
WordPress Radio
. If you like what you hear on the show, we encourage you to share your enthusiasm with others that you know in the WordPress community and in social networks. Share on Twitter:
WP Plugins A to Z The Only #WordPress #Plugins #Podcast
Click To Tweet
Self Promotion
While we do enjoy bringing you the show week after week, we also make our living with WordPress and related promotional services. With that, we ask for a moment of your time for some self promotion. If you find these promotions of value, please share them with friends and colleagues.
---
Promotions from John Overall:
Has your
WordPress
site broken? Do you have a question or two about its functionality? Have you recieved the white screen of death? This may be time for some
Emergency WordPress Support.
Contact me at WPPro.ca/help or give me a quick call at 818-850-7729.
---
Promotions from Marcus Couch:
X² Marketing
is your full-service digital marketing and brand development agency. Whether you are a solo entrepreneur, small business or enterprise level company; power up your marketing with X2. From WordPress to ClickFunnels, Landing Pages to Social Campaigns, SEO, Paid Ads, Infusionsoft management and more. Visit
X2marketing.com
and get in touch with Marcus about your digital marketing needs.
My new and improved Membership Coach program is your go-to resource for all the Training, Advice, and Support needed to Develop and Grow a Profitable Membership Site. Be sure to head over to MembershipCoach.com and get on the waiting list for the first sessions, launching soon. You can also follow @membershipcoach on twitter to get the latest release dates and news. Signups are now active and Pre-Launch Enrollment is open!
Listener Feedback / Audio Clips
Best for building websites
5 Stars in iTunes by Mad about Cairo from USA on March 13, 2015
I totally rely on A to Z to help me build and take my website to the next level. I am recommending and sharing your info all the time! I have two major projects right now–organizing WordCamp Cairo and launching a new website on natural lifestyle design: permapaleo.info Keep up the great work!!
Worth the wait!
5 Stars in iTunes by Uthguytech from USA on March 10, 2015
I have been a WordPress user for many years. I try to keep my website GodPonders.org current and well run. Nothing gives me as much FREE useable advice on a weekly basis. I wait for the newest podcast each week. This is the only podcast that never has multiple unplayed episodes building up. BONUS great Show Notes from their Website.
Great for the Novice
5 Stars in iTunes by Usslaneia7 from USA on March 2, 2015
I truly appreciate that you two take the time to go through all these plug-ins evaluate them and then give us an opportunity to check them out it has made things so much easier for a person that has just jumped into this industry and I personally have been able to use this knowledge and share this knowledge with others thank you very much
WordPress News and other interesting WordPress related posts:
As many as 1 million sites imperiled by dangerous bug in WordPress plugin
Persistent XSS in WP-Super-Cache allows attackers to insert malicious code.
https://arstechnica.com/security/2015/04/as-many-as-1-million-sites-imperiled-by-dangerous-bug-in-wordpress-plugin/
*WordPress Plugins Reviewed by John Overall**
User Frontend
Version: 1.0.4
Author: HerrLlama for wpcoding.de
Last Updated: 1 month ago
Requires WordPress Version: 3.8 or higher
Compatible up to: 4.1.1
Downloaded: 5,834 times
The Lowdown:
Do you need an easy way to keep your users out of the admin area, this is a great plugin for that. It works with your theme to craete a profile page and keeps users from seeing the backend admin area.
Rating 4 dragons
Gravity PDF
Version: 3.7.1
Author: Blue Liquid Designs
Last Updated: 5 days ago
Requires WordPress Version: 3.9 or higher
Compatible up to: 4.1.1
Downloaded: 59,133 times
The Lowdown:
Have you ever had the need to get your Gravity forms to produce a PDF file? This is the solution for you after trying several PDF creators and plugins specifically for Gravity Forms I came across this one. It produces a great simple PDF of your forms out put and a little minor tweaking of the template you can even insert custom lines from the form. If you spend a little time in the plugins functions file you can even get a PDF emails direct to you and your client. All in all a great plugin.
Rating 5 Dragons.
Gravity Forms Signature Add-On
Premium Plugin
The Lowdown:
If you have a need to collect an actual signature for your forms then this addon for GravityForms is your solution. It is easy to install and allows you to add a signature blog to any of your forms. You users can ether sign with their finger on a touch device or using a mouse on a regular keyboard.
Rating 5 Dragons
*WordPress Plugins Reviewed by Marcus Couch**
Disk Usage Sunburst
https://wordpress.org/plugins/disk-usage-sunburst/
This plugin shows all files of your WordPress installation at once. These are displayed in a neat "Sunburst Chart" format. Each arc within the chart is designated as either a directory or a file. Hover your mouse over an arc to see the size of the file or directory. The bigger the arc is, the larger the file or directory is. It's a quite useful method in determining the largest files in your WP install!
Rating: 4 out of 5
Download Media Library
https://wordpress.org/plugins/download-media-library/
Plain and simple, this plugin lets you download your entire media library as a ZIP file. Your options allow you to designate to download via post type, post name, media type and file extension.
Rating: 4 out of 5
Auto Load Next Post
https://wordpress.org/plugins/auto-load-next-post/
Auto Load Next Post loads the next post after one another as you scroll down the page. To do this, it reads the post navigation in your theme at the end of each post and collects the post URL. With this, it asks WordPress to do a partial content load and the javascript places the content of the next post underneath the parent post.
It also updates your web history by manipulating the web address and page title so if you were to hit refresh, you will be taken to the post you were viewing last. You will find that when pressing the previous button in your browser to go back you will be taken to the previous post.
Rating: 5 out of 5
Plugins Overview:
John's Plugins: User Frontend – 4, Gravity PDF – 5, Gravity Forms Signature Add-On – 5
Marcus' Plugins: Disk Usage Sunburst – 4, Download Media Library – 4, Auto Load Next Post – 5
Just some reminders:
Join my at the monthly ClassicPress / WordPress Meetup
Classicpress / WordPress Meetup
Rate us on
iTunes
,
blubrry.com
,
ViaWay.com
,
Stitcher Radio
and any place else you find us.
Interact with your Hosts
John can be contacted at:
Website: https://www.johnoverall.com/
WordPress Emergency Support: https://wppro.ca/wpemergency
Email: john@wppro.ca