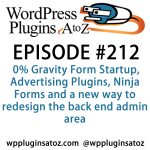 It's episode 212 and we've got plugins for 0% Gravity Form Startup, Advertising Plugins, Ninja Forms and a new way to redesign the back end admin area. It's all coming up on WordPress Plugins A-Z!

Podcast: Play in new window | Download | Embed
Subscribe to WPPlugins A to Z on Google Podcasts | Email | RSS
Get all the grisly Plugin details and full access to the complete show notes on our website WPPluginsAtoZ.com! You can follow the show on Twitter at @wppluginsatoz, and join our Facebook at WordPressPluginsA2Z for the latest in WordPress Plugin related news - some we come across in-between shows, and some we talk about on our weekly show.
The WordPress Plugins A-Z Podcast can be found on
iTunes
,
SoundCloud
,
Stitcher Radio
and also on
WordPress Radio
. If you like what you hear on the show, we encourage you to share your enthusiasm with others that you know in the WordPress community and in social networks. Share on Twitter:
WP Plugins A to Z The Only #WordPress #Plugins #Podcast
Click To Tweet
Self Promotion
While we do enjoy bringing you the show week after week, we also make our living with WordPress and related promotional services. With that, we ask for a moment of your time for some self promotion. If you find these promotions of value, please share them with friends and colleagues.
---
Promotions from John Overall:
Has your
WordPress
site broken? Do you have a question or two about its functionality? Have you recieved the white screen of death? This may be time for some
Emergency WordPress Support.
Contact me at WPPro.ca/help or give me a quick call at 818-850-7729.
---
Promotions from Marcus Couch:
X² Marketing
is your full-service digital marketing and brand development agency. Whether you are a solo entrepreneur, small business or enterprise level company; power up your marketing with X2. From WordPress to ClickFunnels, Landing Pages to Social Campaigns, SEO, Paid Ads, Infusionsoft management and more. Visit
X2marketing.com
and get in touch with Marcus about your digital marketing needs.
My new and improved Membership Coach program is your go-to resource for all the Training, Advice, and Support needed to Develop and Grow a Profitable Membership Site. Be sure to head over to MembershipCoach.com and get on the waiting list for the first sessions, launching soon. You can also follow @membershipcoach on twitter to get the latest release dates and news. Signups are now active and Pre-Launch Enrollment is open!
Listener Feedback / Audio Clips
Discover Amazing Plugins
in iTunes by Richard Farrar from UK on October 3, 2014
With 1,000s of possible WordPress plugins to choose from, Marcus and John take the hassle out of it for you by reviewing a selection of useful plugins on a weekly basis. Being WordPress professionals they know what they're talking about and can separate the wheat from the chaff. Excellent podcast for all WordPress administrators.
View in browser
Essential Listening
in iTunes by SugarLandTim from USA on August 8, 2014
The power of WP is in the plugins. And with over 30,000 of them, you need someone to guide you to the ones worth using. John and Marcus do a great job in presenting useful new and older standard plugins that you will want to use. Not a lot of fluff, just straight to the "meat and potatoes." The audio quality can still vary a bit sometimes, but I leave every show with something useful. It's my favorite WP podcast.
View in browser
Very helpful
in iTunes by OliDegreef from Spain on July 22, 2014
Good podcast, very helpful to find new useful plugins. Good quality
View in browser
*WordPress Plugins Reviewed by John Overall**
Advanced Advertising System
Version: 1.1.3
Author: Smartdevth
Last Updated: 5 days ago
Requires WordPress Version: 3.5 or higher
Compatible up to: 4.1
Downloaded: 2,217 times
The Lowdown:
The installation was pretty smooth as well as the creation of zone advertisers and banners. There was a small glitch in getting it to display in a widget but that was just an oversight on my part. All in all I like the way it works although the stats are still kinda limited in the free version I think they might be better in the pro version I will see if they are and report back. This is a pretty nice one but not quite there yet for what I need as far as stats reporting.
Rating 4 Dragons
AdRotate
Version: 3.11
Author: Arnan de Gans of AJdG Solutions
Last Updated: 2 weeks ago
Requires WordPress Version: 3.8, PHP5.3 or higher
Compatible up to: 4.1
Downloaded: 960,827 times
The Lowdown:
This one performs quite nicely as the free version. There are lots of extras you might consider that come with the pro version. It does have some decent stats and easy to read as well as being pretty easy to get the ads, zones and groups setup and running. Some advantages of the pro is allowing your advertisers to login and see their stats when they want, they can create new ads that are held in cue for you to review. You get the ability to schedule campaigns and have multiple campaigns for same ad running at once. The pro version has a media manager so you can bulk add your adverts and manage them. Localize your adverts and get notifications when ads expire or new ads are placed. All in all the free version is pretty good and the pro version looks like a great hit also.
Rating 5 Dragons
Ad King Pro
Version: 1.9.16
Author: Ash Durham
Last Updated: 1 month ago
Requires WordPress Version: 3.0.1 or higher
Compatible up to: 4.0.1
Downloaded: 11,100 times
The Lowdown:
This is a pretty easy to use ad display plugin. A bit confusing on the setup as it does not fully follow normal parameters like zones etc. It does do something cool like allow for a rollover banner. It did seem to have some issues with display in widget area probably a little css to help it out. Display with short code pretty easy and it has a built in shortcode creator to make it easy to create the short code you need. All in all decent. I did like the stats with this one it even creates a pdf of the stats for you.
Rating 3 Dragons
*WordPress Plugins Reviewed by Marcus Couch**
Gravity Forms – Start progress bar at zero percent
https://wordpress.org/plugins/gravity-forms-start-progress-bar-at-zero-percent/
By default, multi-page forms on Gravity Forms will start the progress bar count as if the first step has been completed. For example, on a five page form the first page would display 20% completed before the form is even started, and the last page would display 100%. With this plugin the progress bar will display 0% on the first page and 80% on the last page (5 page form example).
Rating: 5 out of 5
Admin Rocket
https://wordpress.org/plugins/adminrocket/
AdminRocket allows you to customize your WordPress backoffice with available themes, Dashboard widget and your own settings. Offer a personalized dashboard to your customers!
Rating: 5 out of 5
Ninja Forms
https://wordpress.org/plugins/ninja-forms/
Ninja Forms is the ultimate FREE form creation solution for WordPress. Build WordPress Forms within minutes using Ninja Forms powerful forms creation page. It allows you to easily and quickly design complex forms through a drag and drop interface and absolutely no code. But for you developers it has a ton of hooks and filters so you can do absolutely anything with this powerful form building framework.
Rating: 5 out of 5
Plugins Overview:
John's Plugins: Advanced Advertising System – 4, AdRotate – 5, Ad King Pro – 3
Marcus' Plugins: Gravity Forms – Start progress bar at zero percent – 5, Admin Rocket – 5, Ninja Forms – 5
Just some reminders:
Join my at the monthly ClassicPress / WordPress Meetup
Classicpress / WordPress Meetup
Rate us on
iTunes
,
blubrry.com
,
ViaWay.com
,
Stitcher Radio
and any place else you find us.
Interact with your Hosts
John can be contacted at:
Website: https://www.johnoverall.com/
WordPress Emergency Support: https://wppro.ca/wpemergency
Email: john@wppro.ca