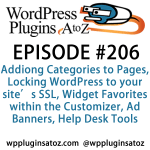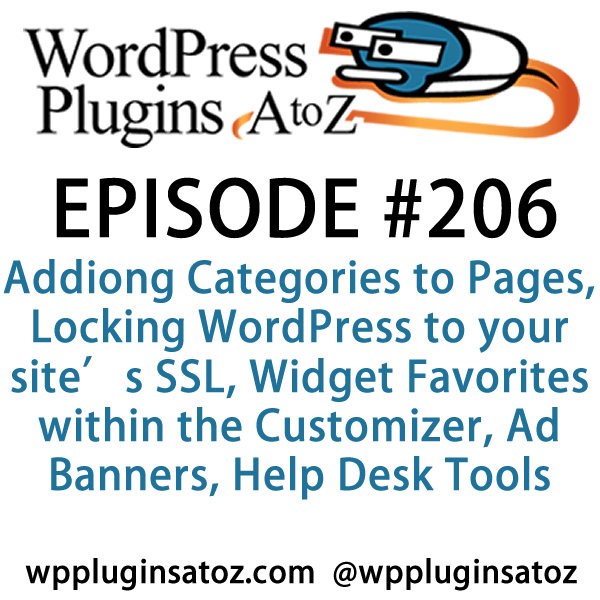 It's episode 206 and we've got plugins for Adding Categories to Pages, Locking WordPress to your site's SSL, Widget Favorites within the Customizer, Ad Banners, Help Desk Tools and new ways top get detailed info on the plugins you have installed. It's all coming up on WordPress Plugins A-Z!

Podcast: Play in new window | Download | Embed
Subscribe to WPPlugins A to Z on Google Podcasts | Email | RSS
Get all the grisly Plugin details and full access to the complete show notes on our website WPPluginsAtoZ.com! You can follow the show on Twitter at @wppluginsatoz, and join our Facebook at WordPressPluginsA2Z for the latest in WordPress Plugin related news - some we come across in-between shows, and some we talk about on our weekly show.
The WordPress Plugins A-Z Podcast can be found on
iTunes
,
SoundCloud
,
Stitcher Radio
and also on
WordPress Radio
. If you like what you hear on the show, we encourage you to share your enthusiasm with others that you know in the WordPress community and in social networks. Share on Twitter:
WP Plugins A to Z The Only #WordPress #Plugins #Podcast
Click To Tweet
Self Promotion
While we do enjoy bringing you the show week after week, we also make our living with WordPress and related promotional services. With that, we ask for a moment of your time for some self promotion. If you find these promotions of value, please share them with friends and colleagues.
---
Promotions from John Overall:
Has your
WordPress
site broken? Do you have a question or two about its functionality? Have you recieved the white screen of death? This may be time for some
Emergency WordPress Support.
Contact me at WPPro.ca/help or give me a quick call at 818-850-7729.
---
Promotions from Marcus Couch:
X² Marketing
is your full-service digital marketing and brand development agency. Whether you are a solo entrepreneur, small business or enterprise level company; power up your marketing with X2. From WordPress to ClickFunnels, Landing Pages to Social Campaigns, SEO, Paid Ads, Infusionsoft management and more. Visit
X2marketing.com
and get in touch with Marcus about your digital marketing needs.
My new and improved Membership Coach program is your go-to resource for all the Training, Advice, and Support needed to Develop and Grow a Profitable Membership Site. Be sure to head over to MembershipCoach.com and get on the waiting list for the first sessions, launching soon. You can also follow @membershipcoach on twitter to get the latest release dates and news. Signups are now active and Pre-Launch Enrollment is open!
*WordPress Plugins Reviewed by John Overall**
Refereed by Simon and Anne
Floating Banner Ad Rotator with Tracking
Version: 0.21
Author: HTML5andBeyond
Last Updated: 10 mins ago
Requires WordPress Version: 4 or higher
Compatible up to: 4.1
Downloaded: 98 times
The Lowdown:
This plugin is still in beta but it is a pretty nice simple banner ad plugin. It displays the banners in an overlay on the bottom of your site with an X to close them out. Put as many ads in as you like and it will rotate though them on every page load. It has some simple stats for views and clicks. So if your looking for a simple ad rotator this one may be for you.
Rating 4 Dragons
Referred to us by Mike Jordan
More Plugin Info
Version: 1.1.2
Author: Mike Jordan
Last Updated: 1 week ago
Requires WordPress Version: 3.0 or higher
Compatible up to: 4.1
Downloaded: 321 times
The Lowdown;
What this plugin does is provides more information about the plugins you have installed in your site. Tings such as date added to the repository, last updated, requires version of WordPress, tested to version, link to wordpress.org page a download link and a donate link. Sometime this information is necessary and having it right there on your plugin page really makes a difference I think
Rating 4 Dragons.
Refereed to us by Julien Liabeuf
Awesome Support
Version: 3.0.1
Author: ThemeAvenue
Last Updated: 4 weeks ago
Requires WordPress Version: 3.5.1 or higher
Compatible up to: 4.1
Downloaded: 941 times
The Lowdown:
Would you like to create your own support desk on your WordPress website well this mat be exactly what you are looking for. This looks to be a great freemium plugin it is pretty easy to get up and running with only some refinements for the basics to be working for you. The system will allow you to have the necessary users with out having registration turned on for WordPress this is an interesting feature. There are also some great addons for the plugin including. Notifications, mailchimp integration, private notes. and a useful one if your are an Envato author and that is envato validation to insure you are only helping those who have purchased your products. There are canned responses and much more in the pipeline. They have a great roadmap showcasing what they are working on.
Rating 4 dragons.
*WordPress Plugins Reviewed by Marcus Couch**
Add Category to Pages
https://wordpress.org/plugins/add-category-to-pages/
Requires: 3.3 or higher
Compatible up to: 4.1
Last Updated: 2015-1-12
Downloads: 3
There are various benefits of adding category to Pages Yuu can embed a Category Based List of Pages, Create a Tag based archive for Pages, Create a Category based Archive for Pages or hide Pages belonging to certain Category.
Rating: 4 out of 5
—-
WP Force SSL
https://wordpress.org/plugins/wp-force-ssl/
Requires: 3.9 or higher
Compatible up to: 4.1
Last Updated: 2015-1-16
Downloads: 15
Redirect all traffic from HTTP to HTTPS to all pages of your WordPress website. Want to report an issue or contribute to this plugin? Note: You need an SSL Certificate in order for this plugin to work.
Rating: 4 out of 5
—————–
Widget Favorites
https://wordpress.org/plugins/widget-favorites/
Requires: 4.1 or higher
Compatible up to: 4.1
Last Updated: 2015-1-15
Downloads: 8
Sometimes you have a certain widget configuration that you need to use over-and-over again. Widget Favorites provides a way to save a widget instance by name to identify it later when loading the favorited widget instance into another widget.
Another way to look at this plugin is that it provides (non-automatic) revisions for widgets. Note that this only adds functionality to widgets managed in the Customizer.
Rating: 4 out of 5
Plugins Overview:
John's Plugins: Floating Banner – 4, More Plugin Info – 4, Awesome Support – 4
Marcus' Plugins: Add Category to Pages – 4, WP Force SSL – 4, Widget Favorites – 4
Just some reminders:
Join my at the monthly ClassicPress / WordPress Meetup
Classicpress / WordPress Meetup
Rate us on
iTunes
,
blubrry.com
,
ViaWay.com
,
Stitcher Radio
and any place else you find us.
Interact with your Hosts
John can be contacted at:
Website: https://www.johnoverall.com/
WordPress Emergency Support: https://wppro.ca/wpemergency
Email: john@wppro.ca