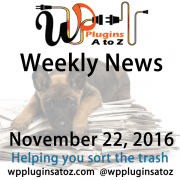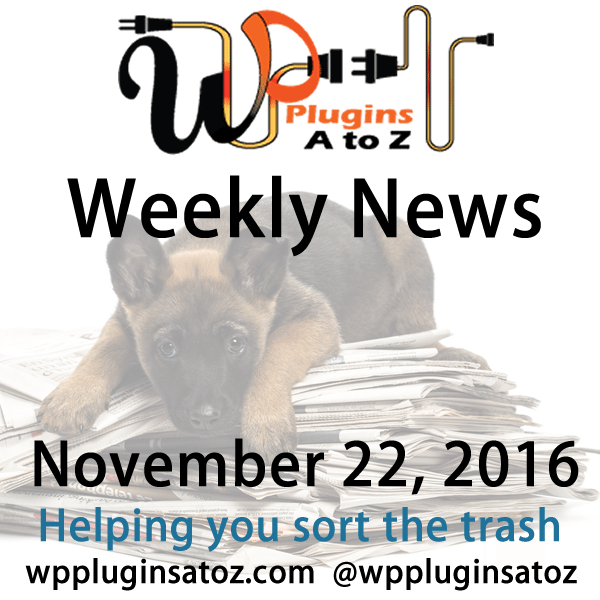 The Weekly round up of news, tips, and information to help you create the best possible WordPress website.
This is a weekly round up of WordPress news I have accumulated from across the web some old some new but always interesting. The new relates to WordPress and sometimes other areas of the web. It often has a focus on security and more.
We try to have news here that is not only important to help you with your website as well as new from the #wpdrama scene and more to share.
Some of the news here will be of interesting links to not only articles but training materials and other sources I can find online that will help you create a better WordPress website.
---
This week we have the following news for you.
The error for "Cannot Modify Headers" is one of the most annoying you can run across this article helps you solve that one.
Fixing the "Cannot Modify Header" Error in WordPress

Here's a frustrating yet common WordPress error that can appear out of the blue, bringing down your site in one fell swoop:

"Warning: Cannot modify header information – headers already sent by (output started at…"

What's worse is that this error continues, listing paths to important files on your server which is a potential security risk. Read original article here…. premium.wpmudev.org
This is an older article and warning about updates needed but still needs to be said.
WordPress urges users to update now to fix critical security holes

WordPress is urging webmasters to update their CMS packages as quickly as possible to protect their domains from critical vulnerability exploits.

On Thursday, the content management system (CMS) provider released a security advisory alongside the latest version of WordPress, 4.6.1. Now available, the update patches two serious security problems, a cross-site scripting vulnerability and a path traversal security flaw.

The XSS flaw, discovered by SumOfPwn researcher Cengiz Han back in July at the Summer of Pwnage bug bounty project, allows attackers to use a crafted image file, upload to WordPress, and inject malicious JavaScript code into the software. Read original article here…. zdnet.com
This article looks at some of the top ways to secure up your WordPress website.
Top 5 Ways to Better Secure Your Website

In 2013, 73 percent of popular sites that used WordPress were vulnerable to attack.  Cyber-attacks seem to always make headlines. Data breaches are becoming more and more common. This article will help explore multiple options on how WordPress site owners can secure their websites.

It can't be stressed enough how important updating is, despite it seeming like such a simple concept. In most cases, a new WordPress versions patch a security vulnerability found in the previous version. When you log into the WordPress admin dashboard, be sure to check the top of the dashboard to see if there is an update available. Read original article here…. interestingengineering.com
This article from WPMUDEV help you figure out how to create a successful career in WordPress.
WordPress Careers Masterclass: How to Forge a Successful Career

Welcome to this new series on WordPress careers! In this six-week series, you'll learn about the wide range of options available to you if you want to forge a career with WordPress.

This series will be useful for you if you can answer "yes" to any of the questions below:

Whatever your circumstances, there will be something here to help you.

In this series, I'm going to guide you through a process of identifying your own career goals and provide information, tips and advice to help you formulate your own career plan and follow it through. Along the way you may find you change your plans or switch things around a bit – in such a fast-moving industry, being flexible is essential! Read original article here…. premium.wpmudev.org
Managing Multiple WordPress websites can be a challenge and this article help you come to terms on things that need to be completed.
How to Manage WordPress Sites: 75 Tasks & Tips

Managing a WordPress site means performing daily, weekly and monthly tasks to help your site run smoothly. Use this checklist to help you manage WordPress sites either for yourself or your web design clients.

The list below includes both one-time tasks for newer WordPress sites and repetitive tasks that will need to be performed on a regular basis.

Managing WordPress sites can get pretty time-consuming (and maybe overwhelming), especially if you have more than one site.

With Sync, you can perform a lot of the tasks included in the list to manage WordPress sites, like:

1. To get started with iThemes Sync, grab your 10 free site plan here. Read original article here…. ithemes.com
Let's face it pricing services is one of the hardest things a freelancer will ever do and this article help you figure out that task .
Pricing Your Services: A How-To Guide for WordPress Developers

Pricing is tricky, to say the least. And no doubt you've had a similar conversation to this one I had recently with a massively popular (and profitable) blog I wanted to write for:

Client: "I'm sorry to break this to you — but you're nowhere near the $XX rate."

Me: "Thanks very much for your feedback. Much appreciated :) Cheers"

Yes, they found you overpriced and when you ask around for advice you'll hear:

"There's nothing such as a market rate. Only you can decide what you're worth."

Etc. Etc.

Yes, it's all true, but it doesn't generally apply to absolute beginner or intermediate-level freelancers. Read original article here…. premium.wpmudev.org
Well that's a wrap for this week more next week from WP Plugins A to Z.
Save
Save
Save