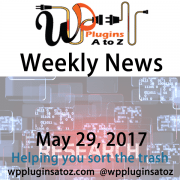 The Weekly round up of news, tips, and information to help you create the best possible WordPress website.
This is a weekly round up of WordPress news I have accumulated from across the web some old some new but always interesting. The new relates to WordPress and sometimes other areas of the web. It often has a focus on security and more.
We try to have news here that is not only important to help you with your website as well as new from the #wpdrama scene and more to share.
Some of the news here will be of interesting links to not only articles but training materials and other sources I can find online that will help you create a better WordPress website.
---
This week we have the following news for you.
WordPress 14

Today is 14 years from the very first release of WordPress. The interface I'm using to write this (Calypso) is completely unrecognizable from what WordPress looked and worked like even a few years ago. Fourteen years in, I'm waking up every day excited about what's coming next for us. The progress of the editor and CLI so far this year is awesome, and I'm looking forward to that flowing into improvements for customization and the REST API. Thanks as always to Mike for kicking off this crazy journey, all the people chipping in to make WordPress better, and Konstantin and Erick for surprising me with the cool cake above. Read original article here…. ma.tt
14 Amazing WordPress Milestones

WordPress this weekend celebrates its 14th birthday. The CMS has come a long way since its release in 2003. Not only does it today power more than 28 percent of the internet, but its also supported and maintained by a growing community.

WordPress has grown so much in the last decade – today we want to highlight some of the biggest milestones of the last 14 years.

Now over a decade later, the CMS is a powerful platform that supports sites such as Wired, The New York Times, Disney, Sony, and beyond. WordPress has evolved into so much more than blogging software – it is a platform from which any person or company can launch their digital experiences. Read original article here…. torquemag.io
WordPress 4.8 Release Candidate

The release candidate for WordPress 4.8 is now available.

RC means we think we're done, but with millions of users and thousands of plugins and themes, it's possible we've missed something. We hope to ship WordPress 4.8 on Thursday, June 8, but we need your help to get there. If you haven't tested 4.8 yet, now is the time!

To test WordPress 4.8, you can use the WordPress Beta Tester plugin or you can download the release candidate here (zip). Read original article here…. wordpress.org
WordPress 4.8 Release Candidate is Out

WordPress has launched the first Release Candidate for version 4.8.

That means the devs have closed all new additions and are asking webmasters to test it so they can fix any bugs.

This version contains some fun new widgets.

I'll be poking around it to see:
10 Ways to Determine the Quality of a Free WordPress Plugin

Whether you're a developer who loves to code or you're an implementer looking to design high-quality sites without breaking too much of a sweat, at some point you'll want to turn to WordPress plugins for help.

Sometimes, it's not worth it to try and figure out the manual way of adding popup messages to your site or animating your new landing page. With so many awesome plugins out there, why spend your time coding that functionality from scratch when someone else has already done it for you? Read original article here…. premium.wpmudev.org
Tips Tuesday

Help for DIY Site Owners with WordPress, SEO, HTTPS, Security, and Performance
How to Set Up a WordPress Multi Network

WordPress Multisite is an awesome tool in its own right that enables you to create a network of WordPress websites, but did you know it's possible to create a network of Multisite networks, i.e. a network of networks?

A multi-network allows you to have virtually infinite Multisite networks, all using a single WordPress install and database. Each network can host virtually infinite child blogs/sites.

There are great benefits to having a multi-network as well as risks: on the one hand, you have a single install with centralized updates for all networks and blogs/sites – all of your networks conveniently located in the one place. On the other hand, you have one single install with centralized updates for all networks and blogs/sites… having everything in one place can make you vulnerable to hacking attacks and other security issues. Read original article here…. premium.wpmudev.org
And now for something older in the past article collections.
Integrate Google Search Console Data into Google Analytics

Easily see how folks find your site in search and what pages and posts they visit on your site with this new integration from Google.

Savvy site owners pour over their analytics – like a hawk.

They want clear feedback on what type of content and marketing methods are bringing in the traffic.
WP Engine: Top WordPress plug-ins and themes generated more than a quarter of a billion dollars since 2010

The popular website content management system WordPress — which powers more than a quarter of all websites — has given birth to a thriving cottage industry of plug-ins and visual themes.

But it's a pretty big cottage. In a report recently released by WordPress hosting service provider WP Engine, plug-ins and themes have generated more than a quarter of a billion dollars since 2010. A bit over $267 million, in fact, breaking down to about $232 million for approximately 5500 themes and over $35 million for 3800 plug-ins. Read original article here…. marketingland.com
GitHub

This is a list of useful WordPress functions that I often reference to enhance or clean up my sites. Please be careful and make backups.

Update: As of WP 4.1, the long version is no longer required – simply add the following to functions.php and remove thetag from your header.

Insert this where you want it to appear, and save the menu in Appearance -> Menus.
WP REST API Content Endpoints Officially Approved for Merge into WordPress 4.7

After a lengthy and impassioned meeting in the WordPress #core Slack channel on Monday evening, the WP REST API content endpoints were conditionally approved for merge into 4.7. Since that time Brian Krogsgard published a document with input from the team on how they plan to measure the success of the API.

The conditions included some last minute work from the team on demonstrating how the API can benefit core development. Contributors produced multiple proofs of concept, including leveraging the REST API endpoints for Press this and Quick Draft features. Read original article here…. wptavern.com
How to Properly Uninstall WordPress Plugin Manually

After installing WordPress, typically one of the first things you do is install plugins. As you develop your website and play around with options, you get to know that not every plugin is the best fit for your website. Once that happens, one usually deactivates them. However, it is important to properly uninstall and delete the plugins to make sure they do not interfere with your website.

This article will illustrate how to do just that, and also why it is important to do so. So line up all your unwanted plugins, aim, and get ready to fire.

Before we banish the plugins that are of no use, though, let's discuss why uninstalling and deleting the plugins properly is necessary. Read original article here…. cloudways.com
Why PixelGrade is Experimenting with a $225 WordPress Theme on Themeforest

This post was contributed by guest author Sami Keijonen. Sami is a math teacher who enjoys learning about the web, accessibility, and WordPress. He juggles between freelancing, building themes at Foxland, and teaching.

Several theme authors have been experimenting with new pricing on ThemeForest. But PixelGrade took it to the next level by raising the price of its Pile theme from $59 to $225.

That's a bold move, but I expect nothing less from them. They want to think outside of the box and push the boundaries. Based on the theme shop's wild yet functional designs and the anti-corporate thoughts expressed in the co-founder's Our Saga article, I have to say that I like PixelGrade's approach. Read original article here…. wptavern.com
GoDaddy Makes Building WordPress Websites Easier With New Product Introduction

GoDaddy developed WordPress Websites for small business owners, and any looking to put their ideas online, who want a professional-looking WordPress website, but may not have experience with website development.

With the Quick Start Wizard, users can quickly get started with a choice of premium quality themes and layouts that include essential pages and features (e.g. blog, photo gallery, contact form, social integration with Facebook, Twitter and more) and access to a library of thousands of free images. From here, the Visual Page Editor allows you to edit text, drag and drop columns and rows, and insert images directly onto your page. Read original article here…. prnewswire.com
Well that's a wrap for this week more next week from WP Plugins A to Z.
Save
Save
Save