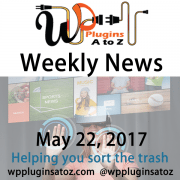 The Weekly round up of news, tips, and information to help you create the best possible WordPress website.
This is a weekly round up of WordPress news I have accumulated from across the web some old some new but always interesting. The new relates to WordPress and sometimes other areas of the web. It often has a focus on security and more.
We try to have news here that is not only important to help you with your website as well as new from the #wpdrama scene and more to share.
Some of the news here will be of interesting links to not only articles but training materials and other sources I can find online that will help you create a better WordPress website.
---
This week we have the following news for you.
Is Your WordPress Database a Disaster? | WP Fangirl

Over time, your WordPress database accumulates clutter. There may be whole tables left behind by plugins that you are no longer using. There are almost sure to be expired transients, outdated options, and orphaned post or user meta. A bloated WordPress database can cause performance problems, and it may also make backing up and restoring more difficult.

Inspecting your database for problems is a little harder than looking for missing images or making sure your forms are working. If you're not familiar with the WordPress database structure and tools like phpMyAdmin, it's probably best to ask your developer to do the checking. It's perfectly safe to install one of the database maintenance plugins I mention in the next section, though. Is Your WordPress Database a Disaster? | WP Fangirl
WordPress.com's TV Commercials Are Confusing

Automattic has unveiled five commercials that are being tested in six different television markets. The videos were created earlier this year when a volunteer team of Automatticians visited Detroit, MI, to participate in the Rebrand Detroit project.

The commercials are part of a series called 'Free to be' where business owners share what success means to them and the city of Detroit.

I've watched each commercial a few times and my initial reaction is confusion. I don't know exactly what WordPress.com is trying to sell me. It's obvious that these people are seeing success with hosting their sites on WordPress.com. But is it because of the tools available or is it because the VIP team or other staff members stepped in and guided them through the process? Read original article here…. wptavern.com
WordPress 4.7.5 Patches Six Security Issues, Immediate Update Recommended

WordPress 4.7.5 was released today with fixes for six security issues. If you manage multiple sites, you may have seen automatic update notices landing in your inbox this evening. The security release is for all previous versions and WordPress is recommending an immediate update. Sites running versions older than 3.7 will require a manual update.

The vulnerabilities patched in 4.7.5 were responsibly disclosed to the WordPress security team by five different parties credited in the release post. These include the following: Read original article here…. wptavern.com
What to Expect in WordPress 4.8

WordPress 4.8 Beta 1 is available for testing and has a couple of features that will likely have a big impact.

WordPress 4.8 has three new core widgets and adds a visual editor to the Text widget. Adding video, audio, or images to text widgets typically involves using custom HTML.

Each of the new widgets in 4.8 takes advantage of the WordPress Media Library. Because the widgets use the media modal, users can insert content from a URL. This is particularly convenient for the Video widget as most videos are not stored locally. Read original article here…. wptavern.com
Are You Sure Your Website Is Still Working?

When was the last time you really looked at your website? If you can't remember, it's probably time for a website review. This series walks you through what to test and when to call your developer

If your website doesn't get a lot of traffic–and sometimes even if it does–you may never know when something isn't working. Unlike your car, which has warning lights and beeps for every conceivable problem, your website won't always tell you when something is wrong. Take some time right now to check the following. Read original article here…. wpfangirl.com
How To Run A WordPress Security Audit

With so many threats to your website, it's important to make your WordPress site as secure as possible. Running a WordPress security audit of your website helps you prepare for and prevent successful attacks on your site. You can't protect your site from every possible issue, but you can make sure you're prepared for the most common threats by running a WordPress security audit.

Here are some questions to ask while running your WordPress security audit: Read original article here…. ithemes.com
WordCamp Europe Attendees Are Being Denied Visas Because Conference Ticket Price Is Too Low

It has come to our attention that our friends from some countries are having problems with their Visas being rejected on the ground that "a 40€ entry fee cannot justify international travel", something that makes this conference accessible to all. We are sad this is happening because now — for the first time in WordCamp Europe history — our inclusiveness is a burden we are carrying.

The open letter explains the WordCamp tradition of keeping ticket prices low to make it more inclusive for all income levels. Read original article here…. wptavern.com
And now for something older in the past article collections.
5 Ways to Grow Traffic to Your WordPress Website with the Power of Pinterest

Pinterest is the second largest social media traffic referrer after Facebook, driving far more referrals than Twitter, StumbleUpon, and Reddit combined. If you haven't already invested time into developing your Pinterest strategy, chances are you're missing out on a huge source of traffic. Read original article here…. wpexplorer.com
A First Look at Mergebot: Simple Database Merging for WordPress?

So you've wrapped up a WordPress website overhaul and you're ready to deploy. There's only one problem. How do you deploy your development site without losing all of the updates and new content added to the production site while you were developing?

What you need is some way to compare your development database to the production database, merge the two databases, and resolve any conflicts one by one. The only problem is, there is no such tool. Or is there? Read original article here…. premium.wpmudev.org
Top 5 WordPress SEO Trends for 2017

Google search algorithm can be changed quicker (around 500 times per year) than you write blog posts, voice search trend is growing faster than you realize it actually exists, paid ads may decrease trustful relationships with your prospects. These are the realities of SEO and if you take a good care of your WordPress website from this perspective, check out this post to find out more about core SEO trends in 2017.

Researches from Alameda Internet Marketing agency interviewed 37 SEO experts asking them to give their vision on SEO trends for 2017. What you should pay attention to when optimizing the website for future, that is. The results of the research they presented in the following chart: Read original article here…. getmotopress.com
How to Create a Custom Taxonomy for Departments or Divisions on a Company WordPress Site

I often get asked if WordPress Multisite is a suitable solution for a company website that has different divisions with unique identities. The answer is usually yes – Multisite can do this excellently.

But it isn't always necessary to create a separate site for each of the divisions in your company website, even using Multisite. If you want to include shared content that's not specific to each division, or your divisions' identity has a lot in common, or you're working with an existing single site installation, then there is a way to get around this without activating Multisite. Read original article here…. premium.wpmudev.org
Why You Should Be Using a WordPress Content Locker Plugin

Content lockers can be an effective way of growing your email list, gaining more followers on social media and getting your content shared with a wider audience. But what exactly is a content locker and how can you use them on your WordPress website?

In this article we discuss what a content locker is and how they can help your site convert against its goals. We then look at some different WordPress content locker plugins, the features they offer and their suitability for your website. Read original article here…. wpexplorer.com
WordPress 2.7 Is the Role Model for How Design Can Lead the Way

When Matt Mullenweg, co-creator of the WordPress open source project, announced that design would lead the way for WordPress development in 2017, utilizing user research and mockups, the first thing that came to my mind was WordPress 2.7. That release was the culmination of effective leadership and effort from Jen Mylo and Liz Danzico. In order to learn why this release is in a class of its own, we must look at how it was created. Read original article here…. wptavern.com
How to Give Away a Free Ebook (and Get More Subscribers) with WordPress

If you like ebooks, you can get a boatload of them by signing up for newsletters. That's because offering a free ebook download as an incentive for signing up for a mailing list is a time-tested strategy to (hopefully) boost mailing list opt-in rates.

There's a good chance you either use this strategy or have thought about using it and would like to get started. However, if you've never used this technique before you may not be sure how to actually deliver that ebook incentive to new subscribers. Read original article here…. premium.wpmudev.org
Well that's a wrap for this week more next week from WP Plugins A to Z.
Save
Save
Save