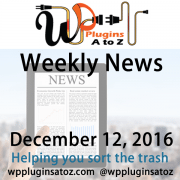 The Weekly round up of news, tips, and information to help you create the best possible WordPress website.
This is a weekly round up of WordPress news I have accumulated from across the web some old some new but always interesting. The new relates to WordPress and sometimes other areas of the web. It often has a focus on security and more.
We try to have news here that is not only important to help you with your website as well as new from the #wpdrama scene and more to share.
Some of the news here will be of interesting links to not only articles but training materials and other sources I can find online that will help you create a better WordPress website.
---
This week we have the following news for you.
With the usual warning that no one is perfect and eventually every one has downtime. Just be patient it will be back.
Bluehost Network Outage Hits Customers with 12 Hours of Downtime

Over the weekend, Bluehost experienced a severe, widespread network issue that caused customer sites to go down. The incident began Friday evening and continued into the night. As WP Tavern is hosted on Bluehost, we were watching the situation with keen interest, finally clocking the downtime at 12 hours before our site was back up.

We are seeing problems w/ network flapping which could be caused by denial of service or other network issues in our switching fabric. (1/5)

— Bluehost (@bluehost) December 10, 2016 Read original article here…. wptavern.com
Go for the Gold in Google work for the 100/100 in pagespeed insights this article will tell you how to accomplish that task
How to Score 100/100 in Google PageSpeed Insights with WordPress

Google PageSpeed Insights is a web performance tool created by Google to help you easily identify ways to make your site faster and more mobile-friendly, by following recommendations on best web practices. A very important thing to remember though is that you shouldn't always obsess over scoring 100/100. This might not even be possible in all scenarios, depending upon how your WordPress site is setup. With a lot of multipurpose themes and sites with dozens of external scripts, you simply will have an almost impossible time trying to achieve a perfect score. Which is perfectly OK.

We recommend looking at the speed of your site, more than the scores. Scores with tools like Pingdom, GTMetrix, and Google PageSpeed Insights can sometimes lead you astray. Especially since some of them don't even support HTTP/2 yet. What really matters is ensuring your site loads fast and that the perceived performance is also up to par. Perceived performance is how fast your website feels like it loads to users. Read original article here…. kinsta.com
Matt Mullenweg state of the word address
Matt Mullenweg State of the Word, 2016 • Post Status

Matt Mullenweg just completed the 2016 State of the Word, which highlights the accomplishments of the past year, and sets the direction for the year ahead for WordPress.

This year, Matt focused on a variety of important topics, including the state of user experience in WordPress today, goals for future interface improvements, a WordPress growth council, internationalization gains, the further proliferation of secure websites, and important changes to the WordPress development process.

Matt began his talk by thanking the city of Philadelphia for being a great host of the first two WordCamp US events, as well as the sponsors, organizers, and volunteers that helped make WordCamp US one of the most successful and smoothest run WordCamps ever. Read original article here…. poststatus.com
How valuable is a WordCamp sponsorship to a business this article discusses if it has any value at all.
The Value of Sponsoring a WordCamp from a Business' Perspective

One of the industry events we've been actively participating in since our inception has been WordCamps. Unlike 2015, in 2016 I decided to be more pragmatic in the way we invest in WordCamps. This new approach stemmed from two basic questions – What is the ROI of sponsoring a WordCamp and should a business sponsor a WordCamp?

ROI takes many different shapes. Allow me to share the ROI as I see it when I look across the spectrum of some of today's top sponsors (know that these are all my opinions as a third-party observer):

They sponsor because they need to. When they came into the space two to three years ago, after the changing of the guard they identified the potential in WordPress. They had an image problem; one that couldn't be fixed remotely. It had to be fixed with boots on the ground. Read original article here…. wptavern.com
WordPress 4.7 is out now and it has some great new features in it. Check this article out to find out more of what it has to offer.
WordPress 4.7 version is now available for download

If you've been keeping up with the latest WordPress updates, then you surely know that WordPress 4.7 was released this week and is now available for download. This latest version, named "Vaughan" in honor of jazz legend, Sarah "Sassy" Vaughan is the third major version released by WordPress earlier this year, following WordPress 4.6 "Pepper" and WordPress 4.5 "Coleman".

Besides the new layout of the theme, you can also edit the site title, description, header, control menus and themes and modify them, directly from the WordPress customizer (Dashboard -> Appearance -> Customize).

When you upload a PDF file into WordPress you are viewing only a file icon of the document and have a preview, only by using a plugin.

This is a new powerful tool added in the Customizer Customizer, by which you will add CSS code with a live preview included. Read original article here…. cozmoslabs.com
A week is not complete without some #WPDrama and WordCamp US 2016 was happy tpo provide with the expulsion of Pantheon's sponsorship over a disagreement about advertising and promotions.
Pantheon's $100K WordCamp US Sponsorship Revoked the Night Before the Event

Nearly 2,000 people descended on Philadelphia, PA to attend WordCamp US last week. On the night before WordCamp US took place, Pantheon's sponsorship was revoked and advertising materials, including the company's booth, were hidden in a storage room inside the venue. The move generated a lot of controversy on social media and at the event. It cost Pantheon $100K to sponsor WordCamp US, but the company received a refund.

Our booth disappeared but the team's still here! Look for us in yellow! #WCUS pic.twitter.com/lnF5aI36oy

Prior to WordCamp US Matt Stodolnic, Pantheon's Vice President of Marketing, contacted the Sheraton Downtown Philadelphia and inquired about advertising opportunities. The Sheraton hosts a number of meetings and has a couple of different advertising packages available. Stodolnic purchased advertising space on the hotel's elevators. The advertising material was simple and didn't make unprovable claims, such as the world's best or fastest host. This is in line with the sponsorship rules.

On December 1st late at night, Stodolnic received an email from WCUS organizers requesting that the advertising material be removed. Stodolnic pushed back as the sponsorship agreement does not specifically prohibit advertising in the hotel. At one point during the exchange of emails, the WCUS organizing team threatened to take the banners down themselves. Stodolnic responded with anger as the purchase had already been made but he quickly apologized. Read original article here…. wptavern.com
And to round out the fresh news more about the benefits of WordPress 4.7 and what it has in store for you.
WordPress 4.7 "Vaughan" Release

Happy holidays! It might just be a coincidence, but WordPress has graced us with the gift of a brand new update full of fun and useful features you're sure to enjoy. Named Vaughan after American jazz singer (and four time Grammy award winner) Sarah "Sassy" Vaughan, WordPress 4.7 is a smooth and classy update that ready for you to unwrap.

Per usual, there is an all new theme to go with the all new version of WordPress. The Twenty Seventeen theme is an elegant addition to the collection of default WordPress themes.

There are many other WordPress 4.7 features that we didn't think needed a description, but here's a quick list so you can see at a glance what other awesomeness awaits you after updating:

Or your can watch the official release video to see what's new. Read original article here…. wpexplorer.com
And now for something older in the past article collections.
Delicious WordPress Shopping Advice

Are you facing the tough decision between several promising plugins? Let my objective WordPress plugin comparisons here on WPscoop help you make the right choice.

Are you facing the tough decision between several promising plugins? Let my objective WordPress plugin comparisons here on WPscoop help you make the right choice.

To get started simply click on the category of plugins you are looking for below: Read original article here…. wpscoop.com
Top 10 WooCommerce Plugins on WordPress

In this guide, we aim to educate how you can improve your eCommerce experience while using the best free add-ons, WooCommerce extensions, and plugins on WordPress. To do so, we have listed down ten must-have plugins which are free and available for you. So without further ado, let's begin.

Although, many plugins can enable Zoom feature on your WooCommerce store. But, we prefer YITH WooCommerce Zoom Magnifier Plugin. Why? Because it can be easily customized. You can read more about WooCommerce Zoom Magnifier Plugin. Read original article here…. cloudways.com
The Best Caching Plugins for WordPress You've Never Heard Of

What caching plugin do you use? There's a good chance it's either W3 Total Cache, WP Super Cache, or WP Rocket. However, while those three plugins get the most press and sport the largest user bases, they're far from the only useful caching plugins for WordPress.

If you're open to looking at other options, the WordPress plugin directory offers quite a few other caching plugins worth considering – especially if ease-of-use is worth more to you than a few extra milliseconds of page load time.

In this article, I'll introduce some of the best caching plugins you've (probably) never heard of, explain what each does, and briefly explain how to set each one up. In addition, while I'm at it, I'll even install each option on a test site and run the site through the Pingdom website speed test tool to make every single one of these plugins does what it's supposed to do: speed up WordPress. Read original article here…. premium.wpmudev.org
How to Add Web Push Notifications to Your WordPress Website – WPMU DEV

When you read the term "push notifications" you probably think about the notices you get on your smartphone every time you receive an email or are mentioned in a tweet.

But while most of us are familiar with push notifications because mobile apps have been using them for years, you may not be aware that they've made the jump from smartphones to browsers and can now be delivered by any website. How to Add Web Push Notifications to Your WordPress Website – WPMU DEV
Well that's a wrap for this week more next week from WP Plugins A to Z.
Save
Save
Save