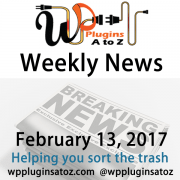 The Weekly round up of news, tips, and information to help you create the best possible WordPress website.
This is a weekly round up of WordPress news I have accumulated from across the web some old some new but always interesting. The new relates to WordPress and sometimes other areas of the web. It often has a focus on security and more.
We try to have news here that is not only important to help you with your website as well as new from the #wpdrama scene and more to share.
Some of the news here will be of interesting links to not only articles but training materials and other sources I can find online that will help you create a better WordPress website.
---
This week we have the following news for you.
Why do I need HTTPS if I don't sell anything on my site?

Free SSL certificates, like Let's Encrypt, are now easy to obtain through most hosts.

And hosts are starting to turn them on by default now, and require all new sites to be HTTPS.

And at some point, Chrome, Firefox, and other major browsers are going to splash a big warning in the face of anyone visiting any site that is not HTTPS.

That day is coming, quicker than most folks think. Read original article here…. blogaid.net
How to Fix the "Warning: File_Get_Contents" Error in WordPress

There's a WordPress error that's frustrating to no end because if you've come across it, you probably didn't actually do anything wrong. Still, plastered across your site will be these words:

Warning: file_get_contents(path/to/wordpress/file): failed to open stream: No such file or directory in /path/to/another/wordpress/file.php on line #

The error message itself is almost misleading because it lists two files and a line number at the end, which would otherwise indicate a specific issue within a file if it were a different error, though, this isn't always the case. Read original article here…. premium.wpmudev.org
New Tags Coming to the WordPress Plugin Repo? Users Respond With an Unanimous "Meh"

According to our small survey, 90% of users say they don't care if a free plugin they're getting from the directory is only a limited, "lite" version of the fully-featured PRO.

Okay, I might have BuzzFeeded the stats a bit here. The exact question we asked was, "Would you not use a WordPress.org plugin, just because it has a PRO version also available?" Again, 90% said "no."

The whole thing started several months ago when Matt Mullenweg encouraged the WordPress community to brainstorm some ideas on how to improve the way plugins are presented in the official repository: Read original article here…. codeinwp.com
Hackers deface thousands of website by exploiting WordPress vulnerability

WordPress vulnerabilities which were discovered recently have been negatively and sometimes fatally affecting countless websites thus far. Initially, there were three flaws (identified about two weeks back) for which WordPress has already released security updates. However, we later learned that there was another huge vulnerability that allowed cyber-criminals to obtain unauthorized remote access to manipulate WordPress sites by editing or even deleting pages. This vulnerability was disclosed by the security firm, Sucuri. Read original article here…. hackread.com
How to Easily Remove Your Shop Page Sorting Options in WooCommerce

Sometimes you just need a simple fix. Something bugs you and will confuse your shoppers, but the solution is just not built into the WooCommerce core. Such is the case with the sorting options on your shop page.

If we go back into our WooCommerce settings > products > display, we find that we can set the Default Product Sorting but that doesn't let us remove anything.

For my recent shop page I wanted to remove some of these options for a specific reason. I lucked out when I discovered the WooCommerce Remove Product Sorting plugin from my friends over at Skyverge. And yes, it's even free—and simple to use. Read original article here…. bobwp.com
WordPress REST API Vulnerability is Being Actively Exploited, Hundreds of Thousands of Sites Defaced

At the end of January, WordPress 4.7.2 was released to fix four security issues, three of which were disclosed at the time of the release. These included a SQL injection vulnerability in WP_Query, a cross-site scripting (XSS) vulnerability in the posts list table, and the Press This feature allowing users without permission to assign taxonomy terms. The fourth and most critical issue, an unauthenticated privilege escalation vulnerability in a REST API endpoint, was fixed silently and disclosed a week after the release.

Contributors on the release opted to delay disclosure in order to mitigate the potential for mass exploitation, given that any site running 4.7 or 4.7.1 is at risk. This allowed time for users to update manually and for automatic updates to roll out. Read original article here…. wptavern.com
Why You Should Add a Hello Bar to Your WordPress Website and How To Do It

A hello bar is a great alternative to using a pop-up, an option that is unpopular with so many. Hello bars are less obtrusive, yet are constantly on display. This means you can present a specific message to your visitors, without distracting them from your regular content.

In this article, we will discuss the benefits of using a hello bar, or notification bar as they are also known. We are then going to consider some top tips for creating a hello bar and analyze some popular and reputable plugins that will cover how to add a hello bar to your WordPress Website. Read original article here…. elegantthemes.com
And now for something older in the past article collections.
WordPress Plugin Roundup: Duplicate Post, PDF Embedder and Redirection

In today's roundup we are looking at:  Duplicate Post, PDF Embedder and Redirection Plugin.

This is one of those plugins that can save a ton of time if you have the need to do this a lot. If needed only occasionally, it might not choose to add yet another plugin to your site. But there have been times when I was using a formatted page or post over and over where this did save me a ton of time.

You will first clone the page or post, then you click on New Draft. It gives you the options in the settings to copy the date, status, excerpt, attachments, taxonomies (categories and tags) and custom fields. Read original article here…. bobwp.com
Marcus Couch: Membership Site Success Strategies

Membership Sites are quickly becoming a mainstream method to generate income, provide support, training and connect with niche communities. We will review and discuss 5 different Membership Site models that can transform any business into a dynamic, content-rich membership site.
Automattic to Revive WP Job Manager

Automattic announced today the company is bringing WP Job Manager back to life. The plugin became an Auttomattic project after the company acquired WooCommerce and its employees in 2015 but it has not been actively developed since then. Today's announcement also requests feedback from WP Job Manager users who want to help shape future development:

The WP Job Manager team launched a demo site today, which allows potential customers to test drive commercial add-ons and create new accounts, job listings, and applications. Read original article here…. wptavern.com
WordPress Theme Authors Experiment with New Pricing on ThemeForest

Envato has been rolling out author-driven pricing across ThemeForest categories throughout 2016. The new pricing options have finally hit the WordPress category and authors are now experimenting with pricing changes outside of the average $35-65 range.

Ben Chan, executive General Manager at Envato, explained why the company is extending author-driven pricing to ThemeForest after successfully launching it on GraphicRiver more than a year ago: Read original article here…. wptavern.com
Get To Know WordPress: A Seattle WordCamp Workshop for Beginners

In an earlier post, I mentioned my upcoming workshop at WordCamp Seattle, October 29th and 30th. As it gets closer, I wanted to create a full post on this event. Why?

1.  You will not only learn the very basics of WordPress in these 3 hours, but you will also have a full two days of learning even more about WordPress in three tracks.

2. You will meet a lot of great WordPress peeps who are out there to help you and answer your questions. Read original article here…. bobwp.com
Well that's a wrap for this week more next week from WP Plugins A to Z.
Save
Save
Save