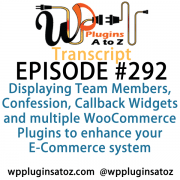 All transcripts start from the point in the show where we head off into the meat and potatoes. They are the complete verbatim of Marcus and John's discussion of the weekly plugins we have reviewed.
WordPress Plugins A to Z Podcast and Transcript for Episode #292


It's Episode 292 and we've got plugins for Displaying Team Members, Confession, Callback Widgets and multiple WooCommerce Plugins to enhance your E-Commerce system. It's all coming up on WordPress Plugins A-Z!

---
Episode #292
John:                The first one I've got here this week is WooCommerce Shop Assistant JARVIS. This plugin is one that will help make the shopping experience a little easier for your site visitors. It helps them find products and prices ranges, as well as what's recently best viewed and purchased. It also shows them what's in their shopping cart and more.
What it does for you is it puts a little icon down on the lower right-hand corner for your visitors to click on. Once they click on that, it then covers up the website with a screen and it lists up all the products, they can choose a category to find products in, set a price range, click Find It, and it will sort and show up all the products in that price range. It shows up in the left-hand side the recent products that are in your website and then on their right-hand side, it shows what's in their shopping cart basket.
A very nice plugin; it works fairly smoothly. At any rate, it's a really great plugin for WooCommerce and it should help you out with getting your visitors to spend more money. Check it out: WooCommerce Shop Assistant JARVIS, and I gave it a 4-Dragon rating.
Marcus:           Very nice! I like that. All right, so I've got something here we're going to work on that is with WooCommerce as well. It's called WooCommerce Points System, and this is a premium plugin that's available on CodeCanyon.net, and we have a link to it in the show notes. It is an affiliate link, so just getting that out there in full disclosure. It doesn't cost you any more; it just a little bit on the return. It is a great extension for WooCommerce and it adds the ability to compile your own point system for people that purchase from your site.
You can reward customers for purchases or any kind of other actions with points and then you can redeem the points for things that you designate. So you can have specific products – maybe it's e-books or something like that that they can redeem the points for. You can make it so that people can either pay with money or pay with points on selected items within your store. A very cool system; it's called WooCommerce Points System and I gave it a 4 out of 5.
John:                Very nice! That's becoming more and more popular with many different places, isn't it? Actually, it's been popular for a long time, I think.
Marcus:           Yeah.
John:                Collecting points.
Marcus:           Yeah. It's the same as credit cards —
John:                Yeah.
Marcus:           — or airline miles or things like that.
John:                Hey, frequent shopper miles. Okay, what I've got next here is called WP Confession Box and this one here, I saw it and eh, it's kind of fun. You can use it for your website, you can set up a confession area so people can confess their sins or confess whatever is on their mind, confess that your website is fantastic or it sucks, or if it's a very active site with lots of different users, they can talk about other people, and it's all anonymous.
It uses AJAX and allows anonymity for the visitors when they leave them. The administration has the ability to delete or remove confessions that aren't appropriate to the website. Basically, just a fun little toy to add to your website if you're looking to have some fun. Other than that, not a whole lot of use with it. Anyway, check it out: WP Confession Box, and I gave it a 3-Dragon rating.
Marcus:           That's kind of cool. All right, another WooCommerce plugin and I have not seen one like this. It's called Woo Already Bought, and as you can imagine, what it does is it enables a custom display message for users that have already bought a particular product or if a product was already added to their cart. You can change the default WooCommerce messages then inform clients that they've added products to cart or that they've already purchased this specific product. It's just one of those intuitive things that's a really nice detail. You see things like this on Amazon and a couple of other high-end shopping systems.
John:                Yes.
Marcus:           And it lets them know what they've already purchased and kind of confirms that. At some point, you could also make it that they can't buy the same thing again or if it's a one-off or whatever. It's pretty cool. Check it out: Woo Already Bought, and it's on the Repository for free. I rated it a perfect 5 out of 5.
John:                All right, well, that's actually a fantastic plugin. When I saw that, I almost reviewed it and then realized you might be reviewing it, so I left it behind. But a fantastic idea. I experienced that during the holidays when I was shopping from the website and I thought I didn't properly add it to the cart and I was coming back to add it and it popped up to say, "You've already added this to your cart. Are you sure you want to do this twice?"
Marcus:           Mm-hm. That's right.
John:                You know, it's like, "No, okay." So yeah, this is a really great thing to have into your site to keep people from doubling up on something that they might have already gotten that they don't want a second time.
Marcus:           Right.
John:                All right, the final plugin I've got here today is called Callback Widget Pulsar. Now, this one here caught my eye because I have clients that they depend on the phone calls from their websites. They have a referral system or they need people to call them, not just fill in a form on their website, because they make more sales with it.
What this plugin does – and it is a third-party service but it still can be quite beneficial to you. It looks at the website activity and then determines if people are looking to make contact. If it does, it slides in a window that gives them the offer to within the next 27 seconds to connect to one of your managers or account pros, whoever it happens to be. What it does in this process is it takes their name and their phone number, and then once that information has been entered and they click 'okay,' it then sends a signal down the line to connect to one of your managers. Maybe you have five of them. It looks for the first free one available, it rings them, and as soon as it connects, it then automatically calls back that clients and connects the two of them together.
Depending on what's happening, it can be 27 seconds or within a couple of minutes. You've connected to that client and you can make that sale as quickly as possible. So it looked to be a really great service and really fantastic for those that depend upon getting those phone calls off of their websites, not so much the forms. Anyway, if you have a business or know of clients that need something like this, check out this service. It looks to be quite worthwhile. It's a really great plugin and I gave it a 4-Dragon rating for Callback Widget Pulsar.
Marcus:           Great. Now, I want to say one thing about these kind of callback things and all that. I was looking at that and I also looked at an online kind of a chat system. If you're using WooCommerce and using any kind of agents like that, especially with kind of a chat widget, the thing that you want to do is arm yourself with some shortened URLs or specific redirects or things.
There are other plugins that we've reviewed that actually add items into the cart based on the link and sometimes even add you to the checkout. If you're going to do these kinds of chat widgets and such, I would get those links ready. That way if somebody says, "Hey, I'm looking for X, Y, and Z," just give them a link and you go, "Click this link and it'll add to your cart and send you to check out." So the more things that you arm yourself with like that, the better.
So I'm going to finish things off with a really great plugin. It's called JWD Teams and it's a nice plugin that allows you to show off your staff, team showcases, or people you're working with. It works all through a really nice shortcode. It comes with tons of different customization options. Let me show you this.
I'm sure you have all seen this to where it shows "Our Team," and then you've got the president, the vice president, and all the rest of the people. Sometimes, those are difficult to put together. This one is really nice. It allows you to create unlimited teams, unlimited color schemes for all of the outputs, you have built-in fields for images, contact details, descriptions, bios – all that kind of stuff.
It's got six built-in fields to add individual people and their social network accounts, so Facebook, Twitter, LinkedIn, Google+, YouTube, Instagram, drag-n-drop, member ordering. It comes with all kinds of different customization options, it's fully responsive, so it moves around the page. It has custom CSS and it's tested with a ton of themes and it works with all browsers. Very nice plugin; it's free on the Repository: JWD Teams and I rated it a 4 out of 5.
John:                That's pretty cool. I like that. It's really great when you have a team of people working together and you want to showcase them all.
Marcus:           Absolutely, and this is especially something that I plucked out of here out of the Repository to present to people that are doing websites for clients. This is a really nice one that you can use to show off the staff of your client.
John:                All right then, I covered up this week WooCommerce Shop Assistant JARVIS, which I gave a 4 to; WP Confession Box, which I gave a 3 to; and Callback Widget Pulsar, which I gave a 4 to.
Marcus:           And I talked about the WooCommerce Points System, which gets a 4 out of 5, Woo Already Bought gets a 5 out of 5, and JWD Teams gets a 4 out of 5.
Save
Save
Save
Save
Save
Save
Save
Save
Save
Save
Save
Save
Save
Save
Save
Save
Save
Save
Save