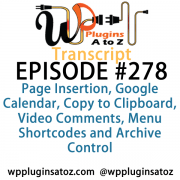 All transcripts start from the point in the show where we head off into the meat and potatoes. They are the complete verbatim of Marcus and John's discussion of the weekly plugins we have reviewed.
WordPress Plugins A to Z Podcast and Transcript for Episode #278


It's Episode 278 and we've got plugins for Page Insertion, Google Calendar, Copy to Clipboard, Video Comments, Menu Shortcodes and Archive Control. It's all coming up on WordPress Plugins A-Z

---
Episode #278
John:                All right, this week here, my first plugin is called Insert Pages. This one here is something that I brought in for a project I've been working on. What it does is it makes the chore of adding page content into another page an easy task to do. I did find a couple of limitations in what I was trying to accomplish.
What I was trying to do was I was trying to display the contest we now have on the WP Plugins site inside a regular post. But due to the type of content being created through the plugin that's used, it didn't quite work right. But I did test it in other areas and it works pretty great for bring in page content into another page. A pretty simple little plugin – it works fairly well. It also allows you to include any content you want, so check it out: Insert Pages, and I gave it a 4-Dragon rating.
Marcus:           Hmm, very nice. I like that a lot. All right, the next one is a plugin by a gentleman named Dan Delaney, and this plugin is something really great. It's called Dan's Embedder for Google Calendar and what it does is Dan actually created this out of the need to display Google Calendars in both list and full view format that was also mobile-friendly, customizable with a shortcode, and pretty easy to style, and so that's exactly what he created here.
All you need is a public Google Calendar or multiple Google Calendar API key, which is real easy to do and real easy to get. This will display your Google Calendar right on your webpage and what's great about it is if you have regularly recurring events, then what you can do is have them added to their calendar so that they have everything that the need. It really saves a lot of time. It's somewhat difficult to do this in WordPress without a plugin like this, so I gave it a 4 out of 5. It's called Dan's Embedder for Google Calendar.
John:                Very sweet. As more and more people are using Google Calendars to share their stuff and keep track of things – I know I do – it's very nice.
Marcus:           Yeah.
John:                Especially since I finally managed to get it to work with my phone.
Marcus:           Yeah, yeah. It's really nice and if you do any kind of recurring events, training, things like that. For me, I wanted to enter in all of the live training and mastermind calls for the membershipcoach.com site and this is what I'm using.
John:                Very nice. Okay, the next plugin I've got here is called menu shortcode, and again, this was for a project I was working on and I was trying to fit a menu into a place that you don't normally fit a menu. What this plugin helps you do is using a shortcode, it allows you to grab the name of the menu and put it into the shortcode, and then put the shortcode into the place on your website and have that menu appear for you. Then you can customize and tweak it in the shortcode for some displays.
The problem I ran into was the area I was trying to work at did not execute shortcodes properly, so it didn't work for me. But I found that it could be a very viable option for other people and to use menus in other places where you might want a menu but they wouldn't normally go. The only caveat here is wherever you put it, you have to be able to execute that shortcode. If you can't execute the shortcode, it's just not going to happen. But other than that, a really great plugin. It allows you to do any tweaks to the CSS of the menu that you're going to display – the little bits and pieces. All in all, a pretty decent plugin. I gave it a 3-Dragon rating.
Marcus:           I got to comment about that.
John:                What's that?
Marcus:           Okay, so you can use Shortcodes Everywhere. Have you tried that?
John:                For some reason – oh, I didn't try Shortcodes Everywhere – no.
Marcus:           Okay, so that's an additional – there's two different plugins. There's one called Shortcodes Everywhere and there's one called Shortcodes Anywhere or Everywhere. One hasn't been updated in a while and one has. But that opens it up.
Now, my second question for you is does the menu – is it a vertical menu or is it a horizontal menu, like a navigation menu?
John:                I was trying to make a navigation menu in the top area.
Marcus:           And did it do it?
John:                No, I finally ended up going a whole different route, but that's okay.
Marcus:           Oh.
John:                That's what happens sometimes. You want to do something and you realize no, this just isn't working. Let's take another track.
Marcus:           Because I did have a project that needed a navigation menu, but I couldn't find a good plugin for inserting that that didn't just make it like it was a sidebar menu.
John:                Yeah.
Marcus:           I tried to make a navigation but I never could find anything, so I just ended up doing it with just a child theme and actually inserting it with PHP.
John:                Yeah, I took a whole different track with this project but that's okay. Sometimes that happens; you want to do something. The project goes yes and then you get working and you realize it's just not going to work and it's not worth the four or five extra hours to do it. You just back up and go a different way.
Marcus:           Yeah. All right, my plugin – my next one here – is called Videotape and it's pretty cool. It's very simple; what it does is just like what we used our SpeakPipe for on our own website. This allows you to be able to intake video comments in your commenting system, so it allows people to actually record a video from their own webcam, their phone, or whatever, and leave you a video comment on your posts.
John:                Cool!
Marcus:           Pretty neat, really easy to use – it's just kind of a Flash interface type of a thing. You've seen these things all the time anytime you go into a webinar or anything like that. It just asks for a little bit of control or to be able to use the camera, which it does, and I rated this one a 4 out of 5.
John:                Yeah, that can be kind of cool. If we get more interaction, we could put something like that on our site.
Marcus:           Right, yeah.
John:                All right, the final one I've got here today is called Archive Control. This one was sent in to us by Jesse Sutherland and it's a free plugin. I started to test it out but I didn't quite have a place to test it, but it still checked out pretty good for the little bits and pieces I did use it on in my sandbox page.
What the plugin allows you to do is to customize your archive listings – all your different archive listings be they tags, custom post types, or categories, and customize and modify the title, adding a featured image, including content before or after the list that's shown on the page. You can also change the order display, you can shorten down the number that are displayed on the page, and include page nation for it. You can adjust the terms and more.
The plugin performed pretty well and it can help you do some organization to your categories, tags and custom post types. There are a couple of caveats to custom post types: you may have to enable a couple of things in there. But all in all, the plugin performed quite well. It's called Archive Control and I gave it a 4-Dragon rating.
Marcus:           Cool. I like that. All right, the final plugin for the show and from me today is called Clip to Clipboard. It is a simple little plugin that allows you to copy whole paragraphs of your site and just click it to the clipboard elsewhere. So it's really handy when somebody needs to copy and paste something like code or an embed script, CSS, or whatever they use. Maybe it's an email template or something like that that you just want them to have one click and then everything in that section gets copied. It's called Click to Clipboard and I rated it a 4 out of 5.
John:                Very nice. A nice timesaver.
Marcus:           Very handy.
John:                Okay, and in this episode here I covered up Insert Pages, which I gave a 4 to; menu shortcode, which I gave a 3 to; and then Archive Control, which I gave a 4 to.
Marcus:           And I've got fours across the board: Dan's Embedder for Google Calendar gets a 4 out of 5, Videotape gets a 4 out of 5, and Click to Clipboard gets a 4 out of five.
Save
Save
Save
Save
Save
Save
Save
Save
Save
Save
Save
Save
Save
Save