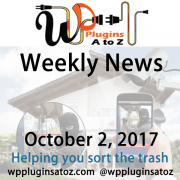 The Weekly round up of news, tips, and information to help you create the best possible WordPress website.
This is a weekly round up of WordPress news I have accumulated from across the web some old some new but always interesting. The new relates to WordPress and sometimes other areas of the web. It often has a focus on security and more.
We try to have news here that is not only important to help you with your website as well as new from the #wpdrama scene and more to share.
Some of the news here will be of interesting links to not only articles but training materials and other sources I can find online that will help you create a better WordPress website.
---
This week we have the following news for you.
How to Use Domain Mapping When You're Not Running Multisite

Our Domain Mapping plugin makes mapping domains super easy in Multisite. It lets you create as many sites as you want in one WordPress installation and then make them all behave as if they're separate sites echo on their own domain.

But sometimes you want to map a domain when you're not running Multisite. You've created a site in its own WordPress installation somewhere on your server, maybe in a subdirectory, but you want to direct a domain name to it and have that show up in the browser instead of your own domain with the subfolder or subdomain showing up. Read original article here…. premium.wpmudev.org
How to Track Post Changes by Adding a History Feature to WordPress

If you're running a website with multiple contributors, it can be hard to track post changes in WordPress itself. This can become a problem if you're trying to identify the source of an error, or keep tabs on your writers' activity.

Finding a way to track post changes in WordPress enables you to keep logs of practically all of the activity for your posts and pages. For this article, we'll talk about why this functionality can help you and how to implement it in three simple steps. Let's get to it! Read original article here…. elegantthemes.com
How to Run a Contest with WordPress (and Plugins to Help You Do It)

About a month ago, a woman named Mavis Wanczyk won a monster Powerball payout of $758.7 million. Wanczyk wasn't the only winner that night either. In a store nearby, someone else bought a ticket worth $1 million. There were also other winners from this single Powerball play—9.4 million people (or, rather, tickets) to be exact.

Now, if that isn't proof enough of how much people love entering contests in the hopes of winning something (no matter what sort of odds are stacked against them), I don't know what is. Read original article here…. premium.wpmudev.org
Handling Form Submissions in WordPress with Admin-Post and Admin-Ajax

WordPress provides incredible support for you to work with form submissions in your application. Whether you add a form in the admin or public facing areas, the built-in mechanism with the admin-post and admin-ajax scripts will allow you to handle your form requests efficiently.

In this article, I'll show you how to handle custom form submissions using the WordPress API. I'll walk you through the process of adding a custom form in the admin area of a plugin, handle the form submission via an HTML as well as an AJAX request, and write the form handler in PHP to validate, sanitize and process the form input. Read original article here…. premium.wpmudev.org
20 of Google's limits you may not know exist

Google has a lot of different tools, and while they handle massive amounts of data, even Google has its limits. Here are some of the limits you may eventually run into.

Many of the data reports within Google Search Console are limited to 1,000 rows in the interface, but you can usually download more. That's not true of all of the reports, however (like the HTML improvements section, which doesn't seem to have that limit).

The limit for the number submitted is higher, but you will only be shown 200. Each of those could be an index file as well, which seems to have a display limit of 400 site maps in each. You could technically add each page of a website in its own site map file and bundle those into site map index files and be able to see the individual indexation of 80,000 pages in each property… not that I recommend this. Read original article here…. searchengineland.com
---
This week we have the following Security News for you.
Malicious plugin installed backdoor on 200,000 WordPress websites

A very persistent malicious actor added a backdoor to a WordPress plugin called Display Widgets that installed backdoors on possibly 200,000 websites since June 21.

The hacker used the open-source Display Widgets plugin, which lets users control how their WordPress plugins appear on their sites, as the delivery mechanism for the backdoor. Although the number of potentially infected sites is large, what is almost as impressive is the hacker's persistence. The infected plugin was repeatedly removed from the site by WordPress.org between June 22 and September 8 with the hacker dutifully replaced it.

It was finally removed for good on September 8. Read original article here…. scmagazine.com
60 Abandoned WordPress Plugins

WordPress security threats are on the rise. In some cases, hackers can gain control over WordPress sites. Now, the question arises, how can you secure your WordPress sites?

A major cause of security breaches in WordPress sites is outdated plugins and themes. These elements of a site can be particularly vulnerable to exploitation, and hackers are well aware of this. If a plugin hasn't been updated during the past 2 years, it is categorized as an abandoned, or outdated plugin. Moreover, it may pose compatibility issues with WordPress. Read original article here…. pressable.com
7 Signs Your WordPress Website Has Been Hacked

One of the reasons WordPress is so popular as a content management system is because of its airtight security (read: it's rare ability to be hacked). But the truth is, 136,640 attacks are happening per minute to WordPress websites across the globe.

That's a scary thought.

In fact, weak passwords, domain or hosting level breaches, insecure themes and plugins, and even an outdated WordPress core may cause your website to become more vulnerable than normal. Read original article here…. domainnamewire.com
---
And now for something older in the past article collections.
How to Beat Procrastination and Get More Done on Your WordPress Site

Everyone procrastinates now and then, but some people suffer much more than others. If you feel that procrastination is negatively affecting your productivity, then it is time to do something about it.

In this article we will look at why people procrastinate and what you can do about it. We discuss the importance of being clear on your goals and knowing your distractions and other weaknesses. We then consider productivity tips and tricks to help you maintain motivation and keep focused. Read original article here…. wpexplorer.com
How to Become a WordPress Professional in Your Free Time

Getting established as a WordPress pro isn't easy. If you want to freelance or set up a WordPress business, you'll need to build up a list of clients and establish a reputation for yourself. And if you're looking for a WordPress job, you'll need to demonstrate that you've got experience with WordPress and can work with it at a professional level.

But all this takes time learning and preparing, which you won't get paid for. Unless you're lucky enough to have an employer who'll pay for you to learn WordPress (and give you paid time to do it), or who'll help you learn marketing and business skills (working for a startup can be helpful), you'll need to do it in your own time. Read original article here…. premium.wpmudev.org
The Complete Guide to the WordPress Theme Customizer

WordPress 4.7 was released with a ton of great new features (which you can check out here), including some user experience and user interface upgrades to the theme Customizer.

In case you're hearing about the Customizer for the first time, it's a feature in the WordPress admin (go to Appearance > Customize) that allows users to tweak theme settings using a WYSIWYG interface and customize a theme's colors, fonts, text, and pretty much anything else you want to change. Read original article here…. premium.wpmudev.org
6 Steps to Building a WordPress Maintenance Business

Recurring revenue is the Shangri-La for business owners. Rather than scrapping and fighting and hunting for new clients, you have the same clients coming to you again, providing you with a steady stream of income. It takes away the stress of having to dig up new streams of revenue and allows you to start planning ahead.

But if you're a WordPress designer or developer, you may be a bit perplexed about this whole "recurring revenue" thing. You make your money when clients need something new, like a website refresh for a site that looks like it was designed when MySpace was hot. You essentially have to wait for them to decide they want to change things. The whole idea of regular income feels like a mystery. Read original article here…. sitepoint.com
Tom McFarlin to Launch Marketplace for Blogging Plugins, Finds New Maintainer for WordPress.org Plugins

Daily blogger and plugin author Tom McFarlin has found a new maintainer for five of his WordPress.org plugins. Within two days of putting the plugins up for adoption, McFarlin announced that Philip Arthur Moore will be taking over Category Sticky Post, Comment Tweets, Single Post Message, Tag Sticky Post, and Tipsy Social Icons. Moore, who is currently working as CTO at Professional Themes, has inherited roughly 10,000 users overnight in the transfer of maintainership.

WordPress.org plugin adoption stories are few and far between. The most common scenario for an orphaned plugin is to languish in the directory until it disappears from search results (with the exception of exact matches) after two years of no updates. In McFarlin's case, he was looking to tie up some loose ends before shifting Pressware's focus to launching Blogging Plugins, a marketplace for extensions that streamline WordPress for regular bloggers. Read original article here…. wptavern.com
Well that's a wrap for this week more next week from WP Plugins A to Z.