Enter The Contest To Win!
Call Out and a thank you to Simple Giveaways who kindly provided us with the premium version to power our contests!
We have a new contest for you!!
Enter to Win: 
Lifetime Single Domain License with Interactive Geo Maps, Valued at $49.99!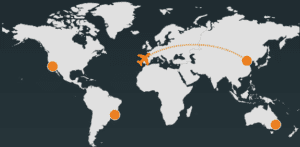 Interactive Geo Maps allows you to create powerful interactive vector maps! There are over 300 maps available in the free version alone, and many options for personalizing the look and feel of your maps!
The Pro version offers tons of advanced features to take your maps to the next level, as well as the ability to personalize your pins and the ability to create 'lines', connecting the various pins together to show the path taken. There is so much more you can do in the pro version to really make the maps reflect you, your business, and get what you want out of this plugin!
Get 100% discount in a single site lifetime license for Interactive Geo Maps – Yes! You'll get one license for free, forever, no renewals!
Once you win the contest, you will get a coupon code provided – this coupon is limited to 1 redemption only, for the winner alone, and once you upload it to your site, that is the site it will work on for you.
If you want to go and have a look at what is available and get a better idea on this than go and check out their site www.interactivegeomaps.com to see what is available!
You can enter the contest from March 10, 2022 until April 6, 2022 with the winner being announced on the show on April 7!
Let your friends know about the giveaway!
Remember to share this contest with friends to earn extra entries to the contest.
For all developers who would like to support the show. You can donate a premium license to be used in a future contest please go to WPPluginsAtoZ.com/PluginContest 
Sponsored by JohnOverall.com Web hosting services.
When it comes to running your website, who you are hosting with is one of the top considerations you need to make.  You want a reputable hosting company that is reliable, has great service and offers a package that meets your needs.  Hosting with
JohnOverall.com
is for the discerning user and most of our clients have been with us for more than 15 years. The reason is because the number of clients allowed per server are limited to obtain maximum performance for everyone.